---
SkyTech Shadow Gaming PC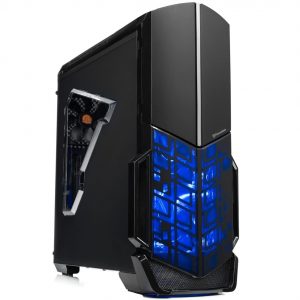 AMD RYZEN 3 1200 4-Core 3.1 GHz
Nvidia GeForce GTX 1050 Ti
8GB DDR4 2400 – 1TB HDD
Alarco Gaming PC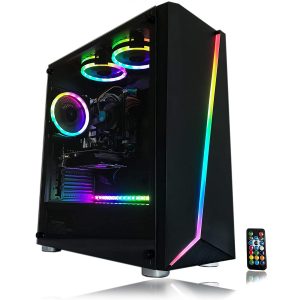 Intel i5 3.10GHz
GTX 650 1GB Video Card
8GB RAM – 1TB HDD
Alarco Desktop Computer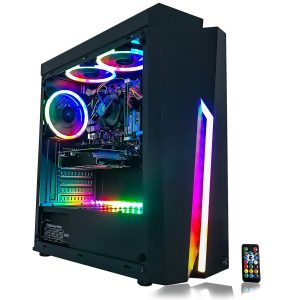 Intel i5 3.10GHz
Nvidia GTX 650 1GB
8GB RAM – 1TB HDD
Skytech Chronos Mini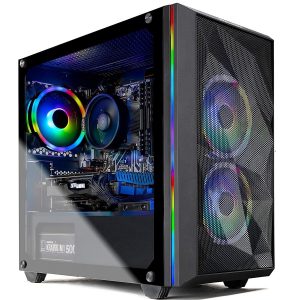 Ryzen 5 3600 6-Core 3.6GHz
3 x RGB RING Fans for Maximum Air Flow
1 Year Warranty
iBUYPOWER Gaming PC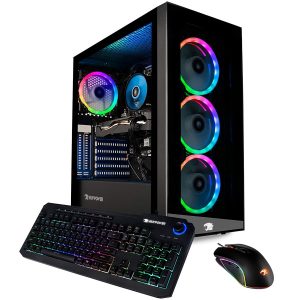 Intel Core i7-9700F 8-Core 3.0 GHz
Special Add-Ons
Warranty: 1 year parts & labor + free lifetime US tech support
---
Choose the Best Gaming PC Under $600
Customer's Choice: the Best Rated Gaming PCs Under $600
7 users answered this survey. Please help us improve this review!

57.14% of users selected SkyTech Shadow Gaming PC, 0% selected Alarco Gaming PC, 0% selected Alarco Desktop Computer, 14.29% selected Skytech Chronos Mini Gaming PC and 28.57% selected iBUYPOWER Gaming PC. Every month we analyze your answers and change our rating.
---
Is it possible to buy a PC for $600? The answer is definitely yes. Nowadays, more and more manufacturers release new models of prebuilt gaming PCs every month with the best components at a very affordable price especially if we compare them to other types such as laptops or Macs.Gaming PC under $600 will be able to run most games that you would like even on high settings without any kind of problems for years that making it an amazing option both for home use and work purposes.
Currently, there are hundreds of available options taking into account how many companies offer this product category but not all can compete in terms of quality and performance so choosing one may be difficult sometimes.
Do you need a new gaming computer but don't want to spend more than $600? The following guide will help gamers find the best computers for under $600 and answer some of the most common questions about those PCs.
To make things easier we have created this guide containing 5 examples from different brands with the main features explained along with their specs compared. Also, the guide includes product reviews, as well as expert tips for purchasing the perfect PC that won't break your bank!
SkyTech Shadow Gaming Computer Ryzen & GTX 1050 Ti Edition – the Editor's choice!
It has 1 TB of hard drive space included as well as 8GB DDR4 memory for smooth multitasking, ensuring that your work will be completed quickly and easily from start to finish!
Enjoying everything the game has to offer has never been easier than with these features like no bloatware – Skytech does not preload any unwanted programs onto your computer for full customer satisfaction.
Experience extreme responsiveness and picture clarity with the latest games thanks to all-new AMD RYZEN 3 1200 4-Core 3.1 GHz, Nvidia GeForce GTX 1050 Ti 4GB Video Card, 8GB DDR4 2400 Gaming Memory, Windows 10 Home 64-bit, Wi-Fi Ready components that are available in this high-performance system under $600!
---
Gaming PC Desktop Computer Intel i5 3.10GHz by Alarco – the best for RGB lighting!
The 8GB DDR3 RAM gives this machine enough memory to handle files large or small while it features three 120mm RGB fans with controls on the side of the case so they'll never be too far away. If you wanted lights flashing off your tower all day long, there is no better option than this machine!
This desktop PC with awesome RGB lights will get you through any playthrough of GTA5 or indie game like Stardew Valley without too many lagging moments. It also moves really fast and is very quiet while doing so: your coworkers or family members can focus on work while you sit back and enjoy these pixels whenever you want.
---
Alarco Gaming PC Desktop Computer Intel i5 3.10GHz – the best for design!
What good is a desktop computer without a powerful video card? When you have this mighty Alarco Gaming PC, your games will run smoothly and the colors will be crisp. With a GTX 650 1GB video card, you can play indie games with a clear mind instead of worrying about compatibility or FPS. You get a 1-year warranty from Alarco because they know that sometimes problems happen – don't let them ruin an experience!
Especially when this desktop comes at such an affordable price. Get ready to take on your friends in PUBG while GTA5 swirls around in the background.
This Alarco gaming prebuilt PC model is quick enough to run both high-spec single-player games and multiplayer FPS games on the go with average frame rates of 30 fps! While slimline cases are cheaper, this one does have a louder audio system so you can play your favorite game at full when being alone in the house. Also, it has a very nice design, according to many users.
---
Skytech Chronos Mini Gaming PC Desktop – the best for portability!
Don't waste time with slow GPUs. The Skytech Chronos Mini Gaming PC Desktop has the highest processing speed in its price range, running a quad-core Ryzen 5 3600 6-Core 3.6GHz (4.2GHz Max Boost) CPU Processor and 8GB of memory, making it perfect for the most demanding games on your favorite platform.
Take this gaming beast anywhere with its manageable weight and long battery life for extended playing sessions without worrying about AC power sources or Wi-Fi connections.
With an intuitive interface to help you get started fast, this portable gaming rig is always ready to take on new challenges and win!
The Skytech Chronos Mini Gaming PC Desktop is one of the best gaming computers in its category. With top specs that are guaranteed to keep the fun going, it's easy to see why this portable system can play all your favorite games at ultra-settings and a 60+ frame rate per second on the 1440p QHD resolution.
---
iBUYPOWER Gaming PC Computer Desktop Element 9260 – the best for performance!
This desktop has some real horsepower with Intel Core i7-9700F 8-Core 3.0 GHz (4.70 GHz Max Turbo) ensuring your favorite games run smoothly on max settings at all times while using 16GB DDR4-2666 RAM and 1TB HDD/240 GB SSD to deliver a lag-free experience with Windows 10 Home 64-bit.
NVIDIA GeForce GTX 1660 Ti 6GB Dedicated Gaming Video Card is even VR ready. The high-quality tempered glass case lets your gaming rig stand out on any tabletop without taking up too much space with more wires than a rat's nest!
For gamers who can't wait to get a quality gaming computer without waiting, the iBUYPOWER Gaming Computer is perfect for you. With advanced graphic cards and processors, this PC brings your game to life with increased speed and smooth gameplay. Not only does it save time; it saves money by not having to go out of your budget in order to enjoy rich features like high-resolution graphics and stereo sound.
---
The Buyer's Guide
Main Features:
Performance of cheap PCs
Gaming PCs under $600 can provide you with a satisfactory gaming experience as long as your expectations are reasonable. You should not expect the same performance as you would get with a $1000+ gaming PC.
But, to give you a better idea of the sort of in-game performance you can anticipate, have a look at the list below:
On max settings, an average prebuilt $600 PC can play less demanding games like Apex Legends, Rocket League, and League of Legends at around 100 frames per second.
It plays more demanding games like PUBG, COD Warzone, The Witcher 3, and others on higher settings at 60+ frames per second.
Processor
The central processing unit (CPU), often known as the "processor" executes and controls computer programs instructions by performing input/output (I/O) operations, basic arithmetic, and logic. The CPU is an important component of every computer since it receives, directs, and processes the data from the machine [1].
The CPU is one of the most important parts for gamers, and it determines how smoothly games run – especially when there are many objects on the screen or lots of special effects involved. Gaming PCs under $600 use iGPUs (integrated graphics processors) from Intel that cannot play high-end demanding games at all or can only do so if they have very low detail levels and resolutions which severely decreases image quality. 
In other words, choose your components wisely by following this guide to ensure an enjoyable experience while playing less intensive titles such as MMORPGs and MOBAs. You will still be able to enjoy competitive shooters like CS: GO at more than 60 FPS with a decent gaming PC under $600.
AMD Vs Intel?
AMD's relentless assault with its Zen-based processors has shattered the ideas of what is possible in the mainstream desktop and HEDT markets, catching Intel off guard, as it remained mired on 14nm technology and Skylake architectures. AMD CPUs have gone from value-oriented and power-hungry chips to leading-end products that deliver more cores, greater performance, and lower energy requirements over the last several years.
Intel attempted to defend itself by adding basic features and cores to its product line slowly, but this has also had negative consequences on the other side. These only highlight Intel's difficulties in the design and manufacturing areas of its business. The transition to the Cypress Cove microarchitecture allowed Intel to extract more power from fewer cores, although because it was designed for 10nm but etched on the now-aged 14nm process, it has restrictions. The number of cores is limited by this, and because of that, power use is excessive, particularly for the most expensive models.
With Intel lowering prices on its mainstream range, the AMD vs. Intel CPU debate is shifting away from the performance. However, Intel's stringent segmentation rules that restrict functionality such as overclock ability to more expensive chips and motherboards have not changed. Because of Intel's method of squeezing every penny out of each feature, AMD has been able to tell a more compelling value tale across the full breadth of the consumer desktop CPU market [3].
Graphics Card
The graphics processing unit (GPU), sometimes known as a video card, is a specially designed electronic device that speeds up the production and display of pictures, videos, and animations. It performs rapid number calculations while freeing the CPU to handle other duties.
There are two types of GPUs: integrated (or embedded) GPUs that reside on and share a memory with the CPU, and discrete GPUs that have their own cards and memories.
The GPU is a key component of almost any gaming system, and in many cases, is more crucial than the CPU when it comes to playing specific types of games [2].
The GPU is the component that determines how well your games will look and it also has a large impact on the overall performance in demanding titles, especially when you have to render large levels at high resolutions. 
With Nvidia's new line of Pascal architecture graphics cards out now, mid-range models like GTX 1050 or RX 460 can get 30+FPS even at 1920×1080 (Full HD) resolution which provides a smooth experience if you are mostly interested in playing competitive shooters instead of highly realistic AAA titles such as Mass Effect: Andromeda or Witcher III. The more expensive GPUs provide a significant performance boost over their cheaper cousins but they cost around 100 USD or more.
If you want to save some money and don't plan on overclocking your components then go for an unlocked iGPU such as Intel's K series CPUs or even a non-K model if it comes with significantly better specs than those of the equivalent locked version (i.e., Intel Core I vs Intel Core ). 
You can also choose between higher-end models that feature more cores like AMD FX 8350 instead but keep in mind that they will generate lots of heat that require massive cooling solutions – especially when experts are talking about overclocked/overvolted processors and GPUs running at full speed under stressful conditions. And, finally, make sure what's compatible with your chosen motherboard before buying any components because not all motherboards support all CPUs and GPUs for example. 
RAM
The random-access memory (RAM) is the computer's short-term memory. It contains information that the CPU needs to hold for quick access – including program instructions, application data, and basic system functions [4].
For most games, you can have as much RAM installed in your gaming PC under $600 as possible because it won't affect performance unless it lacks enough space for caching applications or runs out of memory when multitasking too many programs at once. 
The more expensive models come with 16GB DDR which means they are futureproofed if ever needed but since budget GPUs can't handle very demanding titles on the highest detail levels, don't bother buying a graphics card just yet until there is an upgrade available compatible with your current model because nothing good comes from spending
RAM speed has very little effect on the performance. The real-life difference between DDR and DDR is only ~0,05 seconds which will have a negligible effect on your gaming experience. However, it's still a good idea to choose at least 1600MHz memory as lower frequency models can cause micro-stuttering in games that are more sensitive to stuttering than others – i.e., anything with random teleportation effects or other mechanics similar to those found in RTS titles such as Starcraft II for example.
Storage
The HDD/SSD storage drive speeds up booting time so if you don't need any extra space besides what comes with Windows OS then get an SSD. It also improves loading times of applications but most importantly reduces stuttering while playing thanks to faster access times compared to HDDs. However, if you need lots of space then get an HDD and balance out the performance by getting an SSD for your operating system and frequently used applications such as games or web browsers.
Uptime clock (UPS)
It is a good idea to invest in a UPS with long battery life and automatic voltage regulation. This way, your computer will keep running even if the power goes out for up to ten minutes that should be enough time for you to save all of your work and shut down properly.  No need to panic and you'll be able to save a lot of work.
This is a great way for your computer not only to stay up but also prolong its life by saving it from voltage fluctuations which can damage hardware components over time. 
Esthetics
It may not seem like it, but the design of your computer can affect how well it performs. The more powerful a machine is, the hotter that power will generate, and with enough heat, your system could start malfunctioning or even cause damage to hardware components which can be quite expensive to replace.
You'll want something with great airflow so you don't have to worry about overheating issues ruining anything inside your rig. You should look for cases made out of metal as plastic isn't good at dissipating heat – only transferring it around.  
The case is also important because it affects airflow that directly impacts how well components perform in there – especially when they are overclocked/overvolted. The cases usually come with one to three fans preinstalled but sometimes their number can be smaller than what's required so make sure that you have enough additional free spaces inside the computer chassis unless you want your PC to overheat while running intensive tasks like gaming sessions or benchmarks for example. 
That's why some people prefer water cooling setups instead since they provide superior thermal efficiency at lower noise levels compared to traditional air coolers.
the most important thing is finding something with high airflow + enough space inside – especially if your components require large amounts of cooling. You want to make sure there's no way hot air can't leave the enclosure quickly because, otherwise, your machine will shut down automatically due to overheating. 
If you're going for SLI or CrossFire multi GPU setups then look into extended ATX cases with plenty of free spaces on the motherboard tray for easier cable management. That way you won't have to worry about losing some space inside and risking cramped conditions while trying to work in there, especially if your wires are not modular like most modern power supplies these days.
Additional features
There are other things that you may want to look out for in a computer case. For example, there should be at least one USB port on the front side so your peripherals can connect without any problems that are especially important if they don't have separate ports like some keyboards and mice do.
Another thing you might want to consider when buying cases with more than one fan included is fans' LED lighting because it affects how well your system looks while running inside an enclosure – especially during nighttime gaming sessions or virtual reality (VR) experiences where immersion matters most.
The best way of adding lights into PC builds would definitely be through custom liquid cooling loops but this option costs extra money unless you already own compatible components used for DIY projects. You can also use some third-party off-the-shelf solutions for this but they are usually not as good looking compared to custom loops that have a cleaner design and higher build quality.
Peripherals & Accessories to Go With a $600 Gaming Computer:
Gaming Monitor Picks:
Acer R240HY bidx 23.0-Inch Monitor [5]:
This monitor is a great pick for those on a budget and also gamers that play long hours as it features an IPS panel, which allows you to see more of the screen at once without having to readjust your eyesight; this makes extended gaming sessions much easier on the eyes (a common problem with cheaper TN panels). Its response time can be considered above average, especially compared to its price range, making this one a good choice for low-end graphics cards like the GTX 1050 Ti or AMD RX 460. It has built-in speakers but they're not too impressive; we recommend buying separate PC speakers if sound quality matters either way. The Acer R240HY comes equipped with both HDMI and VGA ports. If you own a newer computer with an HDMI output, then the Acer R240HY is perfect for PC gaming on a budget as it's one of the best cheap monitors for console gamers that don't mind playing in 1080p (many console gamers are only concerned about resolution).
Noteworthy features: IPS panel; built-in speakers; 1920 x 1080 resolution.
ViewSonic VX2452MH 24″ Gaming Monitor [6]:
The Viewsonic VX2452Mh monitor provides great picture quality even at its reasonable price point. This monitor has good color accuracy right out of the box which makes this product suitable to be used by most graphics designers digital artists looking to get work done; the monitor also offers a great viewing angle and decent response time which is good for competitive gamers. It's got both HDMI and DVI ports as well as built-in speakers but if you're planning on using your computer's graphics card (and not an integrated one) then experts recommend buying separate PC speakers or headphones because those that come with monitors are usually pretty bad.
Noteworthy features: 1920 x 1080 resolution; TN panel; 16:09 aspect ratio; 60Hz refresh rate;  Dynamic Contrast Ratio of 20M:01 DCR.
Gaming Keyboard Choices:
Corsair K55 RGB Gaming Keyboard [7]:
This budget-friendly keyboard is a great choice for gamers that still want to get the features and customizability of more expensive keyboards without breaking their bank. It's got 6 programmable macro keys, multi-key anti-ghosting technology, dedicated media controls, and a detachable wrist rest making this one a good pick if you're going to be spending many hours playing on your new gaming PC. 
Noteworthy features: RGB backlighting; textured spacebar; multimedia control dials.
Roccat Suora Frameless Mechanical Gaming Keyboard [8]:
The Roccat Suora offers gamers an easier grip with its frameless design but also delivers in performance thanks to it being equipped with Cherry MX switches. The Suora features a brushed aluminum plate and an RGB backlight system so you can customize the look of your gaming keyboard to match or contrast with your PC build's theme.
Noteworthy features: Cherry MX Switches; frameless design; full n-key rollover anti-ghosting technology; blue LED lighting onboard (with four customizable zones); braided cord, detachable wrist rest.
Razer DeathStalker Expert Gaming Keyboard [9]:
The Razer Deathstalker is built for gamers that want their peripherals to be easy and comfortable to use while also providing them with great performance. This product performs very well due to its ergonomic chiclet keycaps allowing users greater control over the responsiveness of their keys. The Razer DeathStalker also comes with a dedicated macro mode which you can activate using its on-the-fly macro recording button.
Noteworthy features: ergonomic chiclet keycaps; dedicated macro buttons; ten-keyless design (lacks number pad); braided cable, blue LED backlighting with 4 customizable zones.
Gaming Mouse Options:
SteelSeries Rival 300 Optical Gaming Mouse [10]:
The Steel Series is a great choice for any PC gamers looking to get competitive performance with their peripherals without spending an arm and a leg. The mouse has 6 buttons which are all programmable through the Steelseries Engine software making it perfect if you enjoy customizing your macros; this product also features customizable CPI settings along with LED lighting customization allowing users infinite levels of personalization. 
Noteworthy features: 6 programmable buttons, optical sensor (for improved precision), 16 million color RGB illumination, DPI indicator.
Logitech G502 Proteus Core Tunable Gaming Mouse [11]:
This product will give you more control over how much weight you want in your gaming mouse thanks to its adjustable weight tuning system. It also comes with 11 programmable buttons which you can configure through Logitech's software; this product is highly accurate thanks to its sensor's ability to track DPI independently in each axis and the company also claims that it will never skip a beat (or rather, pixel) especially while playing fast-moving games like first-person shooters.
Noteworthy features: adjustable weight tuning system; tuned balance and surface calibration settings; 11 programmable buttons; Delta Zero Sensor technology for high accuracy performance; customizable RGB illumination. 
FAQ
Is $600 enough to build a good gaming PC?
Yes. $600 is enough to get a pre-built gaming PC. Pre-builts are already tested and ready for use when you receive them, so they're much more convenient than building one yourself.
Pre-builts also tend to have higher build quality than DIY builds because of their tighter budgets and better knowledge of the components chosen by the manufacturer. 
Should I buy a prebuilt gaming PC or build my own?
Prebuilt PCs are recommended for those who want to avoid the hassle of doing it all themselves, but if you have time and patience, DIY is much more flexible. With a budget of around $600-$700, you can build an excellent gaming PC that will be able to play most modern games at 1080p 60 fps or 1440p 30+ fps depending on your settings. 
If you're on a budget and want to enjoy your games without having to worry about system requirements, then you'll love pre-builts. If you don't mind doing some research before buying components for your own build, then building one yourself is cheaper than getting a pre-built machine. Note that building PCs can be harder than it looks like so make sure to do the necessary research before ordering the parts.
Should I overclock my gaming PC?
Overclocking is the process of increasing the amount of voltage delivered to a component part, followed by an increase in the frequency at which it executes each cycle. It's essentially the number of times per second your computer can finish a full cycle or procedure as dictated by your software.
The faster it runs, the higher the frequency. Now, this isn't to say that frequency is the only indicator of performance that you should consider. When it comes to importance, core count, transistor size, and architectural improvements outweigh frequency by a long shot [12].
Is building my own PC worth it?
There are definitely some advantages to building your own PC, but if you're looking for the best gaming experience, it's probably not worth the extra time and effort unless you have previous computer-building experience or know someone who can assist you with building your machine.  
It is possible to build your own PC and save money compared with buying a pre-built model. However, once you add up the cost of all the components (including memory and storage) as well as the time you'll spend assembling those parts into an efficient machine and finding out about any bugs or glitches that may exist in early production models. So, you might find yourself better off either sticking with what's available on store shelves or paying more for one of these top gaming PCs under $600.  
What is a good gaming PC for a beginner?
If you are a beginner in the world of PC gaming, most likely your top priority is not to spend too much money on a new system. With this said, one of my best recommendations for a good gaming pc under 600 dollars would be going with an AMD A-series APU or Intel Pentium processors that can offer great performance per dollar spent. And these CPUs will let you play games at low settings without frame drops if to pair them with decent graphic cards from Nvidia's GTX 1050 series.  
What is the best gaming PC under $700?
If your budget allows you to go beyond 600 dollars, then the expert recommendation would be going with an Intel Core I-series CPU paired up with a decent graphic card like Nvidia GTX 1050 Ti. 
This type of system will allow gamers to play most games at medium to high settings while providing great performance per dollar spent. And these components are enough for some demanding titles that require more than 60 fps (for example, PUBG) even in Full HD resolution which makes them very attractive options for those who want a better overall experience without breaking their budgets. 
Is a $500 gaming PC worth it?
There are many $500 gaming PCs for sale right now but the truth is that most of them will barely let you play games at low settings. If you want to be able to enjoy your favorite titles without frame drops, then it would be best if you go with a system of around 650 dollars. 
Because this type of configuration offers great performance per dollar spent and they can run even demanding recent games like Fortnite smoothly in Full HD resolution which makes them perfect choices when looking for an affordable PC capable of providing a decent overall experience. 
The best budget gaming PCs under 500 dollars usually include mid-range graphic cards like Nvidia GeForce GTX 1050 Ti, RX 560/570 from AMD as well as Ryzen quad-core processors. They will allow you to play games smoothly in Full HD resolution even if you plan on using medium settings while providing decent FPS rates per dollar spent due to their improved features.
What does "Minimum Requirements" mean?
When buying a new computer or laptop, one thing we all need to know before making any purchases is knowing what kind of tasks our device has been designed from the start to perform. 
Knowing this information will ensure that we won't purchase a system with hardware that is not powerful enough for our needs and end up regretting why did we choose it in the first place since there are plenty of more affordable options available on the market. 
Minimum requirements usually offer decent performance but you have to keep in mind they do not come from your average $500 PC due to their improved features which can allow them to run games at medium settings while providing very good frame rates even if you plan on using Full HD resolution screens or higher ones. 
In most cases, minimum requirements for budget PCs include Intel Core I-series CPUs paired up with Nvidia GTX 1050/GTX Ti graphic cards and AMD Ryzen or FX CPUs paired up with AMD Radeon Vega graphics cards. 
These systems are also equipped with at least 16GB of RAM memory and an Intel Core I-series CPU that can provide great overall performance for most gamers who don't want to spend too much money on an affordable gaming PC but still be able to enjoy their favorite titles without any frame drops.
How long do gaming PCs last?
A good gaming PC should last at least 3 years. They usually do not depreciate as quickly as other electronics because of their high quality and performance capabilities as well as the reliability of the brands that build them. Also, it is important to realize that since they are built with long-lasting components, you will have less trouble when upgrading your computer farther down the line if needed [13].
Is PC gaming better or console?
PC gaming is better than a console in the terms of flexibility of customization. PC gamers have the opportunity to customize their systems and play games with graphics that consoles can't even dream of achieving. 
On the other hand, consoles have a limited number of top-notch exclusive games, and most gamers who switch to PC complain about the lack of quality exclusives.
Which is cheaper – a laptop or desktop computer for gaming?
A laptop will be more expensive than a desktop because it's portable while desktops are usually stationary with parts that can easily fit into each other without problems. 
PCs have become increasingly affordable over time that making them an attractive alternative to consoles especially when you get free online services from your internet service provider. 
Should I buy AMD Ryzen or Intel?
In general, AMD Ryzen processors are better at multi-tasking, whereas Intel Core CPUs excel in single-core operations. Ryzen CPUs, on the other hand, tend to provide better value for money [14]. 
Depending on the tasks you want to complete, one of these CPUs might be better suited for your build. If it's gaming that you're looking for, AMD Ryzen processors are usually great options as they provide more cores and threads than Intel Core CPUs at a comparable price point.
However, if you don't plan on overclocking or building multiple PCs with different components (e.g., graphics cards), an Intel CPU is probably the best choice because of its superior single-core performance which will give you better FPS in games like CS: GO, Overwatch, Rocket League, etc.
Can I leave my gaming PC on overnight?
Yes, you can leave your gaming PC on overnight. Many people think that leaving the computer on will shorten its life but this is not true – it won't make any difference to how long your machine lasts. The components are designed to run 24/365 so there's no reason why they should fail if left plugged in and running all night or day. 
Why is the PC so expensive?
The biggest reason why the PC is more expensive than consoles is parts. You can buy a cheap laptop for $300 or even less but it will have very poor specs, making games run at low frame rates and/or clarity. 
A better option would be to build your own computer yourself if you want to save money in this area because all of its components were specially selected by the gamer without any constraints on budgeting limitations set forth by manufacturers like Sony and Microsoft. However, it takes time and patience since assembling parts requires care.
What are PC parts so expensive right now?
With everyone working from home, computer components have become increasingly popular. As a result, certain types of computer hardware are no longer readily available. Everything from automobiles to gaming consoles has been affected, and the future does not appear bright for the situation to improve anytime soon.
Microchips are extremely sensitive, and any tiny thing can damage them. Microchips may only be produced in very specialized production plants. Any spec of dust, temperature rise, or static electricity might destroy a batch of microchips, so the factories that produce them must follow very rigorous procedures to ensure that the chips are not harmed during production.
It's doubtful that building more factories would be viable or feasible for a number of reasons, the most important of which is the fact that it would cost billions of dollars and take up to two years to complete. When the COVID-19 epidemic knocked down much of the global economy last year, many expected consumers to decrease their spending. As a result, tech firms bought too few microchips for their components.
In reality, the computer market experienced tremendous growth in consumers, with millions of individuals being compelled to work and educate from home. Suddenly, people wanted new TVs, laptops, automobiles, and even PCs to build themselves. 
Electronics companies found themselves facing massive demand for their goods but had nowhere near enough stock to meet it. NVIDIA graphics cards are one of the most notorious products on the market right now for being extremely hard to come by [15].
What is the best prebuilt gaming PC brand?
The best prebuilt gaming PC brand is a very common question. Several brands offer high-quality prebuilt computers but the top three include CyberpowerPC, iBUYPOWER, and Digital Storm. The other popular brands include Dell Alienware and ASUS that provide powerful hardware at competitive prices. 
Are Alienware PCS worth it?
The best gaming computer manufacturer is undoubtedly Dell's subsidiary, Alienware. The manufacture of some of the world's most powerful gaming laptops, Alienware is rightly regarded as the best company in this field. For others, however, the cost of a gaming system is more than they can afford [16].
Video Tutorial: Unboxing Skytech Chronos Gaming PC
Final thoughts 
If you're looking for a new gaming computer and want to stay under $600, hopefully, this guide has helped. It's important to find the right balance between price and performance so that your PC is fast enough to play all of your favorite games without any lag or glitches. For more information on how different brands compare in terms of specs, read the product reviews section where experts share their opinion about what they think are the best PCs available for less than $600.
References:
https://www.hp.com/us-en/shop/tech-takes/gpu-vs-cpu-for-pc-gaming

https://www.hp.com/us-en/shop/tech-takes/gpu-vs-cpu-for-pc-gaming

https://www.tomshardware.com/features/amd-vs-intel-cpus

https://www.crucial.com/articles/about-memory/support-what-does-computer-memory-do

https://www.acer.com/ac/en/IL/content/model/UM.QR0EE.026

https://www.viewsonic.com/us/vx2452mh.html

https://www.corsair.com/us/en/Categories/Products/Gaming-Keyboards/Standard-Gaming-Keyboards/K55-RGB-PRO-Gaming-Keyboard/p/CH-9226765-NA

https://www.rockpapershotgun.com/roccat-suora-review

https://www2.razer.com/au-en/gaming-keyboards-keypads/razer-deathstalker

https://www.whatmouse.com/steelseries-rival-300-specs/

https://www.tomsguide.com/us/logitech-g502-proteus-core,review-2138.html

https://www.gamesradar.com/should-i-overclock-my-pc-for-gaming/

https://diamondlobby.com/tech-guides/how-long-does-a-gaming-pc-last

https://www.gamingscan.com/amd-ryzen-vs-intel-for-gaming/

https://www.theloquitur.com/my-experience-working-in-it-during-a-global-pandemic/

https://gigabytekingdom.com/is-alienware-worth-it/
---