---
Are you looking for a great monitor to take your gaming experience to the next level? If so, then you need to check out the Alienware AW2518Hf. This monitor is designed specifically for gamers and offers some amazing features that will make your games look and feel incredible. In this article, we will discuss the features of the AW2518Hf and answer some common questions about it. We'll also give you our thoughts on whether or not it's worth purchasing. So, if you're interested in learning more about this monitor, keep reading!
This monitor is at the forefront of performance, intended for gamers who refuse to compromise. You'll get unbelievable images at high frame rates with a powerful refresh rate of up to 240Hz, so there's no need to worry about any motion blurring or lag. Plus, you'll enjoy lightning-fast response times that provide smooth transitions between action scenes, no matter how fast-paced your adventures becom.
In addition to its impressive tech specs, you'll appreciate the awesome colors and brightness on offer from this monitor. Whether you're playing games or watching shows, you'll be able to see every detail in sharp colors and maximum clarity. Plus, adjustable settings no matter what type of game you're playing, and dimmable features for night-time viewing.
---
Manual for Alienware AW2518Hf
Having trouble? Download instructions for Alienware AW2518Hf.
---
Pros and Cons of Alienware AW2518Hf
Unfortunately, the price tag may leave a few reaching for their wallets as it is quite hefty. However, if your budget allows it, you won't be disappointed with this monitor's features. Though you may have to deal with inconvenient port placement, the visuals will be worth the slight inconvenience.
---
Alienware AW2518HF: Specs
The Alienware AW2518Hf Monitor boasts impressive specs. It has a 25" 1080p (1920×1080) TN Screen, with a 240 Hz refresh rate and a 1ms response time. It is also VESA compatible and comes with both HDMI and DisplayPort inputs. The monitor also features AMD FreeSync technology for smooth gaming performance. Furthermore, the monitor has an adjustable tilt/swivel stand and support for height adjustment for optimal viewing angles or ergonomics when working in front of the screen for long periods of time.
All in all, the Alienware AW2518Hf Monitor has some impressive specs that make it an excellent choice for gamers and professionals alike.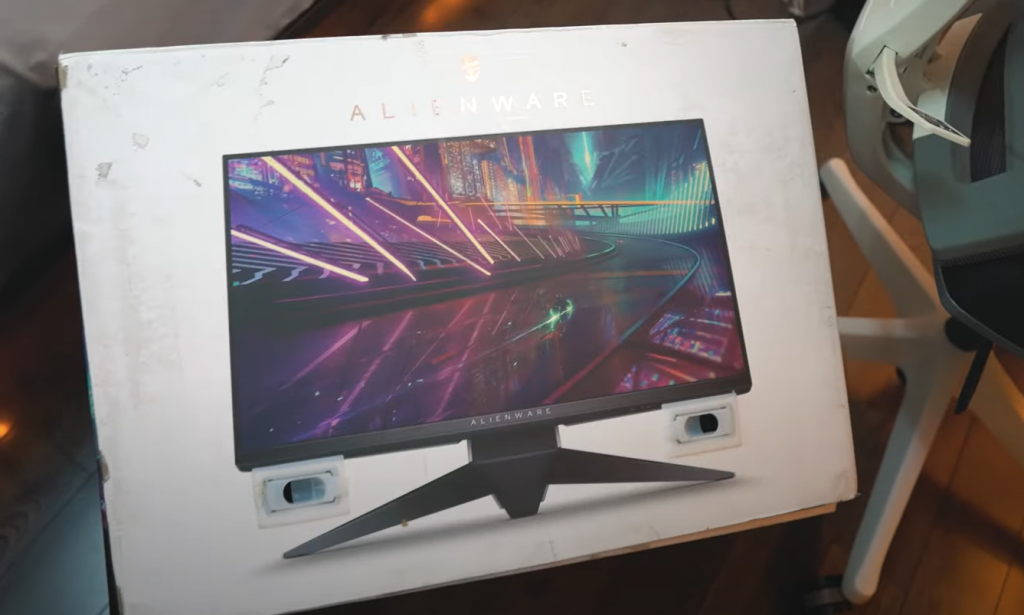 Its high refresh rate and response time makes it great for gaming while its adjustable stand, height adjustment, and dimming features make it perfect for those who need to work in front of the screen all day long. [1],[2],[3],[4]
Alienware AW2518HF: Price
Now let's discuss the price of the Alienware AW2518HF. The monitor retails for around $549, depending on where you shop. This is a fair price considering the high quality and features of this monitor. It's also worth mentioning that there are often sales or discounts available which can help bring down the cost even further.
You can easily purchase this monitor on Amazon, Walmart, Newegg, or any other online retailer. Additionally, it may be available in physical stores if you prefer to shop that way.
As for the warranty, most retailers will offer a standard 3 year warranty on the AW2518HF. This is a great way to protect your purchase, as it will cover any parts or labor required to repair the monitor in case of any defects. However, if you are looking for more comprehensive coverage, you may want to consider purchasing an extended warranty from the retailer you purchased from. [1],[2],[3],[4]
Alienware AW2518HF: Design
The aesthetics of a gaming monitor is just as important as its performance. The Alienware AW2518Hf takes this to heart, with striking design features and an overall sleek look that will be the envy of everyone in your gaming circle.
From the moment you lay eyes on this monitor, it's obvious that Alienware put a lot of effort into making sure it looks great. It has thin bezels around the sides for minimal distraction. This makes it perfect for those who want their gaming setup to stand out from all others!
The black and silver color scheme of the AW2518Hf adds a premium feel to your setup, making it look and feel like something from the future. The monitor also features adjustable tilt and swivel for perfect viewing angles.
There are also several LED stripes along the top and bottom of the display that can be customized to your preference. You can choose from a number of different colors, brightness settings, and even effects such as breathing or pulsing. This adds an extra bit of flair to your gaming setup that is sure to impress whoever sees it!
The ports on the monitor are well hidden thanks to the ergonomic design, so they won't detract from the overall look of your gaming setup. This is a nice feature, as it allows you to keep all your cables neatly tucked away while still having easy access to them whenever needed. However some people might be disappointed by the reduced accessibility.
The monitor also comes with a metal tripod stand that gives the setup a more professional and sophisticated look. This stand is fully adjustable, so you can easily find the perfect viewing angle every time. It also features an anti-slip pad so your monitor won't slide around while in use.
Another impressive design detail is a 100 x 100 VESA mount compatibility, allowing you to hang your monitor on the wall if you prefer. This is a great feature for those who have limited space at their gaming station but still want to enjoy their games in style!
In addition, Alienware also puts quality materials into making sure the monitor doesn't just look great, but also stays durable. The monitor is built with a sturdy aluminum chassis that can withstand the rigors of gaming and its adjustable stand ensures your viewing angle remains perfect no matter what situation you're in. [1],[2],[3],[4]
Alienware AW2518HF: Features
As for the features, the Alienware AW2518Hf has plenty to offer. This 25-inch monitor comes with an OSD menu that provides options for gaming, movies, and other activities. There are also several preset modes available to help you get the best picture quality depending on what type of content you're watching or playing.
This monitor features a fast refresh rate of 240Hz which makes it perfect for gaming as it allows for smooth visuals with minimal input lag. It also has NVIDIA G-SYNC technology integrated, which helps reduce screen tearing and stuttering in graphics intensive games.
The AW2518Hf also has a Game Enhance Mode that automatically adjusts the monitor's settings to give you the best gaming experience possible. This allows for faster response times and smoother visuals that will make your gaming sessions more enjoyable.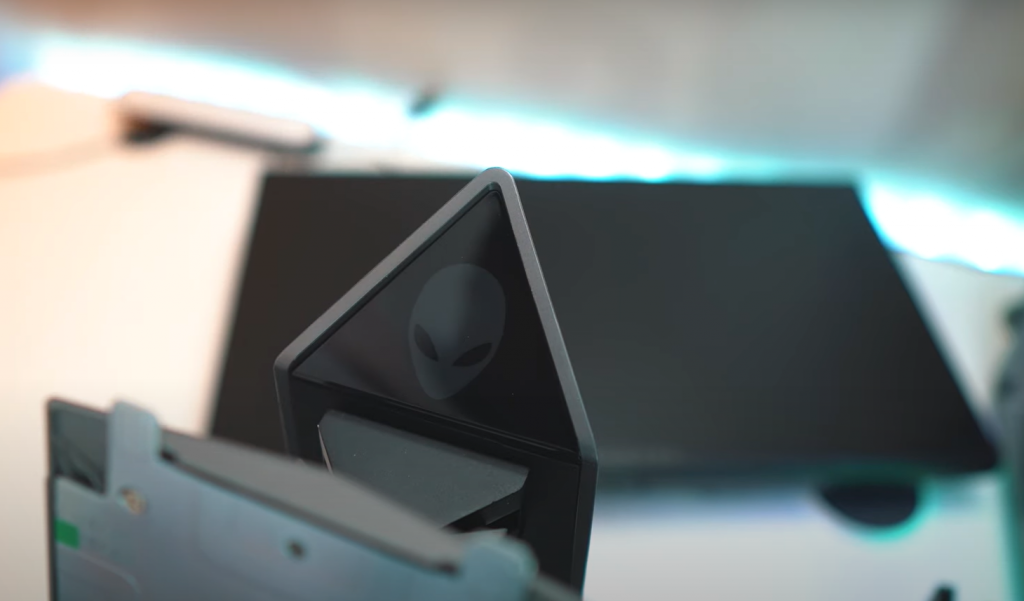 Lastly, the monitor features the Dark Stabilizer, which helps improve visibility in dark scenes. This is especially helpful for those who play games with a lot of dark areas as the Dark Stabilizer will help you see better and make sure you don't miss any important details. [1],[2],[3],[4]
Alienware AW2518HF: Performance
Now it's time to take a closer look at the performance of the Alienware AW2518HF. This gaming monitor is built to provide gamers with an immersive gaming experience. It has a 1920×1080 resolution, a 25″ TN panel and a 1ms response time.
The image quality of this gaming monitor is quite good due to its high pixel density and ability to reproduce accurate colors. The contrasts are also very good on this monitor, offering deep blacks and bright whites for optimal visibility in darker games.
The refresh rate on the Alienware AW2518HF is 240Hz, making it ideal for fast-paced gaming scenarios where you need quick reactions. This allows for smooth gameplay with no stuttering or tearing even during intense action scenes.
When it comes to connectivity, the Alienware AW2518HF has 5 USB ports and a DisplayPort 1.2, as well as HDMI 2.0 connectivity. This allows for multiple monitors to be connected simultaneously so that you can enjoy an expanded view of your gaming world. [1],[2],[3],[4]
The Importance of Choosing a Monitor for Gaming Needs
Now you know what the Alienware AW2518HF has to offer in terms of features and performance. But why is it important to choose the right monitor for gaming?
When it comes to gaming, the monitor you choose is arguably one of the most important pieces of equipment. It's what allows you to interact with your game and make all those split-second decisions that can mean victory or defeat. But how do you know which monitor is best for your gaming needs?
There are several factors to consider when selecting a monitor for gaming, let's discuss those.
Refresh Rate
The refresh rate is measured in Hertz (Hz) and it determines how often the monitor refreshes its image. A higher refresh rate will result in smoother, more responsive gameplay compared to a lower one.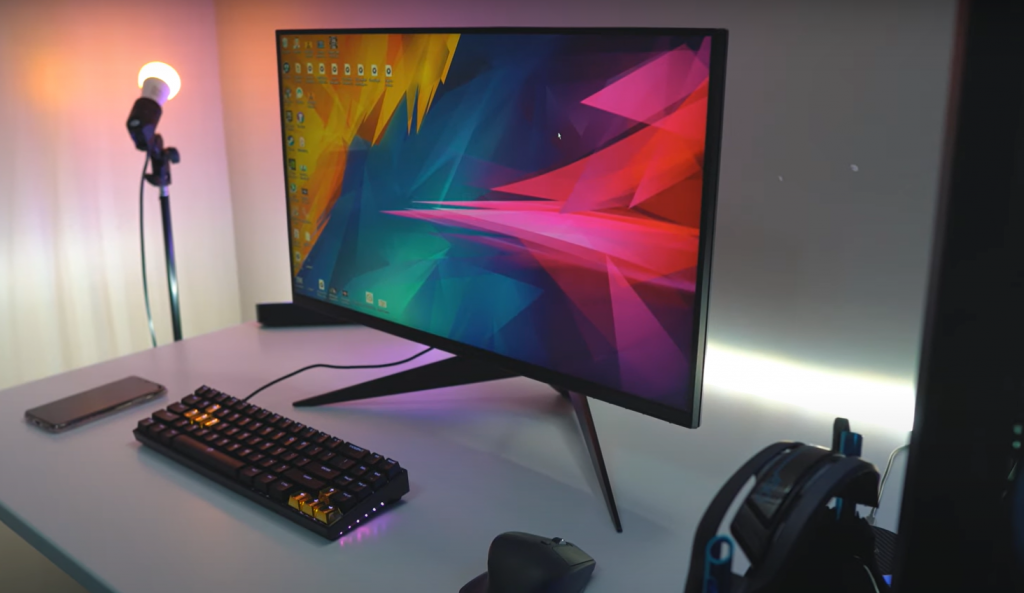 Many modern monitors offer higher refresh rates than traditional monitors, such as 144 Hz or even 240 Hz. This can provide a huge advantage in fast-paced games where responsiveness is key.
Response Time
The response time of a monitor impacts how quickly it can transition from one color to another.
The most common response times are 1ms (millisecond), 4ms, and 8ms.
Lower response times generally provide smoother gameplay, so if you're looking for an edge in competitive gaming, then look for a monitor with a 1ms or 4ms response time.
Resolution and Size
The resolution and size of a monitor are two of the most important factors to consider. You want your gaming monitor to have enough resolution for detail, as well as be large enough so that you can see all the action without strain on your eyes. The higher the resolution, the sharper and more detailed images will appear on-screen so aim for at least 1080p (Full HD) resolution for enjoyable gameplay.
HDR
High Dynamic Range (HDR) is one of the most important features to look for if you want a great gaming monitor. HDR gives you a higher range of contrast between light and dark on screen images. This allows for more detailed textures in games, as well as greater color accuracy, so gamers can pick out small details that could make or break their performance. [5],[6]
---
FAQ
Is the Alienware AW2518HF worth it?
The Alienware AW2518HF is a great choice for gamers who need a high-performance monitor with an immersive experience. The 25-inch size and 1080p resolution gives you plenty of screen real estate to play games, watch movies, or work on projects. With its fast response time, wide viewing angles, and low input lag, the AW2518HF ensures that you won't miss any detail in your gaming sessions. Additionally, the 240Hz refresh rate ensures smooth gameplay even at higher frame rates.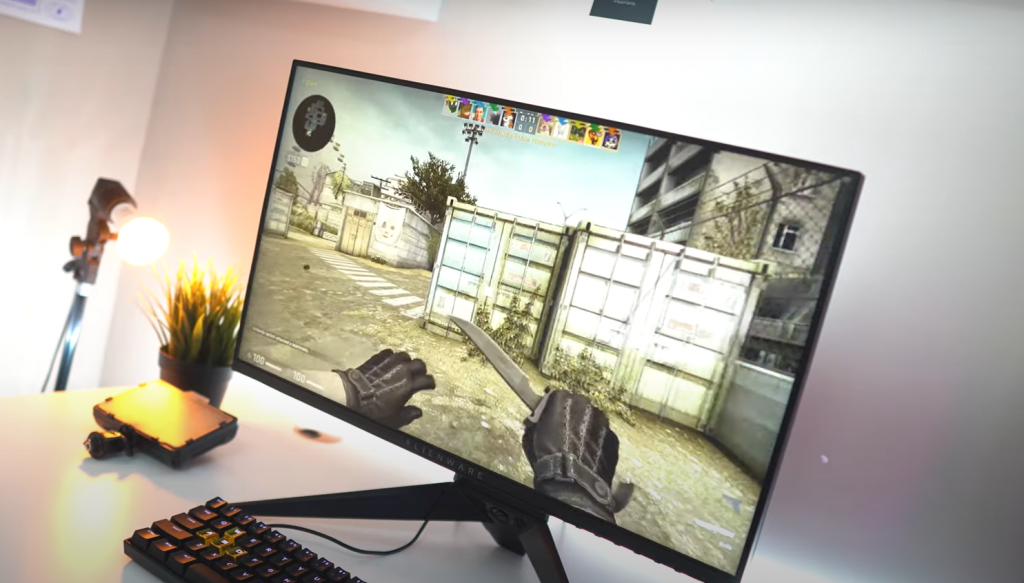 At a price of $549.99 USD, the Alienware AW2518HF isn't cheap. However, its features and performance more than make up for the price tag. For gamers who want a competitive edge and an immersive gaming experience, the Alienware AW2518HF is worth considering. It's also one of the few monitors that can handle today's demanding games with ease. Ultimately, if you have the budget to spare, the AW2518HF is a great choice for creating an impressive gaming setup.
Is Alienware AW2518H good for gaming?
Yes, the Alienware AW2518Hf is an excellent choice for gaming. It has a fast refresh rate of up to 240 Hz and a 1 millisecond response time, making it perfect for competitive gaming. The monitor also utilizes AMD-FreeSync technology for smoother visuals and less input lag, as well as G-SYNC compatibility for NVIDIA GPUs. The 25-inch in-plane switching (IPS) panel provides wide viewing angles and accurate colors, making it ideal for immersive gaming experiences. Additionally, the monitor features customizable lighting with multiple zones, allowing you to personalize your setup.
All of these features combine to make the Alienware AW2518Hf one of the best monitors available today for serious gamers looking for a competitive edge. The monitor offers a great mix of speed, accuracy, and customization options that make it an excellent choice for gaming.
Are Alienware monitors good quality?
Yes, Alienware monitors are generally known for their high quality and performance. Their gaming monitors offer vibrant colors, excellent contrast levels, wide viewing angles, and fast response times to ensure fluid gameplay. Furthermore, they pair well with any Alienware gaming PCs and provide plenty of connectivity options to give you the best gaming experience possible. Additionally, Alienware has a variety of monitor sizes ranging from 24" up to 37" depending on your needs so you can find something that fits perfectly in your setup.
The Alienware AW2521HF is no exception and has a few features that set it apart from the competition. It offers a blazing-fast refresh rate of up to 240 Hz, making it ideal for competitive gaming. The 25" size is perfect for those who want a larger display but don't have the space or budget for something bigger. Additionally, it also includes AMD FreeSync technology which helps reduce screen tearing in games and smooths out motion blur so you can focus on winning!
Is the Alienware AW2521HF worth it?
The Alienware AW2521HF is a great monitor for those who are looking for an immersive gaming experience. It has an impressive 25-inch IPS panel with a blazing fast 240Hz refresh rate, 1ms response time, and NVIDIA G-SYNC Compatibility certification to ensure smooth visuals without tearing or stuttering. The monitor also features AMD FreeSync Premium Pro support which allows you to further reduce screen tearing when using compatible GPUs. Other features such as the adjustable stand, four USB ports, and audio output add to its overall value.
When it comes to image quality, the AW2521HF offers vibrant colors with excellent contrast ratios thanks to its use of HDR technology and quantum dot display. The monitor's native 1080p resolution makes it suitable for gaming and daily tasks, while its full coverage of the sRGB color space ensures accurate colors.
Related Video: Alienware AW2518H REVIEW! IS NINJA'S 240HZ MONITOR WORTH IT OVER 144HZ!?!?!?
Conclusion
The Alienware AW2518Hf is an excellent monitor for gaming and entertainment. It has a fast response time, high refresh rate, and adjustable settings that make it one of the best monitors for gamers. With its curved design and sharp visuals, this monitor also provides a great viewing experience for movie-watching or other multimedia activities. The build quality is solid and reliable, with no major issues or complaints.
In this article, we have taken a comprehensive look at the Alienware AW2518Hf. We have discussed the features and specifications of this monitor, as well as its advantages and drawbacks. With some cons to consider, such as its price, potential backlight bleeding issues, and limited ergonomic adjustments, it's clear that the AW2518Hf has both strengths and weaknesses.
We also provided you with a buyers guide to help you decide if this monitor is right for you. To summarize, the AW2518Hf can be an excellent choice if you are looking for a high-performance gaming monitor with fast response times and high refresh rates. It also provides great visuals and good build quality, making it a great choice for entertainment as well. Consider your budget and needs before making your purchase decision.
Overall, the Alienware AW2518Hf is a powerful and reliable gaming monitor that offers impressive performance and visuals at a reasonable price point. If you're looking to upgrade your gaming setup, then this might be the perfect monitor for you! Thanks for reading our comprehensive guide on Alienware AW2518Hf Review! We hope we were able to provide you with all of the information you need to make an informed purchase decision.
Happy gaming!
---
References:
https://www.amazon.com/dp/B0733YCKM5?tag=amazondn01-20&th=1
https://www.displayninja.com/dell-alienware-aw2518hf-review/
https://www.gadgetreview.com/alienware-aw2518hf-review
https://www.onecomputerguy.com/alienware-aw2518hf-review/
https://pcmonitors.info/articles/what-to-look-for-in-a-gaming-monitor/
https://www.pcworld.com/article/393747/what-to-look-for-in-a-gaming-monitor-specs-that-matter.html