---
CYBERPOWERPC Gamer Xtreme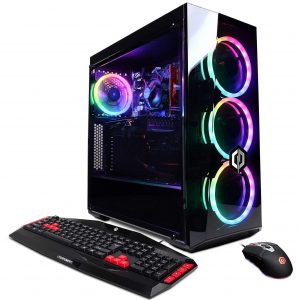 Intel Core i5-9400F
NVIDIA GeForce GTX 1660 6GB
8GB DDR4 – 240GB SSD – 1TB HDD
SkyTech Shadow Gaming PC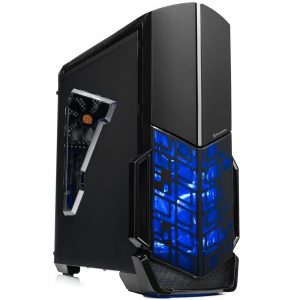 AMD RYZEN 3 1200
GTX 1050 Ti 4GB
GTX 1050 Ti 4GB
CyberPowerPC Gamer Master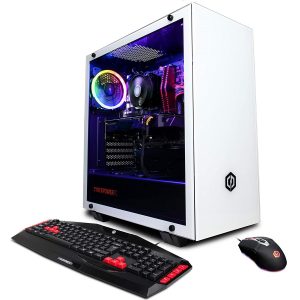 AMD Ryzen 5 3600
NVIDIA GeForce GTX 1660 6GB
6GB DDR4, 500GB PCI-E NVMe SSD
VR Ready HP Pavilion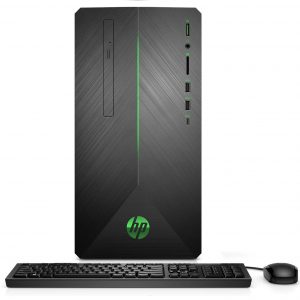 Intel Core i5-9400F
NVIDIA GeForce GTX 1660Ti
8GB RAM – 256GB SSD
CLX Set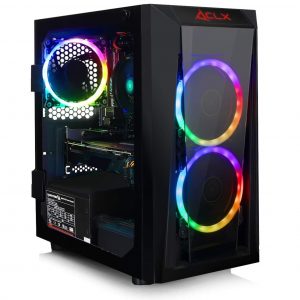 AMD Ryzen 3 3200G
GeForce GTX 1650 4GB
8GB DDR4 – 480GB SSD
---
Choose the Best Gaming PC Under $800
Customer's Choice: the Best Rated Gaming PCs Under $800
3 users answered this survey. Please help us improve this review!

100% of users selected CYBERPOWERPC Gamer Xtreme, 0% selected SkyTech Shadow Gaming PC, 0% selected CyberPowerPC Gamer Master, 0% selected VR Ready HP Pavilion and 0% selected CLX Set. Every month we analyze your answers and change our rating.
---
Buying a gaming PC under $800 is not an easy task. Many brands offer this price range, but not all provide the best value for money. You need to know what you're looking for in a gaming PC under $800 before you buy one of them and spend your hard-earned cash on something that will disappoint you later with poor performance or broken down after just a few months of use.
Most people who go out and purchase such PCs don't even think about buying decent peripherals along with it – they simply get whatever is cheapest at the moment and expect their games to run smoothly without any issues whatsoever.
If you're looking to buy a gaming PC, but don't want to spend over $1000, the best option might be the best gaming PCs under $800. This article will tell you all about these computers and how they compare with other models in their range. Experts will also give you tips for choosing which one is right for your needs and budget!
CyberpowerPC Gamer Xtreme VR Intel Core i5-9400F – the Editor's choice!
The CYBERPOWERPC Gamer is a beefy budget machine with a mid-range hexa-core Intel Core i5-9400F processor clocked at 2.9GHz. It won't outrun its Ryzen 7 competitors, but it does have a heart and it's incredibly cheap. The Core i5-9400F is available for a reasonable price on its own, making it one of the least expensive 9th Gen six-core processors on the market. It has higher game support and lower latencies than the core i5-8400 it replaces.
The Gamer Xtreme may effortlessly handle productivity in day-to-day usage, never slowing down or holding back. Trying to do 10 YouTube videos while streaming a Hulu Original on this desktop, or keeping 15 Chrome tabs open at once? This computer will easily manage a tense scenario like that.
The CYBERPOWERPC Gamer GXiVR8500A is a great choice if you want to do some PC gaming on a budget, even if it won't satisfy high-end gaming demands. It's a strong performer with a few flaws, but its low price and excellent gaming performance make it an appealing option, especially if you're new to the world of PC gaming.
---
SkyTech Shadow Ryzen 1200 3.1GHz Quad-Core Gaming PC – the best for FPS performance!
Besides enhanced gameplay, this computer is fast, reliable, and portable; it also comes with an onboard WiFi connection for added convenience without having to purchase any adapters (sold separately). With its ability to change speeds according to requirements, this sleek desktop is perfect for whatever game or job you throw at it.
This is a great computer for students and gamers on any budget. With 8GB of RAM and 1TB HDD, this one is not going to let you down. Unleash the power that's in your hand and give SkyTech Shadow Ryzen 1200 3.1GHz Quad-Core Gaming PC a try!
---
CYBERPOWERPC Gamer Master AMD Ryzen 5 GTX 1660 6GB Gaming PC – the best RAM!
The CyberPower Master GMA1400A runs on a Ryzen AMD Ryzen 5 3600 CPU with 16GB RAM and a 512GB solid-state drive (SSD), so it never stutters when under heavy loads. You can download a game, switch between a dozen browser tabs, run a full system scan, and broadcast on twitch all at the same time. If you're paying for a Ryzen 5 Hexa-core desktop, you should get no less than top performance across all dimensions.
The lack of an optical drive is not a problem, since most PC games may now be downloaded from digital distribution services like Steam and Origin. Furthermore, adding one on the front would scratch the case's elegant simplicity. There are several easy-access ports on the top panel (towards the front): two USB 3.1, a microphone and headphone jack, and a Reset button.
The CyberPower Gamer Master PC is a pre-built gaming computer with enough raw power to run most current games at 1080p resolutions and high settings without sacrificing frame rates.
---
HP Pavilion VR Ready Intel Core i5-9400F Desktop Computer – the best for multitasking!
For storage, the 256GB SSD can provide all the space you need. With a media card reader to extract pictures from external storage devices such as digital cameras along with Wireless AC so fast Wi-Fi connections are possible. An NVIDIA GeForce GTX 1660Ti graphics card provides immense power with 230 FPS on Overwatch without stuttering or lag!
This HP Pavilion Desktop Computer is the perfect mix of power and price to suit your needs, whatever tasks you want to perform on this machine.
---
CLX Set E-Sports AMD Ryzen 3 3200G 3.6GHz 4-Core Gaming Desktop – the best for future upgrades!
This CLX AMD Ryzen 3 3200G 3.6GHz 4 Core Gaming Desktop is a high-performance, value-priced desktop PC that can be customized to your specifications for both home and office use. The perfect setup, the full package comes with a keyboard and mouse as well as 6 USB ports. With plenty of room for future upgrades, this system will provide you with many years of reliability due to its lifetime labor warranty.
The system's 480GB solid-state drive also offers a great balance of speed and storage. The CLX SET is also housed in a sleek gaming chassis that allows for maximum expansion and ventilation. You may game how you want, whenever you want, thanks to both wired and WiFi networking options.
With a lifetime labor warranty, you can buy CLX Set without worrying about the technical difficulties that come with your purchase. Also, it is a great future-proof gaming PC that you can easily upgrade. The keyboard and mouse make easy work out of typing and navigation on a PC, while its 6 ports provide ample connectivity options.
The Buyer's Guide
What is the gaming computer overall?
A gaming computer is a highly customized, high-performance personal computer designed specifically for playing video games. Gaming PCs usually differ from conventional PCs because of the use of powerful graphics cards and fast core CPU cores with raw performance [1].
The best gaming PCs under $800 are a great option for those who want to have an upgrade from their current PC without spending too much money. Gaming computers under $800 will be good enough for most games of the current generation, allowing you to play AAA titles on medium-high settings with little or no problems.
The most important piece is the processor. You will have to choose between an Intel or AMD processor, as those are currently the best options available on the market with their lineups of CPUs and APUs respectively.
The GPU is also very important as it determines your overall performance in games so you'll want at least a mid-range dedicated card from either NVIDIA or AMD/ATI depending on which brand has better prices where you live.
For RAM, there isn't much difference between brands, but having a minimum of 12GB won't hurt if planning on using multiple programs simultaneously such as streaming software while playing games.
Prebuilt gaming PC Under $800 or Building A PC
1. Performance levels of prebuilt PCs
The best gaming PCs under $800 will be able to handle most games in full detail and at 1080p with 60fps.
Some gaming titles such as GTAV, The Witcher III: Wild Hunt, or Metal Gear Solid V: Phantom Pain can even run on ultra-high settings with high framerates. A good gaming PC under $800 will be able to handle games like Overwatch, League of Legends, and DOTA II even on higher settings. For more demanding titles such as Battlefield 5 or The Division 2, you'll need something stronger than a mid-range dedicated graphics card.
These PCs should be also good for video editing, light content creation, and even some basic photo or video work.
Many gamers don't have the money or time to build their own PC so they opt-in on getting a prebuilt one instead which is usually more expensive than building your own. Prebuilts generally offer better performance at higher prices due to upgraded components that aren't available when building yourself while others go with cheap parts sacrificing both the performance and reliability of a machine which can lead to a bad experience overall especially if something breaks down after several months of use. If you don't mind spending an extra $100 on top of your budget, you can get a prebuilt PC that will last years with proper maintenance.
One important thing to remember is that no matter which route you take (custom building or prebuilt), the better choice would be getting one with Linux compatibility as many games aren't compatible with Windows and require some tweaking in order to run smoothly causing more issues than they solve. There are good gaming PCs out there under $800 running on Linux without major problems so make sure not to miss those options when shopping around.
2. Convenience of custom gaming PCs
The biggest advantage of building your own PC is that you can create a powerful machine for less money than from prebuilt options. You also have the freedom to upgrade components as needed and keep them running smoothly without having to spend more money on a new one.
Another good thing about going this route instead of buying a prebuilt computer is that if something breaks down, you'll know how to fix or replace any component after learning through trial and error. It is better rather than just taking it back to the store where they will charge an arm and leg in order for them to send it away for repairs (if possible).
A disadvantage would be a lack of support as there are no official stores available like those offered by manufacturers such as Dell or Lenovo.
The best thing about prebuilts is the convenience of not having to worry about anything as they come ready for use out of the box with Windows installed and all necessary drivers needed in order to run correctly. You just have to plug it into an outlet, connect your monitor or TV through HDMI cable, turn on the power supply and you're good to go!
You can also get help directly from their support team if something goes wrong which might take more time than building one yourself but will be easier overall with fewer chances of running into problems related to compatibility issues or bad hardware choices/quality by whoever built it (unless buying a used PC).
Another advantage would be warranty options depending on where you purchase your prebuilt. Most prebuilt PCs offer at least a 1-year warranty that can be extended for longer periods depending on the store you buy it from.
A disadvantage is that prebuilts are usually more expensive than building your own PC even if only buying the bare components needed to build one yourself. But there are also other costs like assembling and fitting everything together as well as testing its performance once finished which might end up costing almost or sometimes more than what you would pay by simply purchasing an already built machine. You will still save money over time though due to better parts used in manufacturing these computers along with potential res value should something go wrong after several years of use.
Another thing to consider is that prebuilts don't usually allow upgrading components which means you'll have to get a new one when something goes wrong or if it's simply not cutting the mustard in terms of performance for future games coming out over time, but some do offer this feature so make sure to check before buying!
A disadvantage would be a lack of control over certain aspects like what exact parts are used inside your computer. You can customize things by choosing less expensive options than those offered while still getting decent overall results (such as more RAM memory instead of faster/better storage) but might end up paying extra money on top even though you didn't need any better hardware choices in order to run a game smoothly.
Another disadvantage would be the need to always have Windows installed which can make it harder if you want to try out different OSes over time or simply don't like using Microsoft products due to cost, privacy issues, and others alike.
Is It Possible to Get a Suitable Prebuilt Gaming PC Under 800?
It all depends on what you are looking for in terms of performance and if or not you want to be able to customize your computer with different components when the time comes that they may become incompatible over time due to lack of support from manufacturers/stores after several years have passed since their release date.
Prebuilts also usually stick with standard hardware components such as Intel/AMD processors for CPU and Nvidia graphics cards along with other brands that are most well-known within this market. Even though they do offer the low-end models from these manufacturers in order to keep prices affordable while still providing decent performance levels overall compared against what you could've bought by going the DIY route instead.
This isn't necessarily a bad thing but might not allow customization of certain aspects depending on how much money was saved when buying these components in bulk and packaging them together.
Gaming Laptop vs Gaming PC: Which One Is The Best?
Gaming laptops are portable gaming computers. They can be moved around, unlike gaming PCs that need to stay in one place due to the size and power of these machines.
Gaming laptops still pack some impressive specs that allow them to run modern games on decent settings at playable frame rates. However, they cannot match the sheer performance offered by a top-tier desktop PC or custom-built machine for gamers who care about speed more than portability.
On average, $800 will get you better hardware with an ultra-high powerful GTX 1080 graphics card (GPU) inside it rather than something like GeForce 1050 Ti [2] found in most low-end models. The GPU is only part of the processing equation though; other factors include CPU clock rate and RAM capacity.
Do not forget about cost either because a laptop will always be significantly pricier than an equivalent desktop model. A new desktop PC can be bought for anywhere between $600 to $800, while a laptop with similar specs will cost at least twice that. However, there are some notable exceptions in both cases because you can find plenty of laptops under 800 dollars offering better hardware than their less expensive counterparts does.
Do not forget about other factors either like size and weight because these devices are designed to easily fit inside tight spaces due to their small or thin nature. For example, a desktop with the same hardware we mentioned earlier is going to be significantly bigger and heavier than an equivalent laptop model due to its larger size and several extra pieces of equipment that need to fit inside it like power supply units (PSU) for example.
Some laptops do not even include PSU's in their price tag because these models are designed to work without one. They get all the necessary power from external sources such as wall sockets. However, depending on your needs this might make the device less portable since you will always have to carry around two separate components instead of just one big box containing both CPU and GPU parts. This brings us back full circle: portability vs speed & performance comparison comes down to individual preferences.
Gaming laptops and gaming PCs both have pros and cons. Gaming laptops are portable, but they tend to be more expensive than their counterparts. On the other hand, although gaming PCs don't need to leave your home, these machines can take up a lot of space if you do not choose one that is compact enough for your needs.
Main Features
Processor (CPU)
A CPU processor serves as the computer's operations center. The CPU directs other elements in the system to carry out the user's instructions. Processors are used in computers, phones, TVs, and other electronic devices that execute programs. The CPU is the brain of a computer linked to the motherboard. It has several key features that make a computer more user-friendly [3].
For example, the Intel Core i-7700K [4] is a quad-core processor with hyperthreading. This means that you can run up to four virtual cores at the same time, as your motherboard allows it (most do). Four cores are usually enough for most gamers and power users alike.
Except for some rare cases where people play resource-intensive games like Arma III or Battlefield on ultra-high settings, this CPU will be more than powerful enough for any modern game on maximum settings without stuttering during gameplay!
The i-7700K also includes Intel Turbo Boost technology that automatically boosts the processor speed to a higher clock rate when it is needed. In addition, you will get all of this cool stuff: virtualization support for running one operating system inside another (useful if you want to run Windows on your Mac OS X machine), AES encryption instruction sets, and faster media conversion!
Finally, don't forget that new CPUs usually require a motherboard upgrade too because they use different connectors or have more PCI Express lanes.
Graphics Card (GPU)
The GPU, as the name implies, is a chip, component of the graphics card, or onboard component that performs "Graphics Processing" making it GPU (Graphics Processing Unit) [5].
The GPU component of a video card is designed to accelerate graphics processing tasks. It can be used together with the CPU or on its own, depending on whether it's integrated into the motherboard chipset (onboard) or connected as an expansion card.
The most important feature that separates high-end GPUs from low-end ones is CUDA cores and texture units. With more CUDA Cores you get better performance in games like Fallout four, Witcher three, and even Call of Duty Infinite Warfare! The higher number of Texture Units means your computer will render textures faster so they appear sharper when displayed at lower resolutions than 1080p.
RAM
A RAM is a type of volatile memory that temporarily stores user data in a program. In the context of computer software, RAM is often used to refer to a type of general-purpose memory that holds data. Because data are lost when power is removed, RAM is considered volatile [6].
The amount of RAM that your computer needs depends on how many programs you run at the same time and what types of software they are. Typically, more RAM will be needed when running memory-intensive applications such as video games.
You can check out the RAM requirements for your games on its store page. For example, Fallout 4 requires a minimum of 8 gigabytes of RAM to run properly.
Storage Space
The storage space is where your computer stores information. There are two main types of computer storage: hard disk drives (HDD) and solid-state drives (SSD).
The advantages of HDD disks are the larger storage space and the cheaper price tag. Also, HDDs are more reliable than SSDs.
HDD disks spin around quickly which means the data on them can be accessed randomly, while SSDs store data in cells that can only be accessed in a linear order. Because of this, SSDs are typically faster than hard disks. Additionally, they also consume less electricity and produce less heat so your computer will run cooler if you choose the right drive for it.
SSDs are much faster than HDDs but also more expensive. For example, the price of a 500GB SSD is roughly twice that of a standard HDD with double the storage space.
Therefore, gamers and power users looking for maximum performance should definitely get an SSD while casual or office workers may want to stick with regular hard drives.
An additional feature offered by some models of Solid State Drives is "TRIM Support" which frees unused blocks from memory reducing its thus boosting overall system responsiveness when compared to traditional HDDs.
For example, if you replace an old spinning-platter style hard drive with a new Solid State Drive (an SSHD for instance like Seagate FireCuda [7]), then your operating system will start up faster because of reading files are stored sequentially is much faster than random access.
If you aren't sure what kind of storage your computer has, then check the specs for it on its manufacturer's website.
To sum up, if you need a large storage space to store photos videos music files that don't require fast access speed, then go with an HDD disk! If instead, your needs are more focused on gaming performance and speed-related tasks (like loading time), it is better to choose between one of the best-selling solid-state drives.
Internal SSD
Some people who build their own PCs prefer to use an internal Solid State Drive (internal SSD) rather than a standard HDD.
This is because they require zero moving parts that mean that there are no disk heads or drive motors, resulting in little chance of failure and increased speed since data can be read from the memory chips faster. It also allows for lower power consumption so your computer uses less energy while running. The best part about this upgrade is that it makes swapping files much easier!
You don't have to wait for Windows to load up every time you restart your PC like with traditional hard drives – simply turn on your machine and log in almost instantly! Internal storage will make a huge difference when playing games too as there won't be any pesky read/write speeds to get in the way of your experience.
There are several types and sizes of internal SSDs to choose from depending on what your budget is and how much storage space you need.
For example, you can get a 250GB internal SSD for around $100 and it would be enough for your OS to load up quickly so you could start gaming. If you want more storage space than that then check out the 500GB version which will only cost another $30 to upgrade from the previous one! Remember: if you already have an existing hard drive in your computer when buying an internal solid-state disk (new PC perhaps), remember not to install both disks at the same time as they might conflict with each other and cause problems!
Power supply units
The power supply unit or PSU is a key component for your gaming PC [8]. It should be able to provide all the wattage you need so that it can run smoothly without any issues. If there aren't enough watts then it might not boot up, freeze randomly and stutter while playing games as well as overheat which will shorten its lifespan significantly. You don't want this to happen since replacing one of these components could cost hundreds of dollars!
To avoid wasting money on unnecessary upgrades, just ensure that your PSU supports at least your graphics card if not more with around 500 Watts additional power leftover in reserve (for future upgrades). This way, even when overclocking certain components like GPUs or CPUs, will have sufficient overhead to prevent any stability issues from arising.
In order to calculate if your computer has the right PSU wattage, you need to add up all of your PC components' power requirements. If each component required less than 150 Watts then this would be enough but it is always better safe than sorry since most modern games nowadays use more resources like RAM memory which adds up throughout the day!
The good news about PSUs is that you don't have to worry about choosing a good one since there are plenty of options out there that will do the job without costing too much.
If your main focus is on having enough power for overclocking, then get a 650-watt PSU at least but if not and want something more affordable yet still has all the required wattage needed, go with 750W models which start from around $50.
If budget isn't an issue though, it's better to get 850 watts or even 1000 Watts since they provide some extra overhead in case you decide to add more components down the line!
Computer Case
The computer case is the last part of your gaming PC that you should look into buying. You can get one for around $40 or if you want something sturdier and more aesthetic, spend a bit extra to get it in another color like red, blue, or green!
This might not seem like an important piece but when choosing between several cases, remember to measure how much room there is inside so that whatever components you decide on fitting in will be able to fit easily without any problems.
If possible, try getting a mid-tower instead since they offer plenty of space while still being lightweight enough so upgrading them later down the line won't be too difficult. There are other sizes available though such as full-towers which provide even more room inside but are bulkier and harder to upgrade which is why they aren't recommended for first-time builders.
Some PC cases come with built-in fans while some don't so if you live in a hot climate, look for one that has more than enough of them to provide good airflow. This way parts won't overheat or burn out easily during intense gaming sessions!
If the case is too bulky then just remember that it's easier to upgrade full towers compared to mid ones since they have fewer components inside which means more room for upgrading later on without having any problems. Also keep in mind how many power plugs your computer case will require before buying anything since this might also cause issues down the line when not planning things carefully beforehand!
When choosing between several computer cases around the same price range, make sure that whichever you choose allows easy access to the inside. This way, upgrading components down the line won't be difficult or cause any problems during installation!
If you have enough money, just buy whatever case looks best but if not, make sure that it is compatible with all your parts before spending anything to avoid wasting time and effort later on when needing to change cases for some reason!
Before buying a computer case, ask yourself these two questions: "What kind of motherboard will I be using?" or "Will my graphics card fit easily?". By doing so you can choose the right case without any problems arising later on during installation!
Connectivity
You also need to consider how many USB ports, you'll have with at least two being necessary for installing an operating system, mouse, and keyboard. If the motherboard has more than enough internal USB headers then go ahead but if not, make sure that your case has front-facing USB slots since they are easier to access compared to those on top or inside of a computer case.
Don't forget about memory card readers as well which allow transferring files straight from cameras onto laptops without using wires!
The best gaming PCs under $800 should be future-proof so think carefully about connectivity before buying one since this way upgrading later on down the line won't require any additional costs even when adding more components.
If you wanted to use wireless peripherals such as mice and keyboards but didn't have enough space inside of your computer case for a Wi-Fi card, consider getting a USB dongle instead which will provide internet access at good speeds while not increasing the overall cost too much compared to getting a motherboard with built-in Wi-Fi.
Aesthetics and Design
The best gaming PCs under $800 usually have a black or white case with red accent colors. These color combinations look great and the cases are very functional, providing optimal airflow for cooling your PC's components. The aesthetic elements of these computers also allow you to upgrade them in the future without having to purchase entirely new towers; some people like adding RGB LED lights that point out important ports on their computer or add more fans if they need extra airflow.
Future Upgrades and Reparability
One of the best things about gaming PCs under $800 is how easy it is to upgrade them in case you need more space or want your computer to run faster. You can just purchase a new graphics card and add that into the PCIe slot on your tower.
The RAM sticks are also very easily upgradable and there's usually enough room for another HDD if you run out of storage space when downloading games from Steam or other online stores. If something breaks, repair costs tend to be low because most components are made by reliable brands like Corsair, Seagate, etc., so finding replacements won't cost much money either way since they're all interchangeable with each other once inside the towers themselves.
The best gaming PCs under $800 should provide all these features in order to be future-proof so just remember what kind of peripherals you use before choosing one. This way, upgrading later down the line won't require any additional costs even when adding more components. Just make sure that your motherboard supports what you want to use otherwise it will be harder and more expensive than necessary!
Peripherals & Accessories to Go With Your New $800 Gaming Computer
Gaming Monitor Picks
1) Sceptre C248B
The Sceptre C248B is one of the most affordable monitors to appeal to budget-conscious gamers. This 24-inch display has all you need to play competitively, including ultrafast response times and game-specific display modes, as well as a stylish design. The C248B is a great bargain for gamers who want to play action, strategy, and other types of games at high settings. It has an excellent feature set with AMD FreeSync support for tear-free gaming and a competitive price.
2) BenQ GL2460HM
The BenQ GL2460HM is a 24-inch Twisted Nematic monitor that delivers an adequate 1,920-by-1,080 image with inky blacks and bright colors for everyday home and office usage. It struggles to display the lightest grays, and its viewing-angle performance may be stronger, but it offers a quick pixel response and a low input lag. However, other 24-inch displays available offer more features at around the same price.
Gaming Keyboard Picks
1) Logitech G213
In terms of design, the G213 scores high in several areas: its mechanical-style typing action is strong and impressive, and it offers a lot of functionality for media playback and day-to-day use. Its build quality and illumination could be better as well, but it is actually bigger than its competitors are.
2) Thermaltake Tt Challenger Ultimate eSPORTS
The Challenger Ultimate is a USB keyboard with a plethora of features. One of the nicest features of the keyboard is the inclusion of two USB ports on the rear – you may connect your mouse and headphones to it right away and keep everything nearby. On the back of the keyboard, you will find a pair of commonplace audio jacks. Additionally, Thermaltake's software for the keyboard includes a wizard that can configure the LEDs to display all 256 colors.
Gaming Mouse Choices
1) Logitech G203 Prodigy
The Logitech G203 Prodigy is a decent, inexpensive gaming mouse with enough precision to handle typical games in addition to using buttons. It also includes RGB LEDs. However, more mice that are expensive will have sharper, faster buttons, a bigger more ergonomic design, and other bells and whistles.
2) Redragon Cobra M711 FPS
The Cobra M711 FPS is an improved variant of the original Cobra M711. The sensor has been updated to the PixArt PMW3360, one of PixArt's top-tier optical sensors, although the right-handed ergonomic form hasn't changed. Lastly, LK optical switches are utilized for the primary buttons, providing low button latency. Furthermore, RGB lighting is provided as well, which may be modified in the software and includes a variety of other adjustments.
FAQ
Should you upgrade to an RTX 2060?
The RTX 2060 is a fantastic graphics card to buy, and despite being less expensive than the top GPUs on the market, it may still run current games with good visuals and produce 4K videos. It can also perform next-generation real-time ray tracing in supported games [9].
What about an operating system for a custom PC?
An operating system is not included in the price of a custom PC. However, if you're looking to get started immediately with your new computer, you can purchase an OEM license for Windows for between $100-$120.
What graphics card can run Fortnite at 144 fps?
A GeForce GTX 1660 Ti will suffice if you want to achieve 144 FPS at High settings in Fortnite. The GeForce RTX 2060, on the other hand, is the way to go if you want to maintain 144 FPS at all times [10].
How much FPS does an 800 dollar PC have?
A computer with a total price of $800 will be more than enough to allow you to play at 144+ frames-per-second (FPS) experience on a 1080p display. A high refresh rate monitor is required for competitive gamers, so achieving these high frames is critical [11].
Is building a PC hard?
Building a PC is not difficult, but some people may find it challenging to understand the process. If you can build Lego, however, it's not so hard to assemble a computer. The most difficult part of the process is just installing the CPU and cooler into your motherboard. It can be done in under an hour, so you won't have to worry about it taking up too much time.
Is Intel or AMD better for gaming?
AMD holds the advantage in the most important price ranges, particularly in the middle and high ends of its stack, but expert tests have revealed that Intel's gaming capability is no slouch [12].
Is AMD better than Nvidia?
There are so many things to appreciate about both Nvidia and AMD graphics. In the end, these firms rely on the competition with each other to survive.
It's up to you who wins the fiery Nvidia vs AMD battle, but experts believe that right now, Nvidia has no rival in the 4K sector. If it's any consolation, the RTX 2080 Ti is probably your best bet if you want your PC to keep up with your Ultra HD display – as long as you can afford it. On the other side, if you're on a budget and looking for mid-range cards, Nvidia and AMD graphics cards should perform about equally [13].
Is Ryzen 7 better than i7?
They are generally comparable, but the AMD Ryzen 7 series has a larger thread count, larger cache memory, and improved multitasking.
For the more serious gamers, if you want a CPU that provides a higher level of performance and speed, the Ryzen 9 series is your best bet because it costs more than the Ryzen 7 series' entry-level prices [14].
What is the fastest processor?
In 2021, the AMD Ryzen ThreadRipper 3990X desktop PC processor is believed to be the world's most powerful CPU, with 128 threads and a 2.9 GHz base clock, and a 4.3 GHz max boost clock that enables multitasking and quick load times [15].
What is the weakest processor?
The Intel Celeron G1820 is the slowest processor. It's not necessarily bad for light usage, but gaming won't be a priority if you choose this CPU [16].
What is the slowest Intel CPU?
Intel's Core I implies the company's most powerful chips, which it refers to as "Ultra-low voltage processors". The names of these CPUs are meant to imply their power: Core i3 is the weakest, Core i5 is in the middle, and Core i7 is the fastest [17].
Useful Video: CYBERPOWERPC Gamer Xtreme GXIVR8020A4 PC Full Honest Unboxing Test & Review
Final thoughts
Okay, so you've decided to take the plunge and buy a gaming PC. You're excited about how many games are available on Steam right now, but you don't want to spend over $1000 for your purchase? That's understandable! There are plenty of great options out there that won't break the bank. The best gaming PCs under 800 dollars offer comparable specifications without costing too much money.
If you're not sure which one is best for your needs or budget, hopefully, this guide was useful! Walk through some considerations when choosing a new laptop in general before diving into specific models under 800 bucks. Read on if this sounds like something you need in order to make an informed decision about buying a good quality computer at an affordable cost.
References:
https://en.wikipedia.org/wiki/Gaming_computer
https://www.pcgamer.com/nvidia-gtx-1050-ti-graphics-card-2021/
https://www.newegg.com/CPUs-Processors/Category/ID-34
https://www.intel.com/content/www/us/en/products/sku/97129/intel-core-i77700k-processor-8m-cache-up-to-4-50-ghz/specifications.html
https://superuser.com/questions/575177/what-is-the-difference-between-a-gpu-and-a-graphics-card-in-a-pc
https://www.sciencedirect.com/topics/engineering/random-access-memory
https://www.seagate.com/gb/en/internal-hard-drives/hdd/firecuda/
https://www.techbuyer.com/uk/blog/What-is-a-Power-Supply-Unit-PSU
https://www.newegg.com/insider/7-of-the-best-rtx-2060-graphics-cards-to-buy-in-2020/
https://www.nvidia.com/en-us/geforce/news/geforce-gives-you-the-edge-in-battle-royale
https://dotesports.com/hardware/news/the-2-best-gaming-pc-builds-under-800
https://www.tomshardware.com/features/amd-vs-intel-cpus
https://www.techradar.com/news/computing-components/graphics-cards/amd-vs-nvidia-who-makes-the-best-graphics-cards-699480
https://www.wepc.com/compare/amd-ryzen-7-vs-i7/
https://www.intelice.com/fastest-cpu/
https://content.techgig.com/intel-celeron-vs-core-i3-vs-pentium-which-is-better-and-why/articleshow/87275337.cms
https://www.laptopmag.com/articles/cpu-comparison