---
CYBERPOWERPC Gamer Xtreme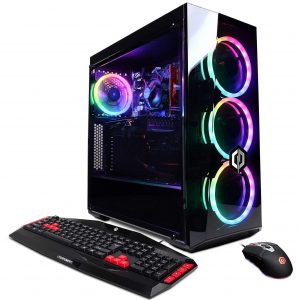 Intel Core i5-9400F
NVIDIA GeForce GTX 1660 6GB
8GB DDR4 – 240GB SSD – 1TB HDD
SkyTech Shadow Gaming PC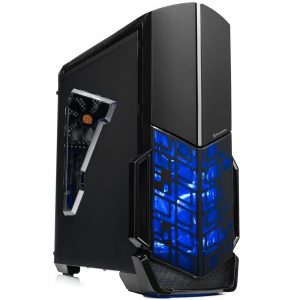 AMD RYZEN 3 1200
GTX 1050 Ti 4GB
GTX 1050 Ti 4GB
CyberPowerPC Gamer Master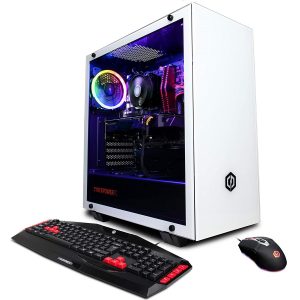 AMD Ryzen 5 3600
NVIDIA GeForce GTX 1660 6GB
6GB DDR4, 500GB PCI-E NVMe SSD
VR Ready HP Pavilion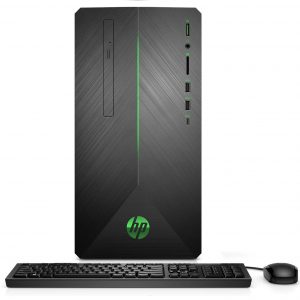 Intel Core i5-9400F
NVIDIA GeForce GTX 1660Ti
8GB RAM – 256GB SSD
CLX Set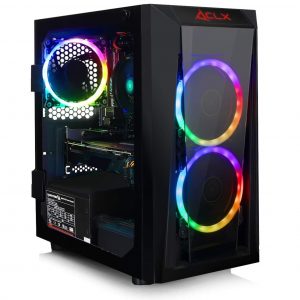 AMD Ryzen 3 3200G
GeForce GTX 1650 4GB
8GB DDR4 – 480GB SSD
---
Choose the Best Gaming PC Under $800
Customer's Choice: the Best Rated Gaming PCs Under $800
3 users answered this survey. Please help us improve this review!

100% of users selected CYBERPOWERPC Gamer Xtreme, 0% selected SkyTech Shadow Gaming PC, 0% selected CyberPowerPC Gamer Master, 0% selected VR Ready HP Pavilion and 0% selected CLX Set. Every month we analyze your answers and change our rating.
---
Buying a gaming PC under $800 is not an easy task. Many brands offer this price range, but not all provide the best value for money. You need to know what you're looking for in a gaming PC under $800 before you buy one of them and spend your hard-earned cash on something that will disappoint you later with poor performance or broken down after just a few months of use.
Most people who go out and purchase such PCs don't even think about buying decent peripherals along with it – they simply get whatever is cheapest at the moment and expect their games to run smoothly without any issues whatsoever.
If you're looking to buy a gaming PC, but don't want to spend over $1000, the best option might be the best gaming PCs under $800. This article will tell you all about these computers and how they compare with other models in their range. Experts will also give you tips for choosing which one is right for your needs and budget!
CyberpowerPC Gamer Xtreme VR Intel Core i5-9400F – the Editor's choice!
The CYBERPOWERPC Gamer is a beefy budget machine with a mid-range hexa-core Intel Core i5-9400F processor clocked at 2.9GHz. It won't outrun its Ryzen 7 competitors, but it does have a heart and it's incredibly cheap. The Core i5-9400F is available for a reasonable price on its own, making it one of the least expensive 9th Gen six-core processors on the market. It has higher game support and lower latencies than the core i5-8400 it replaces.
The Gamer Xtreme may effortlessly handle productivity in day-to-day usage, never slowing down or holding back. Trying to do 10 YouTube videos while streaming a Hulu Original on this desktop, or keeping 15 Chrome tabs open at once? This computer will easily manage a tense scenario like that.
The CYBERPOWERPC Gamer GXiVR8500A is a great choice if you want to do some PC gaming on a budget, even if it won't satisfy high-end gaming demands. It's a strong performer with a few flaws, but its low price and excellent gaming performance make it an appealing option, especially if you're new to the world of PC gaming.
---
SkyTech Shadow Ryzen 1200 3.1GHz Quad-Core Gaming PC – the best for FPS performance!
Besides enhanced gameplay, this computer is fast, reliable, and portable; it also comes with an onboard WiFi connection for added convenience without having to purchase any adapters (sold separately). With its ability to change speeds according to requirements, this sleek desktop is perfect for whatever game or job you throw at it.
This is a great computer for students and gamers on any budget. With 8GB of RAM and 1TB HDD, this one is not going to let you down. Unleash the power that's in your hand and give SkyTech Shadow Ryzen 1200 3.1GHz Quad-Core Gaming PC a try!
---
CYBERPOWERPC Gamer Master AMD Ryzen 5 GTX 1660 6GB Gaming PC – the best RAM!
The CyberPower Master GMA1400A runs on a Ryzen AMD Ryzen 5 3600 CPU with 16GB RAM and a 512GB solid-state drive (SSD), so it never stutters when under heavy loads. You can download a game, switch between a dozen browser tabs, run a full system scan, and broadcast on twitch all at the same time. If you're paying for a Ryzen 5 Hexa-core desktop, you should get no less than top performance across all dimensions.
The lack of an optical drive is not a problem, since most PC games may now be downloaded from digital distribution services like Steam and Origin. Furthermore, adding one on the front would scratch the case's elegant simplicity. There are several easy-access ports on the top panel (towards the front): two USB 3.1, a microphone and headphone jack, and a Reset button.
The CyberPower Gamer Master PC is a pre-built gaming computer with enough raw power to run most current games at 1080p resolutions and high settings without sacrificing frame rates.
---
HP Pavilion VR Ready Intel Core i5-9400F Desktop Computer – the best for multitasking!
For storage, the 256GB SSD can provide all the space you need. With a media card reader to extract pictures from external storage devices such as digital cameras along with Wireless AC so fast Wi-Fi connections are possible. An NVIDIA GeForce GTX 1660Ti graphics card provides immense power with 230 FPS on Overwatch without stuttering or lag!
This HP Pavilion Desktop Computer is the perfect mix of power and price to suit your needs, whatever tasks you want to perform on this machine.
---
CLX Set E-Sports AMD Ryzen 3 3200G 3.6GHz 4-Core Gaming Desktop – the best for future upgrades!
This CLX AMD Ryzen 3 3200G 3.6GHz 4 Core Gaming Desktop is a high-performance, value-priced desktop PC that can be customized to your specifications for both home and office use. The perfect setup, the full package comes with a keyboard and mouse as well as 6 USB ports. With plenty of room for future upgrades, this system will provide you with many years of reliability due to its lifetime labor warranty.
The system's 480GB solid-state drive also offers a great balance of speed and storage. The CLX SET is also housed in a sleek gaming chassis that allows for maximum expansion and ventilation. You may game how you want, whenever you want, thanks to both wired and WiFi networking options.
With a lifetime labor warranty, you can buy CLX Set without worrying about the technical difficulties that come with your purchase. Also, it is a great future-proof gaming PC that you can easily upgrade. The keyboard and mouse make easy work out of typing and navigation on a PC, while its 6 ports provide ample connectivity options.
---
Video Tutorial: CYBERPOWERPC Gamer Xtreme GXIVR8020A4 PC Full Honest Unboxing Test & Review