---
TP-Link AC1300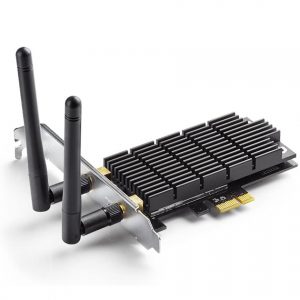 2 External Antenna
Speed (up to): 867Mbps(5Ghz),400Mbps(2.4Ghz)
Easy Setup
ASUS PCE-AC88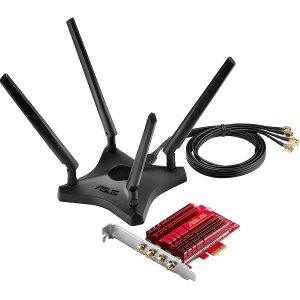 4 x R SMA Antenna
Modulation-1024qam.
Speeds up to 2100Mbps
TP-Link AC1200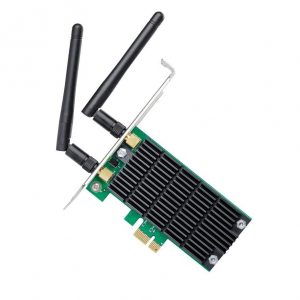 2 External Antenna
Speed (Up to): 867Mbps(5Ghz),300Mbps(2.4Ghz)
Wi-Fi 5
TP-Link AC1900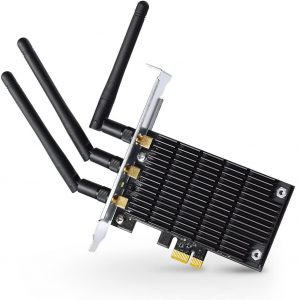 2.4GHz 600Mbps Wi-Fi
Easy to Install
External Antennas
Rosewill Wireless N300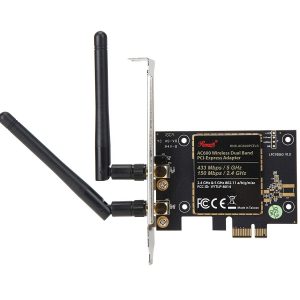 Standards: IEEE 802.11b/g/n
Wireless Data Rates: Up to 300Mbps
LEDs: Link/Activity
---
Choose the Best WiFi Card for Gaming
Customer's Choice: the Best Rated WiFi Cards for Gaming
7 users answered this survey. Please help us improve this review!

42.86% of users selected TP-Link AC1300, 42.86% selected ASUS PCE-AC88, 14.29% selected TP-Link AC1200, 0% selected TP-Link AC1900 and 0% selected Rosewill Wireless N300. Every month we analyze your answers and change our rating.
---
A wireless or WiFi card for gaming is a type of PCI-e adapter that allows gamers to connect wirelessly with the network.The best WiFi cards for gaming have speeds that are more than enough to support online multiplayer games, while also providing low latency.
Wireless adapters are often used on laptops because they can be bulky and many laptop models do not support Ethernet ports anymore.
What is the best WiFi card for gaming? Is there a difference between 802.11n and 802.11ac? What about dual-band vs single band cards? These are all questions that experts will answer in this guide article, as well as product reviews of some of the best WiFi cards for gaming on the market today. Whether you're looking to reduce lag or better your home network's coverage, this article has something for everyone!
TP-Link AC1300 PCIe WiFi PCIe Card – the Editor's choice!
This Wifi card has been carefully crafted to meet your needs as its low profile design means it's suitable for all styles of computers. Configure to work on Windows 7/8/8.1/10 (32/64-bit) operating systems, the card makes sure that every device in sight stays connected at super speeds!
You're going to love the TP-Link AC1300 PCIe WiFi PCIe Card. It's a great, affordable investment that will work with your PC and make wifi dreams come true. Give your internet connection a boost with this brand new product from TP-Link.
---
ASUS PCE-AC88 Dual-Band 4×4 AC3100 WiFi PCIe Adapter – the best for coverage!
Its technology supports MU-MIMO which pushes multi-gigabit data transfers with ease, ensuring no bandwidth constraints during heavy use periods.
With its 4 external antennas, it not only provides an increased range for interference mitigation but also facilitates maximum wireless coverage in your home or office space so you can enjoy ultimate connectivity even when you are far from your router!
The card comes with a GPU heatsink that helps keep its core components cool improving efficiency operations that means lagging gameplay sessions are history now.
This superior card from ASUS offers fast speeds, up to 2100Mbps on the 5GHz band and 1000Mbps on the 2.4GHz band, with MU-MIMO technology giving you a faster streaming experience for multiple devices. With 4 antennas that maintain an increased range over common WiFi cards, this is the perfect solution for crowded spaces or expansive homes.
---
TP-Link AC1200 PCIe WiFi Card (Archer T4E) – the best for OC compatibility!
This TP-Link AC1200 PCIe WiFi card is perfect for streaming 4K Ultra HD video streams to multiple devices at the same time, without any skip or buffering. Experience faster internet speeds with faster Wi-Fi speed (up to 1200Mbps) and a greater wireless range (with 2 external antennas)! The Archer T4E unit is easy to install within minutes by upgrading your existing PC/laptop's internal Wi-Fi card.
This card is budget-friendly and makes it easy to switch from Wi-Fi to Ethernet cables when needed (burglar alarm prevents you from using Wi-Fi) so make sure your 24/7 technical support squad doesn't get fired up about it.
Do you want a fast, reliable wireless connection that powers your gaming and 4K video streaming? You need TP-Link AC1200 PCIe WiFi Card! It has a speed range of up to 1200Mbps and delivers a more stable performance than other cards. Never experience wirelessly disconnecting because two external antennas give you an increased range for stability and better coverage.
---
TP-Link Archer T9E AC1900 Wireless WiFi PCIe Network Adapter – the best for custom PCs!
A dual-band speed of 5 GHz (1300Mbps) and 2.4 GHz (600Mbps), beamforming technology specific to 802.11ac Wi-Fi for better quality – the TP-Link Archer T9E is one of the best choices around!
The TP-Link Archer T9E is the perfect choice for those looking for premium performance at a very reasonable price, without sacrificing sleek design. Complete with three adjustable antennas that can be adjusted in 90-degree angles; this adapter satisfies both aesthetic needs, as well as your addiction to the high-speed technology.
---
Rosewill AC600 WiFi Adapter/PCI-E Wireless Adapter/Network Card – the best for the speed range!
Upgrade your computer to the next generation of wireless data transfer. The Rosewill AC600 Wi-Fi Adapter is fast up to 433Mbps for 1080p/3D HD video streaming, lag-free online gaming, and better Wi-Fi reception with its dual-band connectivity. You can rest easy knowing that our adapter is fully compatible with all 802.11a/b/g/n products so no interruptions in service are guaranteed!
And this router card provides hassle-free installation, so you'll be cutting edge without any work on your part! Plus the latest addition to these network cards has external antennas which not only look amazing but allow us to provide wilder coverage for our Wi-Fi networks.
Affordability meets power with this Rosewill AC600 WiFi Card! Get the full potential of your high-speed internet without losing signal strength, streaming video games or media effortlessly.
---
The Buyer's Guide
What is PCIe? 
PCIe (a.k.a. peripheral component interconnect express) is a connectivity interface standard for connecting high-speed components. Every desktop PC motherboard has numerous PCIe slots where you can install GPUs (also known as video cards or graphics cards), RAID cards, Wi-Fi cards, or SSD (solid-state drive) add-on cards. The PCIe slots available on your PC are determined by the motherboard you purchase.
The number of lanes (how data travels from and to the PCIe card) on a PCI express slot is represented by x1, x4, x8, x16, or x32. The amount after the x indicates the number of lanes (data flow via PCIe cards) on the PCIe slot. A PCIe 1x slot has one lane and can transfer information at one bit per cycle [1]. 
Why Buy A PCIe WiFi Card?
A Wi-Fi card is a simple and cheap way to upgrade your PC's internet speed. With most new computers having integrated wireless cards, it can be difficult to download large files or stream HD video via the web without experiencing lag time (the amount of time between pressing play on a media file and actually seeing that content appear). This isn't an issue if you're using Ethernet cabling as every bit of data would travel at maximum speeds from point A to point B. 
However, with WiFi being slower than wired connectivity due to poor signal strength outdoors especially in densely populated areas such as cities where there are many other competing networks for bandwidths, this means you'll experience delays unless your router was originally installed by someone who specialized in networking. Installing a PCIe card will allow you to download multimedia files faster and stream HD video without annoying lag time.
You'll also experience better speeds downloading games from Steam if your computer is connected wirelessly via WiFi instead of Ethernet cable, as well as being able to download patches for the same game locally much quicker. It's important to note that wireless connections are not recommended when running online gaming servers such as Minecraft or Battlefield since there is no way to guarantee low latency (the amount of delay between pressing a button on your controller/keyboard and seeing action occur in-game).
What Do PCIe Wireless Cards Do?
The best WiFi cards for gaming will allow you to connect your PC via wireless and experience faster speeds than what is provided by the onboard built-in card. You'll be able to download games in a fraction of the time or even play online without lag!
WiFi cards come in different varieties, but all provide similar features such as:
802.11ac compatibility (the latest standard);

dual-band connections;

beamforming technology that focuses signals from your computer toward your router instead of "spraying" them everywhere;

powerful antennas with greater coverage areas for fewer dead spots indoors especially if you have thick concrete walls at home/office;

MU-MIMO [2] support that allows multiple devices on a network to receive full bandwidth simultaneously while reducing interference and data loss, and many more;
Main Features:
Form Factor and Size
The size of the PCIe wireless card that you choose is also important. If you are using a laptop, make sure to get one with an appropriate form factor for your machine. 
A WiFi adapter should fit into any empty slot within your computer or docking station regardless of its shape or size.
The form factor refers to how much space you have available in your case for an add-on component. 
Most WiFi cards are half-height, meaning they will take up two slots vertically on your motherboard if installed correctly (i.e., install one above another). 
Full height cards are smaller but take up only one slot while low profile ones can fit into small cases where full-sized would not be able to fit properly at all without blocking other components or cables entirely! 
WiFi Bands

:
Dual-Band Over Single-Band
Most WiFi cards operate on a single band, but dual-band adapters have both the older and newer wireless standards to work with. If you're considering buying one for gaming purposes only where speed is important at all times, then a dual-band card will be a safer bet as it won't bottleneck your Internet connection if speeds are lower than what's advertised by ISPs (internet service providers). 
However, keep in mind that most routers nowadays come equipped with 802.11ac compatibility so going super high end aren't necessary unless you plan to upgrade your router/PC soon or want future-proofing benefits from having two bands available now instead of just one! 
One thing to note about using multiple bands simultaneously is that these signals can interfere with each other, resulting in a slowdown. You can avoid this by purchasing adapters that have beamforming technology that focuses signals from your computer toward your router instead of "spraying" them everywhere and causing interference [3].
Lastly, if you're only going for gaming purposes then it's recommended to go with single-band cards as they are sufficient enough speed-wise while being cheaper overall compared to dual-band options since some consumers might not need the extra band support anyway. Your mileage may vary depending on where you live so do get advice from local tech stores/forums before committing!
WiFi Standard
The differences between wireless networking standards are sets of services and protocols that ensure how your Wi-Fi network (and other data transmission networks) functions.
The most popular wireless protocols include IEEE 802.11 Wireless LAN (WLAN) and Mesh. 
The Institute of Electrical and Electronics Engineers (IEEE) revises the 802.11 WiFi standard every few years. The current Wi-Fi standard is 802.11ac, which is being phased out, while the next-generation Wi-Fi standard, 802.11ax, is currently under development.
Two devices that are both Wi-Fi 802.11ac can communicate without issue. However, when you attempt to link two devices that use different, perhaps incompatible wireless technologies, difficulties may arise.
In recent years, your cards and wireless devices with 802.11ac have been able to communicate without difficulty.
All 802.11b, g, and n wireless devices can communicate with an ac router.
Neither 11b nor a can communicate with each other.
It is not possible for 11g to communicate with b, and vice versa [4].
Wireless Range
A typical guideline for home Wi-Fi networks is that 2.4 GHz Wi-Fi routers can communicate within 150 feet indoors and 300 feet outdoors [5].
Antennas
The number and type of antennas on a wireless card are important. Your selection may vary based upon your application, but know that the more antennas you have, the greater your ability to communicate with other devices simultaneously.
You should not select any cards without multiple antennae; those will be very limited in their connectivity and performance.
A WiFi card should have at least two antennae for better signal reception and transmission indoors or outdoors. 
WiFi cards with 3 antennas can increase the range and reliability of your wireless connection.
With four or more antennas, you'll be able to communicate over multiple channels for even faster download speeds (depending on if your router also has its number of antennas).
Many users choose Wi-Fi adapters/cards with external antennas so that their built-in antenna is better positioned near the front/back panel of their PC's case. This allows for better signal strength and range, especially if the case is thick metal or has other materials inside that can block signals from getting to/from your wireless router.
OS Support
There are many different operating systems in use today, each with its own features and functions.
Not all wireless cards support multiple platforms – it's important to know which one you're using before purchasing a new card.
Make sure that your selected Wi-Fi card is compatible with the machine or machines that will be connecting to the network. 
Your PC may require an older version of Windows (such as XP), while gaming consoles typically won't support Linux at all.
Wireless adapters must be compatible with the machines that will use them. Make sure they work with Windows or Mac before you buy one for a gaming console, as well.
Data Transfer Speed and Bandwidth
The data transfer rate (DTR) is how fast the information travels from one place to another. The more bandwidth a path has, the faster the data will travel. On Ethernet local area networks, you might get speeds as high as 10 megabits per second [6] .
Thermals and Heatsink Capability
Heat is the most common cause of device failure, and it degrades electronic equipment. As a result, to enable your PCIe WiFi card to operate at full speed while preserving connectivity, it is critical to keep it cool enough. Because WiFi cards are designed for high performance, some may encounter this difficulty. 
Therefore, heatsinks and fans are used on higher-end models. Heatsinks assist in the dissipation of heat from the system, which is then exhausted via your PC's ventilation system.
Some notorious PCIe WiFi cards have incredible bandwidth, but their inefficient thermal design causes them to be bottlenecked. It's also crucial to maintain a dust-free environment and provide adequate air circulation in your computer so that the card's heat does not interfere with other components' performance [7].
Connection Speeds
Connection speeds and latency also affect performance.
The lower the signal strength, the more likely it is that your connection will drop or data will be lost in the transfer.
Latency refers to how long it takes for a packet of information to get from one place to another. 
Lower latency means faster response times when there are connections between multiple devices on a network. 
For example, the throughput of a WiFi 802.11b network, on average, is no more than 50% of its theoretical maximum speed, which is around 5.5 Mbps. Wi-Fi networks that use the 802.11a and 802.11g wireless protocols generally transmit at a maximum speed of 20 Mbps. Even though the 802.11n speeds are 600 Mbps compared to 100 Mbps for wired Fast Ethernet, the Ethernet connection may frequently outperform Wi-Fi in practical applications. With each new generation of technology, Wi-Fi performance improves [8].
Additional Features
Security and guest networks should be considered. WiFi cards can either be used for business or personal purposes. For public networks, such as those in cafes and restaurants, security is important to protect customer information from malicious software. Most routers have some form of security built-in. 
However, it's still a good idea to choose the best WiFi card with different types of encryption so your network is protected against intruders! Guest networks allow visitors/newcomers' devices access without giving them full control over the main Internet connection (and thus exposing more sensitive data). This feature makes sure that guests don't interfere with other users on your home network. 
On-board diagnostics are also beneficial, allowing you to troubleshoot connectivity problems without having to call for technical support.
You should choose WiFi card that has all of the desired features and specifications mentioned above as well as those specifically required by your network (such as WPA) [9].
For example, WiFi 802.11ac is the recent standard for wireless connectivity. Although it's not yet widely adopted, its data transfer rates are up to 600 Mbps (twice as fast as 802.11n). It also operates on both channels of the unlicensed 60GHz spectrum band (four times more than any previous WiFi technology).
How can you install the PCIe WiFi card for best performance?
A WiFi card is a network adapter that helps computers connect to WiFi-enabled devices and wireless networks. 
Installing the PCIe wifi card depends on what type of computer you have:
Laptops require external cards because they have no open PCIe slots

. The easiest way to install a PCIe card is by inserting it into an ExpressCard slot, which you'll find on the side or back of your laptop. You can also get a USB adapter for laptops that will probably provide faster speeds than any kind of internal WiFi card. If your PC doesn't have an

ExpressCard slot

, then you can use a standard PCI-e wireless network card instead. In this case, the installation process should be very similar to installing other kinds of expansion cards in desktop computers and servers – just pop off the cover panel covering up all your unused components (you may need to consult online guides if you've never done it before), locate one of the PCIe slots, and slide in your new card. Then you can use a screwdriver to secure it into place (and make sure not to drop anything inside as you're doing so);

For desktops PCs, an internal PCI express WiFi card is more convenient

because there's no need for a USB connection or a slot adapter. However, installing this type of network adapter requires some computer skills since these cards often require opening up the PC case – something that may void your warranty with many manufacturers. In addition, the power supply unit needs its own cable from outlets on the back of the PC case. Otherwise getting enough electricity won't be possible unless you have another outlet at least within reachable distance from where you're planning to put your computer;

For servers, the installation process is different from that of a PC or laptop

. Instead of plugging in an external PCIe wireless network card into an available PCI slot on the motherboard of the server machine, it's more likely for you to insert a USB WiFi adapter instead because this kind of connection has been found to be faster and easier than any other option (including internal cards). Just make sure that there's a free USB port located somewhere near where you plan on putting your new device;
FAQ
Does your PC need a WiFi card?
A WiFi card can be a valuable addition to your computer, but it isn't necessary. If you only access the Internet through an Ethernet cable and don't plan on using wireless connections for any of your devices (e.g., smartphones), then investing in a good WiFi card might not be worth it to you at this point in time. However, if your computer doesn't already have one or if you find yourself constantly connected via USB cables when moving around (due to bad signal strength), then upgrading could be very beneficial down the road!
Do prebuilt PCs come with WiFi?
It's not always the case, but it is possible. It depends on the manufacturer. If you order through the manufacturer rather than Amazon, there is frequently a build-to-order option that includes a Wi-Fi/Bluetooth card [10].
What is a good WiFi card speed for gaming?
The typical internet download speed in the United States is around 12 to 25 megabits per second (Mbps). This is what most Americans have [11].
The WiFi card speed depends on what type of internet connection you have.  If your internet connection is cable-based, you can probably get by with a slower WiFi card than if it is DSL. However, since the speeds for cable are typically higher than those of DSL connections (typically), most people prefer to have more speed on their WiFi cards even when using a cable. The best option is to simply search around and find out what works best for you!
Do WiFi cards work for gaming?
A WiFi card does not directly affect your gaming experience. It is the router that you connect to which determines if a WiFi card will be able to improve your online performance. If you have good internet speeds and get consistent signals from multiple devices at once, then chances are, no additional hardware will help with any problems or latency issues that you may encounter.
Does it matter what WiFi card you get?
There isn't much of a difference between wireless cards anymore. You may go dual-band, but 5G has worse coverage and maybe less interference, but it might not have fewer signals.
If you're building a new gaming PC, chances are that WiFi will be an afterthought. And when it comes to buying one of the best networking cards for your hard-earned cash, there's no shortage of options. 
How fast are WiFi cards?
The newest generation of PCIe-based WiFi cards uses technology that allows them to reach speeds up to 2.4Gbps, whereas the traditional ones typically top out at 867 Mbps. You don't need WiFi 6 for day-to-day activities [12].
What is the difference between a Wi-Fi card and a WiFi adapter?
The difference between a Wi-Fi card and a WiFi adapter is that the former refers to an internal computer component while the latter describes external adapters. 
The main difference is that an internal card plugs into the motherboard, while external adapters plug into a USB or other port.
There are also PCIe Wi-Fi cards that can be used in desktop PCs equipped with this kind of slot and provide similar speeds to those provided by PCI adapters. They're usually installed on laptops only when there's no space left for another component inside the case.
Is 4G broadband good for gaming?
Fixed broadband has far lower latency (less lag if you're a gamer), making it ideal for activities like gaming and video chats. It's generally faster than 4G in most regions. This is particularly important for areas with lots of people, such as cities, towns, and metropolitan areas. Fixed connections are common in rural areas where there are few or no sources of high-speed internet [13].
Is 300Mbps good for gaming?
Depending on the type of games you play, 300Mbps may not cut it. In fact, some internet providers recommend 400 or 500 Mbps for a single household with multiple users and devices connected to WiFi simultaneously.
How much faster is WiFi 6?
On the 5 GHz frequency band, Wi-Fi 6 has a baseline speed of 1.2 Gbps (1200 Mbps) for each stream. As a result, a 2×2 connection has a maximum ceiling speed of 2.4 Gbps, whereas a quad-stream connection may reach as high as 4.8 Gbps [14].
Does WiFi 6 increase range?
Yes, Wi-Fi 6 has a longer wireless reach. However, it's not because of higher power output. The key is that Wi-Fi 6 features can boost data rates at particular ranges. Any new wireless standard brings with it a lot of hype, some perplexity, and several queries about the new standard's limits [15].
Do motherboards come with WiFi?
The short answer is no. Pre-built motherboards will come with a slot for the WiFi cards, but they do not include one by default. This means that you need to purchase your own card and install it yourself!
Video Tutorial: TP-Link Archer T6E AC1300 PCI-E Wifi Adapter
Final thoughts 
The best WiFi cards for gaming covered in this article will help your game better and more efficiently. Whether you're looking to reduce lag or coverage, the information provided here is essential before making a purchase decision. If you have any other questions about what type of card would be best suited for your needs, don't hesitate to reach out!
References:
https://www.tomshardware.com/reviews/pcie-definition,5754.html

https://www.linksys.com/us/r/resource-center/what-is-mu-mimo/

https://blinqnetworks.com/what-is-beamforming-technology/

https://www.makeuseof.com/tag/understanding-common-wifi-standards-technology-explained/

https://www.lifewire.com/range-of-typical-wifi-network-816564

https://searchunifiedcommunications.techtarget.com/definition/data-transfer-rate

https://appuals.com/best-pcie-wifi-cards/

https://www.lifewire.com/how-fast-is-a-wifi-network-816543

https://en.wikipedia.org/wiki/Wi-Fi_Protected_Access

https://answers.microsoft.com/en-us/windows/forum/all/do-pre-built-desktop-pcs-have-built-in-wi-fi/47321980-c020-43c4-a940-bf3362564b0c

https://www.businessinsider.com/what-is-a-good-internet-speed

https://cliffyb.com/best-pcie-wifi-cards/

https://www.broadbandchoices.co.uk/reviews/mobile-broadband-vs-fixed-line-broadband

https://dongknows.com/wi-fi-6-explained

https://www.techtarget.com/searchnetworking/answer/Does-Wi-Fi-6-have-better-range-than-previous-wireless-standards
---