---
AOC G2590FX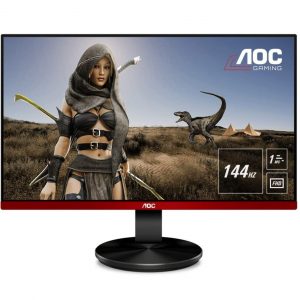 Size: 25 Inch Full HD
NVIDIA G-SYNC compatible
Rapid 1ms response and 144Hz refresh rate
Samsung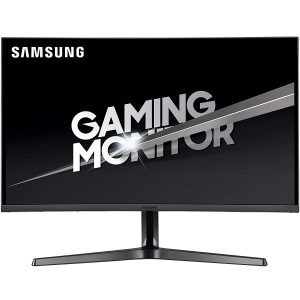 Size: 27 Inch Full HD
144Hz refresh rate
2560 x 1440p
MSI Optix G27C4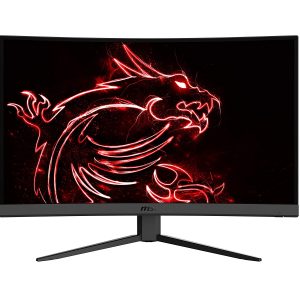 Size: 27 Inch Full HD
1ms Fast Response Time
165Hz Refresh Rate
Acer Nitro XV272U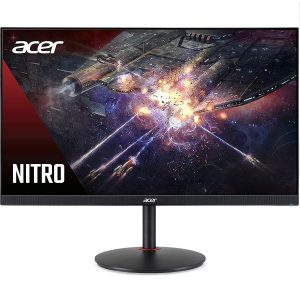 Size: 27 Inch Full HD
2 speakers, 2 Watts per speaker
Refresh rate: 144Hz
MSI 27" FHD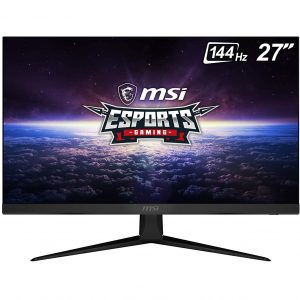 Size: 27 Inch Full HD
178° wide view angle
AMD FreeSync – prevent screen tearing
---
Choose the Best Gaming Monitor Under $300
Customer's Choice: the Best Rated Gaming Monitors Under $300
10 users answered this survey. Please help us improve this review!

10% of users selected AOC G2590FX, 20% selected Samsung, 0% selected MSI Optix G27C4, 70% selected Acer Nitro XV272U and 0% selected MSI 27" FHD. Every month we analyze your answers and change our rating.
---
If you are looking for an affordable gaming monitor, you can find some good options under $300 that work great for casual gamers. However, you need to take into account that a cheaper monitor is not as versatile as its more expensive counterpart. It may have a slower response time or a smaller screen. Though, following the overall demand, many companies have started to develop and manufacture decent  high-resolution items at the price of about $300. That expands the market and allows for making the best choice.
We have tested about 100 cheap monitors and can recommend now 5 great devices that are likely to be quite affordable. This Buyer's Guide is meant to help you choose a great gaming monitor at the moderate price for your best experience.
AOC G2590 FX Frameless Gaming Monitor – THe Most Compatible Gaming Appliance Ever
The refresh rate is 144 Hz and the response of 1 ms is quite rapid providing smooth and distinct graphics. The response time (GTG) allows for avoiding ghosting.
The monitor is compatible with NVIDIA + G-SYNC and Adaptive Sync for smoother gameplay. You can always update your graphics to those of the PC. It reduces screen tearing effectively.
The item boasts convenient connections by the Displayport 1.2, VGA inputs, and HDMI 1.4 x 2. The monitor can be mounted on the wall with the help of VESA.
The low input lag from AOC helps receive video signals on the display lag-free. The long-lasting sessions of gaming are safe for eyes with the AOC Blue Mode and flicker-free technology. It provides reliable protection against the eye fatigue.
Dark scenes are displayed in more details with the help of the AOC Shadow Control.
Performance
Image tearing and stuttering always make up a problem though this monitor's refresh rate and Adaptive Sync technology allow for effective synchronizing of the display with the GPU on the computer so all the screen tearing and lagging are eliminated.
Dramatic and fast-moving actions are rendered quickly and smoothly without ghosting that is especially important for shooting games. The display is never slow and it presents 20 levels of Grey-to-Grey (GTG) color adjustment so that you can see more details in games and movies.
The harmful blue light is sufficiently decreased by the LowBlue Mode overall control of color temperatures. It reduces eye tiredness and helps prevent sleeping disorders. Flickering is also reduced to keep your eyes safe and protected.
The Low Input Lag mode helps eliminate graphical frills. The monitor is great for professional gamers because of its fast performance.

In short, the monitor is worth considering for gaming. It has all the essential characteristics of design, color, brightness, refresh rate, display calibration, and response time that are needed for smooth and flawless playing.
You can use the frame counter for monitoring the frames per second (FPS). This counter is visible in the top corner of the screen. Seeing it is quite essential for resource-intensive games.
The appliance is well-compatible with different gaming consoles, such as Xbox OneX, PS4, and any PC.
---
Samsung CJG56 Curved Gaming Monitor – An Item That provides the Most Breathtaking Gaming Experience
The refresh rate of 144Hz supports non-stop gaming without any interruptions. The contrast ratio is 3000:1 owing to the advanced VA technology.
The item allows for connecting different gadgets through HDMI 2.0 which can connect to the Xbox and PS4 as well as through the display port.
The AMD FreeSync can customize the graphics card refresh rate with the monitor. You can also rely on the Low Input Lag Mode for minimizing the divergences between the mouse, joystick, or keyboard and the onscreen response.
The monitor also represents the CJG5 Game Mode that immediately optimizes color settings and contrast ratios. The OSD dashboard menu allows you to overview key settings.
Performance
The WQHD REsolution helps deliver the detailed characters' images and scenes as well as receive a wider view that is especially good for combat games.
The optimized monitor operation is received through the stunningly rapid screen refresh rate of 144Hz that can be adjusted to 60-120 Hz if needed.
The contrast ratio is great for deep black, vivid white, and rich and clear other colors of the spectrum for true-to-life movie and gaming scenes.
The easily synchronized refresh rate accounts for reduction of image distortions and stuttering. That provides an easy and smooth gaming experience.
The curved CJG 5's 1800K display creates the feeling of full immersion into any gaming action.

All in all, this monitor is worth buying for the best gaming experience for this price.
The only major thing to look out for when you are seeking an affordable gaming monitor is whether or not the brightness will correspond to all your needs. When you do gaming or web browsing, it will handle these operations pretty smoothly. You can also edit the settings according to your needs but the stock mode will always be great for any situation and type of performance.
---
MSI Optix G27C4FHD Curved Gaming Display Monitor – A Decent Gaming Gadget for Smooth Performance and True-to-Life Experience
Gaming with this monitor becomes smoother, more fluent, and stutter-free because of the AMD FreeSync Premium technology. The device also features Anti-Flicker and Less Blue Light technologies meant for your eyes' protection. The design is frameless with a 178-degree-wide view angle.
Performance
The curved display panel with a curvature rate of 1500K provides the comfortable use of different applications for gaming and computing experience. The curved monitor is also great for complete gameplay immersion. The 165 Hz refresh rate and 1 ms response time with the VA LED panel are a perfect combination for fast-moving games, such as shooters, fighters, racings, real-time strategies, and sports simulations. Such games are rather demanding in terms of speed so the ultra-high refresh rate and fast response will allow you to stand far ahead of your competitors. Less blue light on the monitor allows for playing games for longer times without any damage to your eyes.

To sum up, you can consider this monitor as a great gaming device. It is worth purchasing and can be used effectively with a laptop. As far as the laptop has a compatible VGA or HDMI port, it works and synchronizes perfectly. You can also use a docking setting for the laptop if it does not have the required ports. You can also use an HDMI port for the Xbox.
The monitor can be mounted on a dual or triple monitor stand. THough the item comes with an HDMI, you will have to buy a DP to DP if you want to synchronize with your graphic card depending on its type.
---
Acer Nitro XV272U Pbmiiprzx IPS G-Sync Compatible Monitor – An Item That Allows for a Big Choice of Gaming and Working Modes
This monitor is zero-frame featuring the 27-inch WQHD widescreen with the resolution of 2560 x 1440p and the AMD Radeon FreeSync technology.
Its response time is 1ms VRB and the refresh rate is 144Hz. The device is equipped with 2 speakers of the 2-watt capacity each. Another brand-new feature is 400 DCI-P3 display and a quite low Delta E ⥶2 that provide better contrast and accuracy of colors. This low Delta E supports about 130% of the SRGB.



The compatibility is great with 1 Display port, 2 HDMI 2.0, and 1 3.0 port. HDMI and the USB cable are included.
Performance
The high WQHD resolution allows for completely immersive working and gaming. The refresh rate is quite rapid so you will get ultra-smooth viewing for fast decision making.
The ability to synchronize with the latest NVIDIA allows for eliminating stuttering and picture tearing as well as for avoiding flickering.
The enhanced color vibrancy improves the experience in AAA games. The screen is never blurry with the Visual Response Boost technology. The standards used in the movie industry allow photographers, designers, and video editors to receive the most accurate colors.
You can use multiple gaming and working modes featuring their unique color profiles. You can opt for sports, racing, action games, or anything you would prefer.

As for the general recommendation, this monitor is perfect for gaming, viewing , and working so you can opt for it with peace of mind.
The only note is that the resolution which is set incorrectly or old videos can cause blurry images and screen flickering. You will need to adjust the monitor to the appropriate resolution and update a video driver if you face such an issue. Restarting the computer and fixing the screen may also turn out to be helpful.
---
MSI Optix G271 eSports Gaming Monitor – An Appliance That Is Synchronized Easily and Used Efficiently
The item has the FHD high resolution and the 144 Hz refresh rate for the smoothest and most realistic gaming. The response time of 1 ms helps eliminate choppy and distorted frame rates and screen tearing.
The Wide Color Gamut and the AMD FreeSync technologies make all details more vivid and tear-free. The Night Vision option brings the details in dark spots to the best view. The bezels are super narrow making this frameless design very convenient.
Your eyes won't get tired with Anti-Flicker and less Blue Light technologies. The 178-degree-wide viewing angle makes the smallest details remain visible and sharp at any position.
Performance
The monitor is meant for highly competitive gaming and sports tournaments. You will enjoy the tear-free and smooth gameplay without any flickering, stuttering, and artifacts.
Owing to the FreeSync technology, the monitor matches the display's refresh rate with the GPU frame rate quite dynamically and instantly. Such refresh rate allows for support from zero-Hz to the maximum capacity due to the LCD panel. You will get the stunning views and distinct and clear performance in every game.

This monitor is worth considering and buying not for gaming only but for other multiple purposes.
However, there are some features you need to take into account before making the final choice. The monitor does not come with a Displayport cable – it only has an HDMI cable. Though, it has a display port input and an audio jack for speakers so you can easily adjust it to all your needs.
You cannot rotate the screen to the vertical position with the included stand. So, you will have to acquire some other mount appliance.
---
We have compared gaming monitors under $300 and selected the most exciting offers. Choose the most suitable gaming monitor under $300 and play games comfortably!
Buyer's Guide
Your personal gaming needs should become the spotlight when you are looking for a cheap gaming monitor. A variety of models and brands can make you feel a bit confused no matter whether you are aware of the most important features or not. That is why we have compiled the list of such features to deprive you of this headache.
Resolution and Screen Size
The size of your monitor is important, of course, for more convenient and efficient gameplay. Though, it is the resolution that affects very much the quality of images.
So, consider the resolution of 1080p that is quite decent for most games. Though, if you are seeking more vivid details, opt for 1440p. One more great option is 4K but you are unlikely to find this type at the price under $300.
Anyway, you need to know all the characteristics of your gaming system while choosing a monitor because some consoles may have certain limitations that will not allow for smooth gaming views and images whatever the monitor's resolution is.
Refresh Rate
The refresh rate is indicated in hertz (Hz), so you need to check this characteristic before you buy a monitor. It means how often the images on the screen are refreshed and the changes in the overall picture are updated.
When the refresh rate is higher, the images are smoother. So, a monitor with 144Hz is certain to be better than that with 60 Hz. Such a refresh rate is much closer to the real-life action so you will get a better vision and a chance to react faster.
Response Time
This parameter shows how fast your monitor can react to inputs. For the most convenient gaming, it should be as low as possible. Though the time of 5ms is believed to be acceptable on larger displays, it does not work very well for dynamic gaming. So, the most experienced and competitive players give their preference to 1ms to get less noticeable lag.
TN or IPS?
These letters stand for the two types of monitors. IPS panels are more popular among players nowadays. They provide great sharp colors and better viewing angles. If you want to enjoy the best colors your graphics card can offer, opt for IPS.
However, IPS may have some drawbacks, such as a higher price and bigger response times. The refresh rates cannot be too high in this case, either. Instead, the IPS monitors provide a better viewing experience, so if you are not a highly enthusiastic and competitive gamer, you will not have any issues with that choice. For competition-oriented players, a TN panel with 144 Hz of refresh rate is a decent  option. However, the price of such a device can be twice as high as that of the IPS.
So why invest in a gaming monitor under $300? What the difference is is probably a question that many people ask, so I will try to explain why.
In this article, we'll take a closer look at update frequencies, response times, resolution and different screen sizes, so hopefully, you'll have more meat on your bones when you finish reading! We'll also look at this year's recommendations to get a little help on the pile if you buy.
What is the Response Time?
Before I entered the gaming world, it didn't tell me much, although I knew it was important. But it's not that difficult to explain, and if you google the term, you'll find a lot of information.
In short, the big difference between a traditional computer screen and a gaming computer screen is how fast it is. Response time is one of two important factors there.
Response time is calculated in ms and describes how quickly each pixel in the screen field can change color from gray to gray, with a lower value being better. All our game screens have a value of 5 or less. This roughly means that the screen's pixels react to the mouse movements and keystrokes of the player within 5 milliseconds or less.
In practice, this leads to a speed in games where the screen adjusts the player's reaction speed. A high response time screen shows a phenomenon called ghosting in fast games, where the pixels cannot keep up, and the image has a dull and messy delay.
I found this explanation online and find it very easy to understand. A lower value is better, and all game screens have a value of 5 or less. So this is something you can look for.
If you want to get better at Counter-Strike, it is recommended to invest in a specially designed gaming screen with the lowest possible response time. It will definitely make a difference.
What is the Refresh Rate?
As I said, it's not just the response time that makes the difference, but also the oh-so-important refresh rate. This is where our dear Hz comes in.
In all the games you play, you want the best possible flow, and in order to achieve this, manufacturers today have created different Hz on screens, and I am very grateful for that. The refresh rate indicates how often a pixel can change the image. This is what counts in Hz.
In most games, you want a screen that can change 60 frames per second and more, which is reflected in the game screens' refresh rates. Then it is easy to understand why some screens have 60 Hz and others 144 Hz.
60 Hz screens work for most things that a person wants to do through a computer. However, when it comes to games and especially fast games, it is exactly the game flow you are looking for, and then the graphics card should be able to deliver more than 60 frames per second to the computer screen.
If you play CS:GO, Overwatch, Smite or Warzone, where it can get into the game very quickly, a game screen with 144 Hz is almost a requirement.
If you play quieter strategy games like CIV 5, Age of Empires, Starcraft and 60 Hz instead, this works without any problems. It's up to you what you use your computer for, you might say.
But it is rare nowadays to stick to a certain genre. A real game screen is, therefore, a natural way.
Which Screen Size is Best?
It's impossible to answer because we all use our computers so differently, but today I would say that 24″ and 27″ are the most commonly purchased. This is because they are suitable for most games and many have two identical screens at the same time, which I personally have.
If you want to play with only one screen, there are, of course, bigger options that can offer a lot, but pay attention to the resolution!
Nowadays, there are many large and cheap screens on the market, where unfortunately the manufacturers save on the resolution, and it's no fun for us who don't have them loaded, which brings us to our next point.
What is Meant by Resolution?
When you talk about a resolution on a screen, it is about how many pixels the screen has. Each pixel is controlled individually and displays the color independently from the other pixels. Therefore, a high resolution offers a greater richness of detail. In other words, a large low-resolution screen provides a less clear image than a high-resolution screen.
A higher resolution also offers more room to work. Since all computer programs are created in pixels and high resolutions, greater detail is achieved in the programs, even if they are not in full-screen mode.
However, when choosing a resolution, you should keep in mind that the graphics card takes care of all pixels. The more pixels, the more work for the graphics card. This means that modern and powerful graphics cards are required for very high resolutions to ensure a good game flow.
So you want a screen with a resolution that matches the size of the screen so that the graphics card can send enough images on the screen, and it should also be pleasant to watch them hour after hour.
If you have a high-resolution screen, you will also need a more powerful graphics card, which you should be aware of.
Which Resolution Goes with What?
The most common resolution for gaming screens today is 1080p, also called Full HD.
Perfect resolution for those of you who use 24″ or 27″ screens. 1080p is not very demanding, even for a graphics card.
The second most common resolution is 1440p and offers more details than 1080p. Of course, this resolution requires a bit more graphics card power, but in my opinion, not much more. 27-inch screens are the most common screen size at 1440p resolution.
I can highly recommend investing in a screen like this for those of you who play a lot. The last resolution I will address is what we hear a lot about everywhere these days. The 2160p resolution, also called 4K resolution, is perhaps the dream of many gamers, including my own.
With this technology, you get enormous detail, but unfortunately, very powerful graphics cards are also required for games. So this is just a dream for many who don't take their games very seriously, but the future looks bright anyway.
I think we will see much more of this in the future until one day it will become usual. Now I only looked through the most common alternatives or at least the better-known alternatives.
There are many variations, so it's always good to read on before you play on a black Friday, for example.
Which Panel Type is Best?
When we talk about a computer screen, we mean the surface on which the image is displayed, and even here, there are several options with advantages and disadvantages.
One of the fastest panels is the TN panel. It's a pretty cheap panel with sometimes a bit worse color reproduction, but instead, it's extremely fast, which makes it a logical choice for a player who plays a lot of FPS games.
The next panel is the IPS / PLS panel. A slightly more expensive panel offers fantastic color rendering and excellent viewing angles, which makes it very popular for professional use when working with image processing, photos, etc.
In recent years, IPS panels have also become popular for gaming screens, but with a slightly larger wallet, it is a matter of course for many people.
The last panel is the VA panel, and it is something in between what we have just gone through. It is a multifunctional panel that works for both games and movies.
It doesn't have the same good color rendering as an IPS panel, but it is still approved. VA panels are also suitable for games, although they do not belong to the category of a TN panel.
What are G-Sync and FreeSync?
There are game screens with additional features, which in some cases can only be used with special graphics cards. We've probably all heard the term "tearing" while playing games at some point, but maybe not everyone knows what it is.
It's when you quickly change direction in a game that the drawers of Dust 2 in CS:GO look broken. G-Sync and Freesync are called adaptive sync and work against tearing while playing.
With G-Sync and Freesync, the screen and graphics card always use the same refresh rate to avoid tearing.
In most game settings, we encounter V-Sync. It's a technology that is also used against it, but the problem is that the images don't have time to synchronize fast enough, so the graphics card and screen slow down instead. This, in turn, leads to a reduction in the number of frames per second so that the technology can catch up.
This is also the reason why many people disable V-sync during gaming to avoid this.
G-Sync and Freesync are much more effective against this problem, but buying a screen with this screen is, of course, a bit more expensive. However, if you want to invest in your game, I can recommend that you buy a screen supporting this technology, as it really makes a difference.
FAQs
What size of monitor is it better to opt for – a 24-inch or 27-inch one?
It goes without saying that the larger the size, the better picture you will get. It is especially important when we speak about gaming.
Can I use a 73 Hz refresh rate for smooth gaming?
Yes, you can. Even 60 Hz refresh rate provides a great gaming experience, especially, when your budget is a bit tough. Though, since all technology is getting more affordable nowadays, you will need to do a more thorough research and find some 144 Hz monitor under $300.
Is there any difference when considering 60 Hz, 144 Hz, or 240 Hz?
The refresh rate of a monitor is measured in Hz. The higher it is, the more often the screen is refreshed. It means the image quality will be better with 240 Hz than with 60 Hz. So, if you have encountered a budget monitor with the choice of a higher refresh rate, you need to opt for it.
How should I choose the size of a monitor?
The size of the monitor depends very much on the budget. You can also consider your gaming goals and requirements. If you want the thrilling gameplay, opt for a 32-inch monitor but the price will be higher. If you are not ready to spend extra money, choose a 27-inch or 24-inch monitor and you will manage it for under $300.
Will my monitor need FreeSync and G-Sync?
G-Sync and FreeSync technologies work great for eliminating image stuttering and tearing. If you have them in your monitor, its refresh rate will not matter so much. FreeSync is better for monitors that operate at their native rates while G-Sync is useful for monitors whose initial rates were somehow adjusted.
Video Tutorial: AOC G2590FX 25″ 144Hz G-SYNC 1080p
Conclusion
To pick out the best gaming monitor, you need to consider many factors, as you can see it from this Buyer's Guide. Everyone has some personal requirements and preferences, and it's normal, too. The right choice can affect very much your gaming experience.
While choosing a gaming monitor, try to make the thoughtful balance between the price and technical characteristics of the device. Consider the brand, model, resolution, refresh rate, response time, and other primary and secondary features that will fit best all your requirements.
We hope that our picks will provide you with some great ideas and your choice will be the best of all possible options.
---