---
Logitech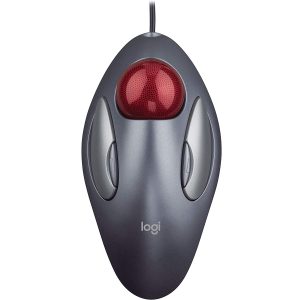 4 Programmable Buttons
Hand Orientation: Ambidextrous
Optical Tracking
Logitech MX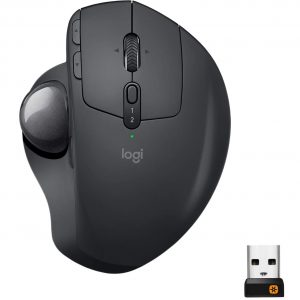 Rechargeable battery
Hand Orientation: Right
Nominal value : 380 dpi
Kensington K72337US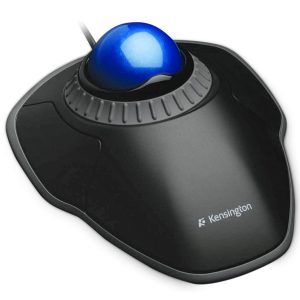 Scroll Ring and Medium Ball
Wired USB Connection
Detachable Wrist Rest
Kensington K64327EU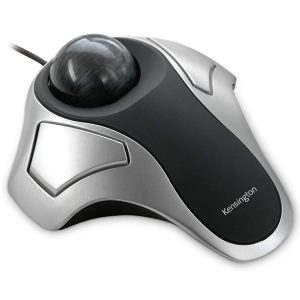 Customizable 2-button design
Optical tracking
Ambidextrous design
ELECOM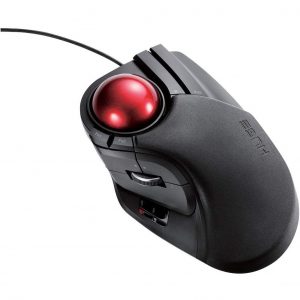 8-Button Function
Hand Orientation: Right
Movement Detection Technology: Optical
---
Choose the Best Trackball Mouse for Gaming
Customer's Choice: the Best Rated Trackball Mouses for Gaming
2 users answered this survey. Please help us improve this review!

100% of users selected Logitech, 0% selected Logitech MX, 0% selected Kensington K72337US, 0% selected Kensington K64327EU and 0% selected ELECOM. Every month we analyze your answers and change our rating.
---
The choice of computer peripherals on the present-day market is stunning. So, if you want to pick out the best appliances for your gaming needs, you may feel a bit confused. 
Choosing a correct mouse is important because it may give you a good competitive edge against your rivals in a game. That is why a trackball mouse is a perfect choice. The advantages of such an appliance are obvious – it performs accurately, you will get more each with economical movements, and the design is comfortable and ergonomic.
The demand for trackball mouses on the market is a bit lower than for normal mouses. However, the offer is quite wide. So, we have compiled this Buyer's Guide with thorough reviews of 5 best products to help you choose the trackball mouse that will suit your purposes and needs at full extent.
Thus, look attentively at the basic and most essential characteristics of the best trackball items that are available on the market. You may find something to your liking here or prefer to do some deeper research into the product on Amazon.com or in other online stores.
Logitech Trackman Marble Trackball Mouse – A Lightweight Item That Is Responsive and Easy to Use
The Marble optical technology is used in the item providing smooth tracking on any surface. The base is stable and stay-put helping to keep your hand in one place and avoid overstraining. The item is designed for Windows and MacOS. Its flexible connectivity implies just plugging the cable intot he USB or PS/2 port for working right of the box.
Performance
The large trackball controlled by fingertips allows for fast and smooth cursor moving without too much straining for your hand and wrist. The palm area is quite wide and the shape is well-contoured providing maximum support. That is perfect for those who stay long hours at the computer. The TrackMan technology also allows for saving the desk space.

There is one thing here to consider. The mouse cannot work properly on clear glass or mirror surfaces.
You can control the cursor better with a larger trackball for great precision and comfort. So, this mouse is worth your attention. Moreover, you can configure buttons for different kinds of performance, such as switching applications, watching videos, or opening browser windows.
---
Logitech MX Ergo Wireless Trackball Mouse – A Great Option for Using Multiple Platforms and Creating a Workstation
The rechargeable battery can last up to 70 days with the nominal value of 380 dpi. The multi-device trackball of a new generation is a great characteristic feature.
The Logitech options allow for the easy setup of flow and custom functions. The Auto-Discovery technology will find and configure the computer you need in a few moments. All the data is transferred with the secure SSL and AES-256 bit encryption.
Performance
The ergonomic design allows for customization of the trackball angle from 0 to 20 degrees. That provides a more natural and comfortable hand position to avoid excess strain. Using Logitech flow, you can transfer images and files from one computer to the other. The scroll-wheel performs comfortably for precise and smooth scrolling both horizontally, vertically, and in the mid-position.You can also change the speed and accuracy of the cursor with just one press of the button.

You can switch between the two screens automatically when you move a cursor to the edge of the screen. This technology is amazing and worth your attention.
You can also share your files from one computer to the other without using cloud services or email attachments. You may create a central workstation with this mouse and a flow-enabled keyboard.
---
Kensington Orbit Trackball Mouse with Scroll Ring K722337US – A Multi-Purpose Device That Introduces High-End Technologies into Simple Everyday Use
The KensingtonWorks software is free-downloadable for personal assigning of a variety of program functions for each of the two buttons. You can also adjust the scrolling speeds and cursor with it. If you use Chrome OS, the HID functions are available. The device is also compatible with Windows and MacOS. It does not need any batteries.
Performance
This mouse is the best choice for everyday gamers and professionals. It ensures comfort and great productivity. The specifically designed scroll ring allows for moving through long web pages and documents without clicking. The internal red optics allow for superior accuracy. You reach easily where you want to with the minimal hand movement. The ergonomic features allow for long and smooth work and gaming without too much strain and fatigue on the hand and wrist.

The product is worth considering even because it does not need any batteries. The ball in the mouse can be snapped out for cleaning. Moreover, the connection is always direct and quite reliable.
Kensington is a reputable brand that always strives for innovations so you can get the most brand-new and highly technological accessories here.
---
Kensington Orbit Trackball Mouse K64327EU – A Reliable Product for Everyday Work and Gaming
The device is compatible with Windows and MacOS as well. There is an optical tracker for more cursor control. The design is ambidextrous. It is very compact, taking less space on the desktop. The reliable connection is provided via the USB so you do not need to use a battery. The device uses a laser technology in its performance.
Performance
The mouse is quite ergonomic offering fewer hand and wrist movements for better control and avoiding fatigue. Due to the internal red optics, you can quickly move a cursor wherever you want enhancing productivity. You can adjust the scrolling speeds and cursor movements with the help of the special downloadable software. The setup of your personal workstation is also possible with this mouse because it does not take much space to move and can switch easily from one device to the other.

While choosing this mouse, remember that it does not operate as a traditional device. You do not move it to and fro, just rotate a ball. And you do not need to use a battery all the time, just plug it into a USB port.
Opt for the additional software from Keningston and you will receive many variants of extended performance and customization. However, there is not a sole scrolling function here that may seem a bit inconvenient.
---
ELECOM Wired Finger-Operated Trackball Mouse – A Highly Technological Device Allowing for Many Options
The ball is equipped with three 2.5 mm large ball bearings made of the artificial rubber.
The system requirements for this mouse are almost the same as for many others – it is supported by Windows and MacOS.
You can also assign some additional functions you may need by downloading the ELECOM Mouse Assistant software from the company's official website.
Performance
The stunning accuracy is provided by the trackball so you can quickly move a cursor around the screen without any effort but with more efficiency and productivity.
The appliance is designed for providing additional comfort with its six specific points to support your hand.

The ball rolls are quite large and that prevents the dust from penetrating and clogging them. So, you do not need to clean out your mouse very often. Though, you do need to clean it sometimes, so the balls are easy to pop out of the item through the hole in the bottom. That allows for easy maintenance and keeping the device in a good working order.
While using the downloadable software, you can assign up to ten functions to the buttons according to your needs that may seem quite attractive when you opt for this device.
---
Buyer's Guide
Now, let's have a closer look at a trackball mouse as a convenient and highly technological device with some essential features you will need to take into account while opting for it while following your gaming needs.
What Stands Behind a Trackball Mouse?
Many people prefer using a trackball mouse instead of a conventional one for many reasons. The matter is that it has some peculiarities that make the device widely used and loved. For example, with such a mouse, you can just move the screen with one finger instead of scrolling with your entire arm and shoulder. It gives a higher degree of control over the cursor's movements which is especially applicable to gaming as well as to such a job as graphic design. 
There are two designs that meet most expectations. One is thumb-driven and the other is finger-driven. In the first variant, a small ball is located on the side of the mouse. The second option features a larger ball located in the center and operated with different fingers. Which design to opt for – it is always up to you.
What to Consider First When Searching for a Trackball Mouse for Gaming?
You need to take into account some other important features before buying a trackball mouse.
Design Should Be Ergonomic
This question is indisputable for you, especially if you like staying long hours at your computer. The mouse should have comfortable curves to fit your hand and be ambidextrous if you are left-handed.
You may also opt for a mouse trying different sizes or lengths. To add some comfort, you may need a wrist pad. Some items have the rubber padding that can definitely allow for longer gaming or working.
Buttons
Buttons are strongly recommended for gaming actions. If theta re programmable, it is still better. They allow for more customization for your gaming needs.
Standard devices usually have two buttons though you may need more options than just right and left clicks. However, a trackball mouse provides more functionality with its scrolling wheel. It is also an essential feature for your device.
Connectivity
The connection can be wire or wireless. If there is a bLuetooth option, you can connect the item to some devices simultaneously. That will save much space on your desk if you want to play on one device and work on the other. However, wireless connections, as Bluetooth, always take more energy so you need to recharge your batteries. That may result in downtime for your gaming process.
Trackball
That part can be larger or smaller depending on your preferences. You may also feel more comfortable operating your mouse either with a thumb or fingers. The larger trackball you have, the easier it will be for you to operate your mouse. If a trackball can be removed, it is easier to maintain your item and clean it from first.
FAQs
Are there any trackball mouses with RGB backlighting?
Unfortunately, not. Companies nowadays do not produce such items because they are not widely demanded. So, it is better for you to pick out a mouse and a joystick with lighting if you need it badly.
Or you may write a letter to a manufacturing company and ask them about this option.
Is there a chance that my trackball mouse will be made specifically for gaming needs?
The answer is 'no'. Trackball mouses work well for gaming but their initial purpose is to reduce the pressure on a user's wrist and the design is focused on that. So, you can use such an item for multiple purposes. Mind that such a mouse is not applicable to some kinds of games, such as FPS. You may need some special information and training for using it in that way.
Who is a trackball mouse good for?
If you have a wrist problem, some injury, or issues with your elbows or spine, you may need such a mouse badly. Using fingers instead of the whole arm reduces the strain and you can feel more comfortable and protected against pains and fatigue.
Should I give preference to a trackball mouse anyway?
As a whole, the answer may be positive. There are many advantages in such items. Moreover, they reduce pressure and fatigue while you are working or playing games. However, it is also a matter of your preference, and if you are accustomed to a traditional mouse, it can be difficult for you to utilize a trackball mouse efficiently at first.
Why is a trackball mouse used?
As any other type of mouse, a trackball is used for processing and operating data on your computer. Their way of working is usually the same. However, they represent a more state-of-the-art technology that has been developed for users' convenience. That is why many people nowadays use such an item for their work, leisure activities, and gaming.
Interesting Video: Do you need a Trackball mouse? Why do PROS use them!
Conclusion
The overall purpose of this Guide is to help you find a trackmouse according to your usage needs and hand configurational requirements. You can see obviously now the difference between a conventional item and a trackball mouse. The trackball operates with a ball on the top so you do not need to move the whole mouse with the palm.
Now, you know enough to make a great option for your gaming purposes and other needs. After a lot of professional research, we have collected the best five options that are available on the market for an affordable price. However, you can continue this research using the criteria from this article and find some trackball mouse on Amazon.com or in other reputable online stores that will perfectly suit your gaming needs.
---