---
Redragon K552 Gaming Keyboard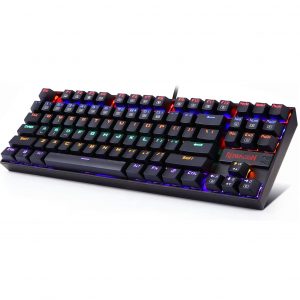 Lighting: Rainbow RGB
Size: Compact TKL (87 Keys)
Anti-ghosting: Keys 100% Anti-Ghosting
Razer Gaming Keyboard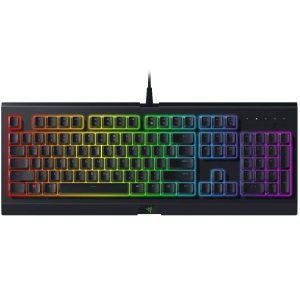 Lighting: Chroma RGB
Spill-Resistant Design
Fully Programmable Macros
Corsair K55 RGB Gaming Keyboard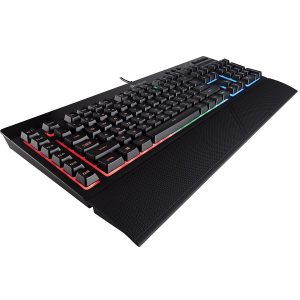 Water Resistance
6 Programmable Macro Keys
Detachable Palm Rest Included
HyperX Alloy FPS Pro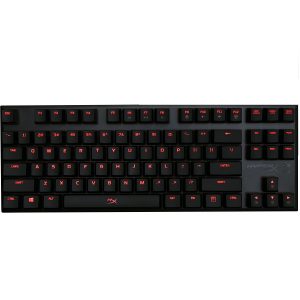 87-Key, Ultra-Compact Form Factor
Linear & Quiet
Portable design
Mechanical Keyboard HAVIT RGB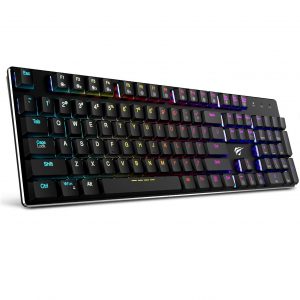 87-Key, Ultra-Compact Form Factor
Linear & Quiet
Portable design
---
Choose the Best Gaming Keyboard Under $100
Customer's Choice: the Best Rated Gaming Keyboards Under $100
3 users answered this survey. Please help us improve this review!

66.67% of users selected Redragon K552 Gaming Keyboard, 0% selected Razer Gaming Keyboard, 33.33% selected Corsair K55 RGB Gaming Keyboard, 0% selected HyperX Alloy FPS Pro and 0% selected Mechanical Keyboard HAVIT RGB.
---
Every month we analyze your answers and change our rating.You can be a casual gamer or experienced professional but searching for a new gaming keyboard at an affordable price can always be a challenge because of the variety of options on the market. The keyboard must not be very pricy to be very good. Even if it is under $100, it has most of the characteristic features that are crucial for a gamer. Of course, if you prefer the full RGB lighting, extra macro keys, or a sturdier build, get prepared to spend a lot of money. If you just need a convenient and reliable device, look for some keyboard under $100.
Your personal preferences matter much, of course, while choosing a gaming keyboard. You need to decide beforehand whether you want an ergonomic design or a wrist rest, whether you prefer mechanical or programmable keys, or tactile feedback. However, there are some most essential features that matter, apart from something brand-new and exceptional. We have made an attempt to analyze the things that are vitally important in the keyboard and compile some recommendations for you. Moreover, after the thorough
examination of over 110 keyboard models from different brands, we have picked out the five best gaming keyboards under $100 whose good quality is truly amazing with the regard of their price.
Now, it is time to speak in detail about the keyboard models we have chosen for you. We have tried to make this information as thorough and consistent as possible.
Redragon K552 Mechanical Gaming Keyboard – A Convenient Device for Gamers and Everyday Users at an Affordable Price
The keyboard is tenkeyless so it comes without a separate number pad. The keys are ultra-durable for 50 million keystrokes as testing has shown. The actuation force is 45 gf +/- 10 gf, and the keystroke travel is 2.0 mm +/- 0.6 mm. The keycupsbacklightin s crystal and they are ergonomically curved for convenient use.
The base of this item is made of sturdy metal alloy and ABS. The keys are conveniently located and the switches can withstand the constant pressure of high-speed gaming.
Functionality
The accessory is stunning for home or office use but it is also great for gaming. The switches are dust-proof and the clicks are quiet with minimal resistance and without an inconvenient tactile bump feeling.
The keyboard can provide 19 different lighting effects for 2 game modes and 6 basic colors with different brightness. Switches are well-designed and can perform reliably during the long-lasting gaming tournaments.
The keys are protected against slipping and splashing liquids on them. The connection is provided by a durable USB connector with gold plating and anti-corrosion protection that is very sturdy. The device is compatible with different versions of Windows (7, 8, and 10), Windows Vista, and Windows XP, Mac or OS working perfectly with almost all computer brands and gaming consoles.

The keyboard is perfect for those gamers who are looking for convenience at an affordable price. It is highly recommended if you are looking for a truly mechanical device with simple high-tech solutions.
However, keep in mind that this keyboard is not RGB so you cannot change the individual colors here. It uses static row colors that are red, green, and blue, and they are fixed by rows. Since there are six rows on the keyboard, each color is repeated twice. Though, you can enable and disable the effects, for example, brightness, breath, or chase. You can also use the microstyle settings to turn off some or all keys.
---
Razer Cynosa Chroma Gaming Keyboard – A Multifunctional and Widely Compatible Device Great for Full Personalization and Game Immersion
The model is spill-resistant to protect against any accidental splashes of liquids. Razer Hypershift helps keys and their combinations to get remapped for more sophisticated commands. The item is quite durable supporting about 80 million clicks within a 2-year manufacturer's warranty that is the most popular and best-selling peripherals producer in the USA in 2017-2021.
The backlit keys are soft-cushioned and individually programmable due to Razer Chroma technology.
Functionality
This is a perfect game-grade keyboard that has the most essential characteristics needed by gamers. You can save profile configurations to the Cloud, assign macros, rebind buttons, and use many more advanced capabilities with Razer Synapsehardware configuration tool.
The appliance is fully lined up with gaming platforms and consoles. The best performance within this category of keyboards is provided for gamers and everyday users helping to make their gaming and working experience still smoother and more convenient.
The ultimate level of personalization and game real-time experience is provided by Razer Chroma. Full synchronization of the keyboard with most games, Razer appliances, Philips Hue, and other gear from more than 35 partnering software providers.

The keyboard is truly state-of-the-art and it can be advised for purchasing to most users, especially, gamers.
It is not mechanical so it has some unique specifications you need to be aware of. Read the User's Manual carefully not to skip some important things. For example, mind that there is no USB port on this keyboard. You can download the Synapse software and applications from Razer website for changing colors or you can decide to keep the RGB off.
---
Corsair K55 RGB Gaming Keyboard – A Device Meant as a Profound Step into Enhanced Performance
The appliance is equipped with a detachable soft rubber palm rest for more convenient gaming. The media and volume controls provide the advantage of continuous adjustments during the game.
The keyboard is accompanied with the powerful Corsair iCUE software for RGB control, simple synchronization of lighting in the entire system and other iCUE-compatible devices, and complex macro-programming. The keyboard cable is non-braided.
Functionality
The three-zone RGB backlighting allows for customizing your colors with the onboard static and dynamic lighting modes. Your gameplay will never be stopped because of occasional accidents related to pouring water or dust clogging because the appliance is completely dust- and water-resistant.
This stunning RGB keyboard is your profound step into the enhanced gaming performance. The 6 dedicated macro keys can be easily used on-the-fly. The multi-key anti-ghosting system allows for simultaneous key pressing in the way you need. The media and volume playback buttons will help you control all the media while playing. The RGB and intuitive modes of lighting provide a lot of options to diversify your gaming experiences. The keyboard is very quiet and responsive, with a satisfyingly soft feel. The soft wrist rest adds much to your comfort during long gaming sessions.

This keyboard is truly great for the price and considering it as a perfect addition to the gaming desktop is highly recommended.
It is definitely a membrane keyboard with the light shining through the signs on the keys and in the entire item's background. It is made of sturdy plastic, so never worry about its durability – the keyboard is quite reliable. The typing is very quiet, virtually, silent. What else do you need for your perfect keyboard?
Only be attentive about your option to download the lighting iCUE software from the Corsair website. It can slow down your device's performance a bit because it interferes with the keyboard's Fn key and macro keys. You can use the key combinations for customizing your lighting instead if you have noticed some slow performance.
---
HyperX Alloy FPS Pro Tenkeyless Mechanical Gaming Keyboard – A Functional Device for Gamers Who Love Accuracy and Reliability
The backlit keys of red color provide dynamic effects of lighting. The device is abandoned in useful features, for example, Game Mode or an N-Key rollover.
The small design with no number pads allows for maximizing the desktop space. The metal alloy top plate is very sturdy and reliable. The minimalist design reduces the cable damage, storage bulk, and provides the immensely easy portability.The Cherry MXkey switches respond very fast and with ease. The keyboard provides mechanical light effects in 6 LED modes and 5 brightness levels.
The appliance is compatible with Windows 7, 8, and 10. The length of the cable is about 5.1 ft.
Functionality
This keyboard is the best for gamers who prefer durability and reliability. The device will last long no matter how intensive the game may become. The keyboard provides great comfort with the easy response of all the 87 keys.
With the LED lighting effects that can be easily adjusted and customized, you will be able to showcase your unique style.
The detachable braided USB cable provides a good deal of portability and its design prevents the cable from wearing and tearing.
The appliance offers everything a seasoned pro player needs – a stable platform for gaming, ultra-minimal non-distracting design, quick key response, portability, and comfort of use.

This keyboard is great value for its price, indeed. You can opt for it as your gaming accessory without any worries.
There are some important notes here to consider, though. The key caps are detachable. They are made of ABS plastic and UV-coated.
The light does not reflect from the screen because there is a raised bar at the rear part of the keyboard that blocks light from reflecting.
And, if you need wrist rest support, you should buy it separately because the keyboard is not provided with this part though the advantage of compact placement and portability is added by the lack of this detail.
---
Mechanical HAVIT RGB Backlit Wired Gaming Keyboard – A Convenient and Functional Device with Lots of Setting Options for the Best Gaming Experience
The keyboard features the standard set of 104 keys including numeric ones. The design is ultra-thin, immensely lightweight, and compact. The switch height is 11.5 mm using the state-of-the-art Kailh Blue Switch technology with low profiles. The keycaps are also ultra-thin measuring only 6 mm, and the 3 mm travel allows for enjoying the games requiring the fast response.
The different RGB backlit modes make playing and working in the dark quite comfortable. The device is driver-free, with a detachable USB and micro cable. It is compatible with Windows 7, 8, and 10, Linux, and Vista. The keys are customizable for Windows only.
Functionality
You can use a freestyle mode to customize color for all individual keys. A shooter travel distance of 3 mm provides more accurate actuation, precision, and speedy performance.
The keyboard is great for both playing games and office work. It is very convenient in use due to its extraordinary thin design. The appliance does not need any software to control the color changes. The rubber is not used for this keyboard, only plastic that feels really convenient to type on.

This keyboard is truly worth purchasing because its performance is reliable and cutting-edge. The keyboard's RGB customizations are fully mechanical so you do not need to look for any additional software.
The keyboard's backlighting is only one color – blue – but it makes different patterns. The keys are not loud at all. In general, the device is great value for money.
---
Buyer's Guide
Let us consider some of the most important factors to take into account while buying a gaming keyboard. It is difficult to pay attention to every slightest aspect of different models and their variations but there are some common things you need to know about to make the right choice.
Membrane or Mechanical?
A mechanical keyboard is commonly preferred by most gamers. There are many reasons for it. Such keyboards usually have better build quality and they support many features that are especially designed for game players. Moreover, they are sturdier and more durable. The RGB customization is also easier for these keyboards. Though, they need a higher actuation force.
Membrane keyboards are equipped with rubber-covered switches that feel very soft and convenient. They are normally more lightweight and allow for better portability.
Wireless or Wired?
The common consideration is that wireless devices and accessories are better than wired ones. Though, it is not always true for gaming keyboards. The wireless feature is quite convenient if you play games on the move and need much portability. The gaming setup that is always needed when you change places is also easier with wireless appliances.
Though, if a stationary gaming setup is available and you do not need to move around all the time, a high-quality wired keyboard works perfectly.
Remember that wireless keyboards have higher response times. It is the timetimee needed by your computer to react to all the commands that are inserted via the keyboard to reveal them on the screen. A higher time means losing some advantages over your competitors if you are in a multiplayer game, for example, in some first-person shooter (FPS).
Tactile Feedback
The choice of the best keyboard is very often based on the tactile feedback. You need to know what it means and why it is essential.
When you play a game, you have to press various combinations of keys for a better performance of different sets of commands or functions. You need to press them in a short space of time to get the gaming priority. Mechanical keyboards are more convenient for such combinations in comparison to rubber-dome and membrane devices because their tactile feedback is smoother and more responsive.
Cleaning
Cleanliness of the device is not considered seriously. However, the research has shown that messy setups influence badly the overall efficiency of gaming performance.
The specially designed gaming keyboards have the switches that can be easily removed and cleaned. This great option provides a more prolonged lifespan of the device and a more efficient gaming performance.
Noise
Most mechanical keyboards tend to produce the clicky sounds that are extremely disliked by gamers. So, if you do not want to hear any extra sounds while pressing switches, look for low-sound keyboards. It is always a matter of personal preference, so opt for the best variant for yourself.
FAQs
What is the anti-ghosting and N-key rollover?
Anti-ghosting helps to press multiple key combinations simultaneously to perform certain functions. You can do it without providing any mixed or ambiguous commands to the computer. You usually use an N-key rollover for that. Pressing 'n' you indicate the number of keys that should be pressed at the same time for a better gaming experience.
Do I need Cherry MX Red switches for better gaming?
Cherry MX Red is a linear switch type that is widely used and appreciated by many gamers. It provides a lower actuation force so the capacity of key pressing is very fast and strong. This feature is especially important for playing FPS and MMO games. People in the office who prefer a higher speed of typing also use this feature very often.
What is an actuation point?
An actuation point means the height of pressing the key for its actuation and sending input signals to the gaming device.
Is there any difference between a gaming and regular keyboard?
Yes. Gaming keyboards are equipped with some extra features, for example, macro keys or LED lighting. Macro keys are meant to keep the record of different actions. In gaming, you often need a certain pattern of keystrokes when you need to repeat tasks. The keystrokes in gaming devices are always lighter and faster allowing for quicker actuation.
Do I need to Use RGB illumination on my gaming keyboard?
Gamers are keen on RGB lighting so you are likely to appreciate it as well. One reason for it is a cool look. But it's not only that. Most gamers usually play at night when the lights are dim. RGB helps enhance the visual perception of the screen and create an appropriate ambiance. The keys are also more visible in such lighting so a gamer's reactions are faster and more concentrated. Moreover, if the lighting is customizable for different keys, it is easier to find one that is especially needed at the moment.
Video Tutorial: Unboxing and Review – Redragon K552 TKL Mechanical Gaming Keyboard
Conclusion
Choosing the right gaming keyboard can be rather confusing if you are not sure about what to look for. Such keyboards have plenty of features and choosing the right variant for your specific individual needs is a real challenge. Consider such factors as where and when you are going to use this keyboard, which devices you need to connect to it, and what kind of sound, feel, or look you would prefer.
We hope that looking through this Buyer's Guide will help you to make your choice taking into account your budget and potential requirements. That's why we have compiled these detailed reviews of the best gaming keyboards under $100 to draw your attention to all pros and cons of every model. We wish you the best of luck and believe that your choice will help you become a true winner!
---