---
ViewSonic True 4K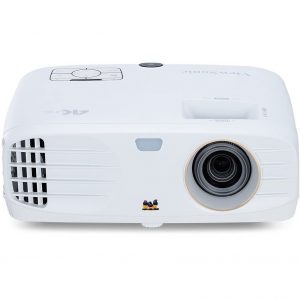 3500 Lumen
Wattage: 310 Watts
Powerful 10W speaker
Native 1080P Projector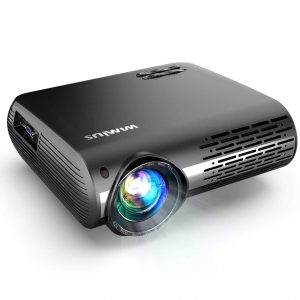 7000 Lumen
Wattage: 140 Watts
Contrast Ratio: 8000 : 1
Optoma UHD60 True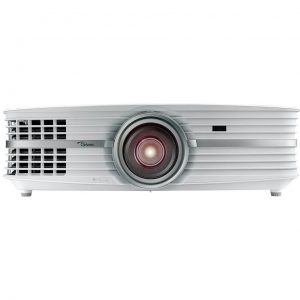 3000 Lumen
Wattage: 305 Watts
HDMI 2.0 and HDR10
Optoma UHD30 True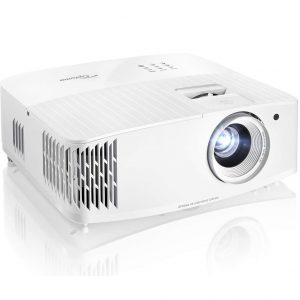 3400 Lumen
16ms Response Time
240Hz Refresh Rate
BenQ TH685 1080p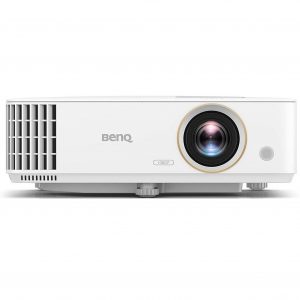 3500 Lumen
8.3ms Low Latency
120hz Refresh Rate
---
Choose the Best 4K Projector for Gaming
Customer's Choice: the Best Rated 4K Projectors for Gaming
18 users answered this survey. Please help us improve this review!

66.67% of users selected ViewSonic True 4K, 16.67% selected Native 1080P Projector, 11.11% selected Optoma UHD60 True, 5.56% selected Optoma UHD30 True and 0% selected BenQ TH685 1080p. Every month we analyze your answers and change our rating.
---
Gaming projectors have become more popular and affordable nowadays. A great number of players, especially console fans, prefers to get projectors. It allows them to enjoy wonderful video games in high-quality resolution. Moreover, projectors allow gamers to have a large image that is not available by the size of the TV or display. With a vast option on the market, you need to know what options are better. Thus, you can find here reviews of 4K projectors and some buying tips.
ViewSonic PX747 4K Projector
The PX747 impresses at the start with its compact dimensions. Speaking about design, this projector has white paint and nice design. It can be integrated inconspicuously in almost any interior. To install it you may spend more time as it does not have lens shift. Moreover, this project has low 1.2x zoom.
In comparison with other simple projects, PX747 has a full HD chip. It works in the Viewsonic to bring the max resolution, which has 8 megapixels due to sequential mirroring. One of the drawbacks of this feature compared to the native 4K resolution is the overlap is the gaps. At Full HD you may receive less quality as pixels are not wide enough and they cannot be placed between. Nevertheless, compact size and XPR technology have some weak sides. You can hear the ventilation. That can be disturbing. Thus, it is better to install a projector not close to a bench or where you sit.
The connectivity is also an important part of every projector, especially for gaming one. On the rear you can find HDMI ports. They have 18Gbit/s throughput rate. It allows receiving the full 4K resolution in HDR. A 4K projector supports even games with UHD resolution. Extremely fine details for an exciting film and gaming experience are therefore given.
The PX747-4K is a suitable option for a modern living room. It has high light output and decent sharpness, Thus, colorful pictures can be taken, even if there is some residual light in the room.
---
WiMiUS P20
The WiMiUS 7200 is designed primarily for users who like making streams and creating various content using smartphones or tablets wirelessly (using screen mirroring via WLAN). This model easily copes with FullHD video content. You can even enjoy 4K tv shows and films from various streaming platforms. The results, especially in terms of contrast and colors, are great.
Those customers who pay attention to connectivity you should not. You can easily connect a computer via an VGA port, which is old, or use a modern Blu-ray player via HDMI cables. There is also the option of connecting the projector with various stereo sound systems of the 2.0 version. Moreover, this model has two integrated 10W HiFi speakers. They conjure up a really powerful sound, while the device itself is pleasantly quiet. You can easily manage the device via remote control.
When the weather is fine outside with WiMiUS P20 you can enjoy the evening and even daytime playing favorite video games. This projector is suitable for both indoor and outdoor purposes. With the possibility to control the unit remotely with the help of your smartphone, watching movies becomes even more comfortable.
The installation of the projector is not that complicated. This projector has enough keystone vertical and horizontal correction. It means that it is not obligatory to place a projector just in front of the wall. It allows being placed up to 50 degrees aside.
---
Optoma UHD60
Although this projector can display a resolution of 3,840×2,160 pixels. That can be achieved due to vertical and horizontal shifting. It means that pixels shift one by one pixel. The native resolution of the UHD60 is just 1,920×1,080. With dynamic black technology, you should not worry about playing games in dark locations. You will receive enough contrast what makes dark scenes in movies and games pleasant to watch.
In case you need a high-quality projector with full HD, then this is a nice option. UHD60 has a built-in zoom lens that can achieve 1.5x magnification. Another benefit that customers receive is the simplicity of installation. This projector does not require a lot of space. In the beginning, you can test by placing it on the desk. Then you can install Optoma UHD60 onto the ceiling.
---
Optoma UHD30
The Taiwanese manufacturer Optoma has released a DLP projector, which is focused on delivering a wonderful experience in gaming and home casual purposes. Optoma UHD30 achieves a resolution of 3840×2160 or 4K via upscaling. It can achieve a refresh rate of up to 240Hz in Full HD. In the latter scenario, you will not receive an input lag of more than 4.2 ms. This projector has 3D and HDR support. You also receive horizontal and vertical keystone corrections. It allows changing project diagonals in 33-300 range inches.
This all-around home entertainment projector combines high brightness and strong colors for a lively, lifelike image in brightly lit environments – ideal for TV shows, sports, and films or gaming with family or friends at any time of the day.
It does not matter what kind of watching activity you plan to enjoy. This projector is always ready to deliver rich colors for various content. Rec.709 color scheme is the international HDTV standard, which ensures you receive accurate colors.
---
BenQ TH685
The image contrast ratio of the projector is 10,000: 1. According to the manufacturer, the projector uses its multi-display function to create flowing image transitions based on several projections to create a uniform image. If the projector is not in the center, the automatic keystone correction should ensure that the trapezoidal effect is balanced out by shifting vertically.
According to the manufacturer, the BenQ TH685 projector is optimized for gaming. A game mode and a game sound mode precisely control all images and sounds, according to the manufacturer. The short-throw projection technique is said to be 100- inch images generated at a distance of 2.5 meters. Gaming consoles and streaming devices can be connected to the short-throw projector via the 2 HDMI 2.0 and HDCP 2.2 connections.
The operation of the projector should be simple and self-explanatory. Thanks to the automatic source detection, the projector finds the active input source itself, according to the manufacturer. The projector installation of the home theater should also be easy. Moreover, the response time is 8.3 milliseconds at 120hz. There should also be a fast DMD response time in the microsecond range for smooth gaming without motion blur.
---
The Buyer's Guide
While planning to get a gaming projector there are different specifications that you should pay attention to. Here is a bit more information on the projectors.
There are different types of gaming projectors, You can find such indicators like LCD what stands for (Liquid Crystal Display. There are also LED models. Only the DLP projector is suitable for gaming. These types of projectors have shorter response time which is important in online games and also in high contrast.
Speaking about resolution, you should consider 1920×1080 models. It allows gamers to receive Full HD image. However, you always need to check the technical data of the projector. There you should review native resolution spec. Sometimes, sellers can say that it is Full HD, while it is not like that after the purchase.
You should consider getting a screen for the project. Thus the image appears flat and colors are better.
The brightness of the projector is given in lumens. Good gaming projectors have at least 2000 lumens. However, a high number of lumens increases power consumption, which is why you probably cannot avoid darkening the room a little.
The gaming projector should have an input lag of a maximum of 50ms. Because with a projector, the image is displayed with a longer time delay than is the case with a PC.
A contrast ratio between 5000: 1 and 100000: 1 is suitable for gaming. The higher the contrast, the sharper the image.
The projector should have an HDMI or DisplayPort interface. Because various game consoles are connected via one of these interfaces.
Video Tutorial: Review: ViewSonic X10-4K 4K HDR Smart Short Throw Projector