---
Are you in the market for a versatile and stylish gaming case? Look no further than the ASUS ROG Strix Helios. This mid-tower size case has a minimalist design and is perfect for gamers who want to show off their PC's components as well as customize it. In this review, we'll take a closer look at its features, advantages, and disadvantages so you can decide whether it's right for your gaming setup. We will also offer some useful tips on how to get the most out of this case. So, if you are considering buying an ASUS ROG Strix Helios, read on!
This gaming PC case is specifically designed for gamers, featuring a robust cooling system and supports all major components of a modern gaming machine. With quality construction, this case is built to last. And it comes with four fans already pre-installed, so you'll be able to keep your system running cool. Plus, the fun hub lets you customize lighting effects so you can add some pizzazz to your setup!
The ASUS ROG Strix Helios PC Case also makes wiring easy thanks to its smart wire management system. And, when it's time for an upgrade or maintenance, the side panels come off quickly and easily.
---
Manual for ASUS ROG Strix Helios
Having trouble? Download instructions for ASUS ROG Strix Helios.
---
Pros and Cons of ASUS ROG Strix Helios
Unfortunately, nothing is perfect. The ASUS ROG Strix Helios PC Case is a heavyweight – literally and figuratively. It's pricey, clocking in at a significant cost, but it could ultimately be worth the investment depending on your gaming needs. On the other hand, one of its most critical flaws is the poor positioning of the native vertical GPU mount. Still, if you're willing to pay for the quality construction, convenience and customization options, then the ASUS ROG Strix Helios PC Case is a great choice.
---
Asus ROG Strix Helios Technical Data
The ASUS ROG Strix Helios is a mid- tower PC case that packs a lot of features in a small package.
The case is made of a tempered glass side panel, aluminum frame and steel body. It comes in a black color with unique RGB lighting accents. There is a front panel with four USB 3.0 ports, HD audio jacks, as well as an extra Type-C port for added connectivity.
On the inside, the case has room for four 140mm fans that are included. It also supports ATX motherboards up to E-ATX size, making it ideal for those who need plenty of expansion slots and options.
The maximum CPU cooler height can be up to 190mm and the maximum GPU length is 450mm. The max PSU length can be up to 310mm. The case supports ATX power supply so you don't have to worry about compatibility issues.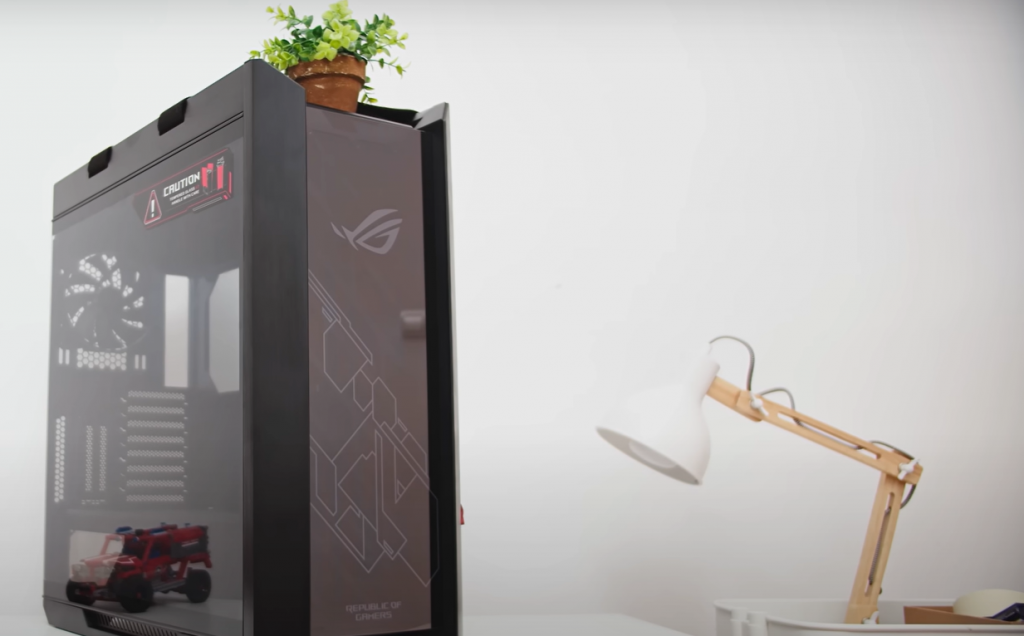 As for the weight, it is around 18kg which makes it one of the heavier cases on the market. Despite its weight, it is still quite easy to move around thanks to its strong handles at the top and bottom. And it will become even heavier once you start filling it with components.
Inside the case, is the painted ROG design that will glow when your PC is powered on. Plus, it comes with three pre-installed RGB LED strips so you can customize the look of your machine.
Asus ROG Strix Helios Packaging
Packaging is often overlooked, but it is important for the protection of your components. The ASUS ROG Strix Helios comes in a very sturdy cardboard box with plenty of foam padding and bubble wrap on the inside.
Inside the box, you will find all the screws, grommets, and mounting hardware that you need to assemble the case.
There is also a comprehensive user manual that explains how to use all of the features of this PC case. If you ever get stuck trying to install something, this guide should help you out.
The installation process is straightforward too, you should be able to get it up and running in no time. Plus, there are plenty of cable cutouts on the back panel that make organizing your cables easier than ever before.
However, installing GPU might be a bit tricky because of a vertical GPU mount that is available in the case. The bracket can be removed and replaced if needed, but it might take some patience.
The components inside the case are easily accessible thanks to the removable side panels. All you need to do is press on the push-button to unlock the panel and it will slide off. [1],[2],[3],[4]
Asus ROG Strix Helios Cooling
Cooling is a huge deal in PC cases. This is because the hardware components in your build generate heat, and it needs to be dissipated away from the components so they remain at optimal temperature levels and function correctly.
Most current PC cases come with some type of fan setup that helps facilitate this process. The ASUS ROG Strix Helios offers excellent cooling with its four 140mm fans. These are designed to provide high-end cooling performance with dynamic speed control and silent running. The front panel offers a metal mesh design to maximize airflow into the case. It also comes with dust filters to keep the inside of your case clean. All these fans are connected to a Control Box so you can adjust their speed and monitor their status.
The ASUS ROG Strix Helios also provides options for liquid cooling, offering support for up to a 420mm radiator in the front panel. This means you can install an AIO water-cooling solution if desired, allowing you to get even better performance out of your build while keeping things quiet and cool!
One thing we would suggest you do, however, is to use a secondary GPU mount since the vertical one is positioned too close to the wall and will not allow enough airflow. With a secondary GPU mount you can increase the distance between the wall and your graphics card, allowing maximum cooling performance.
Let's also discuss noise levels; the ASUS ROG Strix Helios has a thermal glass panel that is designed to minimize the noise coming from your computer. The glass panel also helps reduce dust accumulation inside the case. However these aren't nearly enough to completely block out the noise of your PC.
At high fan speeds, you will still hear quite a bit of noise coming from the system. However, this is to be expected in any gaming build and is something that you can easily manage with some software tweaks or soundproofing. [1],[2],[3],[4]
ASUS ROG Strix Helios Price
The ASUS ROG Strix Helios is a great PC case that comes with many features and offers excellent cooling performance. One downside, however, is its price. At an MSRP of $324, it is one of the more expensive cases on the market.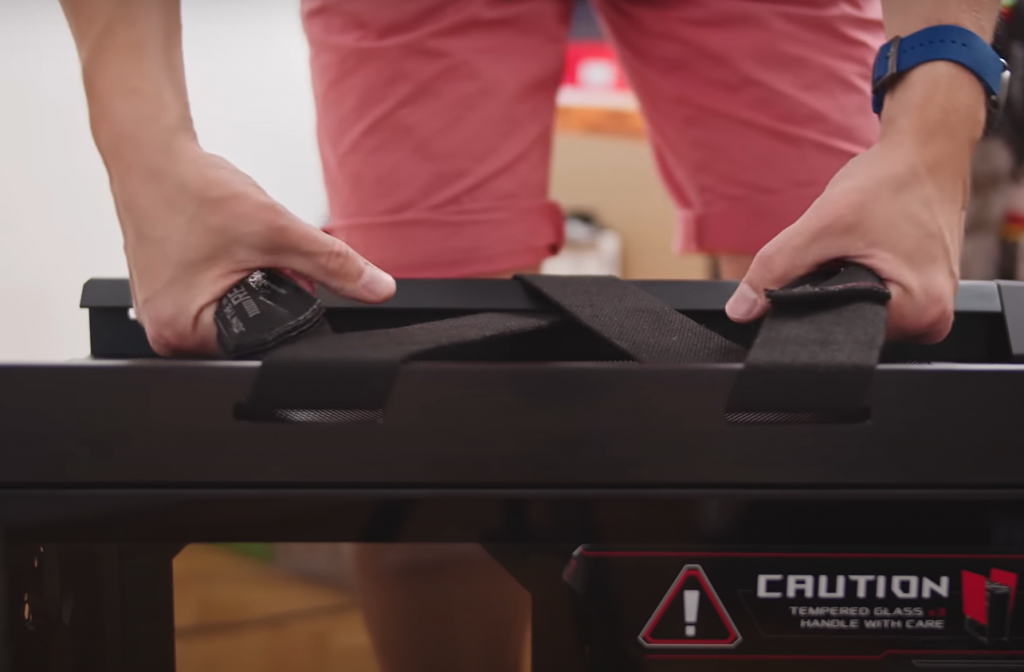 However, for what you get in terms of performance and features, the price may be worth it. It also has a clean look and can accommodate air and liquid cooling options if needed. Plus, it's from ASUS so you know you're getting quality build construction materials and design. [1]
What to Consider When Purchasing a PC Case For Gaming
The PC case is the most visible part of any custom computer build. It plays a critical role in protecting and cooling all components, as well as providing easy access for upgrades or maintenance. And ASUS ROG Strix Helios is certainly one of the most popular choices out there, but does it really have what you personally need?
When selecting a PC case there are several factors that should be taken into consideration such as size, aesthetics, compatibility with other parts and cooling options. In this section we will discuss each of these factors in more detail.
Airflow
Airflow is an important factor to consider when purchasing a PC case, as it will directly affect the overall performance of your machine. The more air that can be moved in and out of the system, the better temperatures you'll achieve and the cooler your components will run. It is recommended that you look for a case with good ventilation options such as large fans or mesh sides to maximize airflow.
Additionally, most cases come with some form of dust filters built-in which are meant to help keep dirt and debris from entering your system through the vents. This can help reduce clutter inside your case and ensure that components don't become clogged with dust over time. You should also make sure there is plenty of room for additional fans or cooling components that you may want to install in the future.
Not having a proper cooling solution can result in decreased system performance and, in some cases, could even damage your components.
Noise Reduction
Noise is another factor to consider when selecting a PC case, as it can be quite annoying if your system produces too much noise. One way to reduce noise levels is to opt for a case with sound-dampening materials such as foam or rubber insulation. This will help minimize vibration and resonance which can be caused by the fans of your system. Additionally, make sure that the fans you choose are not too loud, as some models produce an overly loud amount of noise even at low speed settings.
Size
The size of a PC case is important not only to ensure that all components fit, but also to make sure the system runs efficiently and with enough airflow. There are two major case sizes: full tower (or extended ATX) and mid tower (ATX). The full tower cases provide more room for components, better cooling options and potentially higher performance. On the other hand, mid-tower cases are smaller in size and therefore require less space.
The size of the case should mainly comply with the size of your motherboard and other components. A form factor is the size and shape of your motherboard, with each having different sizing requirements.
ATX is the most popular motherboard form factor in use today. It is slightly larger than the other options and provides plenty of space for components. For ATX motherboards, you will need a mid-tower or full-tower PC case. Mid-towers tend to be smaller, while full-towers are more spacious.
It might come to you as a surprise if you're not familiar with PC building, but ATX isn't the largest form factor available.
The Extended ATX (EATX) form factor is slightly larger than the traditional ATX board. It provides even more space for components, as well as additional connection ports. EATX motherboards require a full-tower case to fit comfortably.
The Micro ATX form factor is much smaller than the traditional ATX board and is around 9″. This form factor is ideal for small PCs where space is an issue, such as slim HTPCs or office computers. It has fewer mounting points and connection ports due to its size but it still provides plenty of connectivity options. For micro ATX motherboards, you will need a mid-tower PC case.
It's important to make sure that your motherboard fits in the case you choose before making a purchase. Different cases are designed to accommodate different sizes of boards, so make sure that the case you choose can fit your motherboard before you buy.
Luckily you have several options of cases available when it comes to building a PC. Let's discuss those.
Mini Tower
A Mini Tower PC case is a computer chassis that usually stands between 11 to 18 inches tall and is designed for desktop computers. It provides the same features and functions of a full-size tower, such as space for extra drives, fans, or other expansion cards. The only real difference between the two is their size.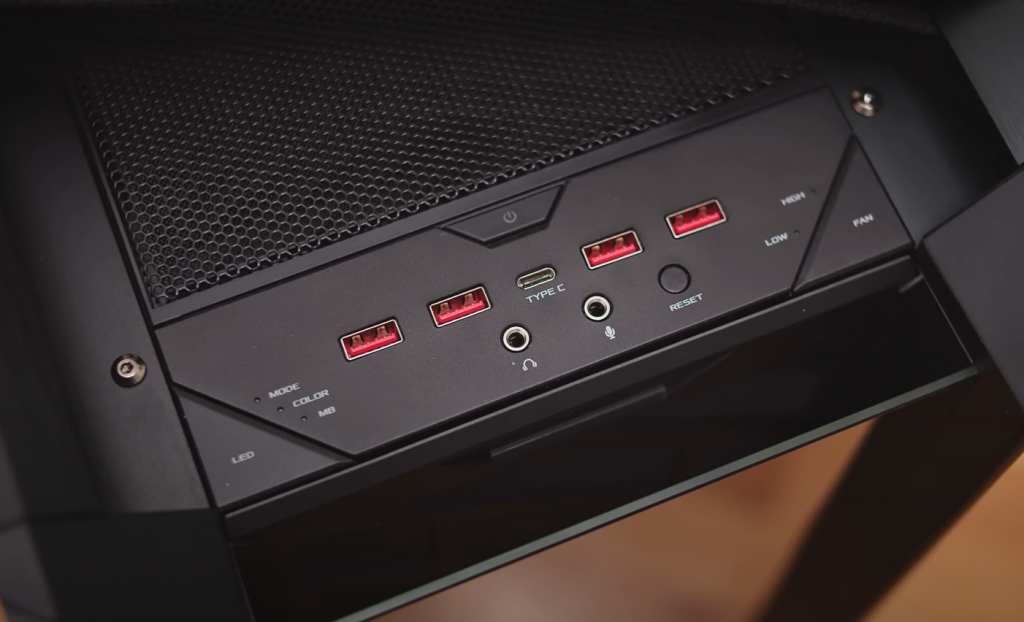 Mini towers are typically smaller than regular towers and can fit into tight spots in your office or home, making them perfect if you don't have much space. They also generally cost less than full-size towers due to their smaller size. This makes them ideal for small businesses or home users who want powerful machines without breaking the bank.
Unfortunately, mini tower cases limit you in the hardware you can install. They usually don't have enough room to house more than one or two expansion cards, and they may not be able to fit certain components such as large graphics cards or sound cards. For motherboards, these won't fit anything bigger than a MATX board.
Mid Tower
A mid tower PC case is a type of computer case designed to accommodate the components and hardware of a desktop computer including motherboards, power supplies, hard drives, CD/DVD-ROM drives and other peripherals. They are typically smaller than full towers but offer more features than mini towers. Mid tower cases have dimensions ranging from 18″ to 24″ in height and are mostly made from steel or aluminum. The most common type of mid tower case will include front panel ports for USB, HDMI, audio jacks and multiple fan slots for cooling purposes.
Mid-tower cases are a little more versatile than mini towers, offering more space for components and better airflow. They can fit both ATX and MATX motherboards as well as more powerful graphics cards and larger power supplies. They also provide more room for internal cable management, allowing you to better manage the cables within your system for a clean and organized appearance. However, they may still not have enough room to fit some specialized components such as liquid cooling systems.
Full tower
A full tower PC case is a large form factor computer chassis designed to house larger components, such as high-end motherboards, multiple hard drives and powerful graphics cards. Full tower cases also offer ample space for cable management and cooling components. They are typically made out of steel or aluminum and usually include several bays for optical drives and bays for hard drives or other storage devices. Additionally, some full towers come with extra add-ons like tempered glass panels, fan controllers and removable drive cages to customize the look of your build.
Full tower cases provide more room to work in so you don't have to worry about cramming all your components into a smaller case. The additional space also allows you to fit more components and bigger components, like multiple video cards or EATX motherboards. This increased size also increases cooling potential as fans, radiators and other cooling solutions have more space to disperse the hot air.
Aesthetics
The aesthetics of a PC case are also an important consideration when selecting one for gaming. Since PCs can be displayed in living rooms or used as part of home entertainment systems, many gamers want their system to look good as well as perform well. Cases come in many designs and colors so you can easily find one that compliments the rest of your components and reflects your own personal style.
When considering aesthetics you should also consider things such as whether the panels are removable (to make upgrades/repairs easier), whether there are dust filters for the fans and whether or not there is a side window so you can show off your components. The aesthetics of the case may also be improved with additional lights, windowed panels, custom paint jobs and other modifications to give it that extra personal touch.
Build quality
The quality of the case is an important consideration when selecting a PC case. The chances are that if you're investing in higher end components, then you should also invest in a high-quality case as well. A good quality PC case will have features like tool-less expansion slots and drive bays, cable management capabilities, dust filters and other specialized features for cooling options. High-end cases often come with more advanced features such as liquid cooling support, tempered glass side panels or RGB lighting options.
It's important to select a PC case that is strong enough to protect your hardware from drops or accidents while being lightweight enough to be easily moved around your workspace or gaming area. Look for cases made out of materials such as steel, aluminum or plastic and make sure that the case has protective padding or rubber feet to help absorb any shock.
Some manufacturers offer warranties on their cases so it is worth checking if your particular case offers this before you purchase. A manufacturer's warranty will provide some peace of mind and protection against any unexpected problems with the case.
Cable management
As you may know, Cable management is also an important aspect of selecting a PC case, and rightfully so. Poorly managed cables can reduce airflow as well as clutter up the inside of your system. It also makes it difficult to route cables between components, which can limit upgradeability or expansion in the future.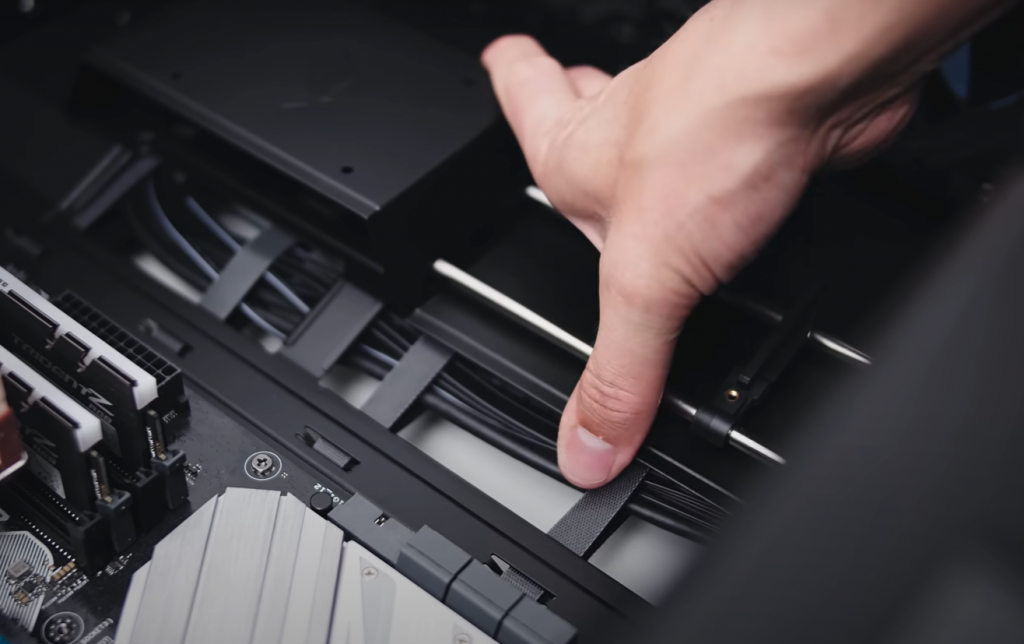 Most modern cases have features that make cable management easier such as cable routing holes and tie-down points for securing cables. The more cable routes and tie-downs, the better you will be able to manage your cables. Additionally, large side panels with plenty of room behind them are great for hiding excess cabling if needed. [5],[6]
---
FAQ
What fans are in ROG Helios?
The ASUS ROG Strix Helios is equipped with four pre-installed 140 mm fans at speeds of 1400 RPM. It also includes a fan hub for even more fans, as well as a radiator bracket for water cooling. All fans are controllable via fan curve control with the ASUS Aura Sync software which comes with the case. The fans are optimized for airflow, and can be adjusted to run more quietly or at higher efficiency depending on your needs.
Is ROG Helios Full Tower?
No, the ASUS ROG Strix Helios is not a full tower PC case. It is an ATX mid-tower that measures 250 x 565 x 591 mm. The rear panel can accommodate a single 140mm fan or a 140mm radiator and the front can accommodate up to 3 x 140mm fans or a 420mm radiator.
As for max GPU size, the Strix Helios supports up to 450mm long graphics cards. It does have both a dedicated GPU mount and GPU support bracket to ensure a secure fit.
Is the Asus ROG Strix Helios worth it?
The Asus ROG Strix Helios is an excellent choice for gamers who are looking to upgrade their gaming rigs with a premium PC case that offers lots of features and customization options. Its mid tower case spacious interior can accommodate a wide range of components, including multiple fans up to 1400 and radiators up to 420mm.
On top of that, it provides plenty of room for cable management, as well as an easy-to-use lighting system that allows you to customize your PC's look.
The case features a variety of mounts, both primary and secondaries, as well as a unique quick-release panel for easy access to components. All these features ensure that you get the maximum out of your PC build, making it worth every penny.
Does Rog Helios have good airflow?
The ASUS ROG Strix Helios is an excellent case when it comes to airflow. It has a front side with mesh panels, allowing for way more airflow than traditional cases. Additionally, the design of the case promotes positive air pressure which keeps internal components cool while also reducing dust accumulation.
The four pre-installed fans are 140mm and have a max speed of 1400 RPM which allows them to move air quickly around the inside of your system. There are optional mounting points for additional 120 or 140 mm fans as well depending on what type of cooling setup you desire. And you get a radiator mount if you want to install an all-in-one liquid cooler.
The ASUS ROG Strix Helios comes with dust filters, helping maintain good airflow while also preventing dust from entering your system.
Does the Asus ROG Strix Helios come with fans?
Yes, the Asus ROG Strix Helios PC case comes with four 140 mm fans that are pre-installed to provide excellent cooling for your components. The fan speeds can be adjusted via the software, allowing you to adjust the speed and noise levels as needed. Additionally, it also comes with a metal mesh front panel to balance out the airflow for maximum cooling efficiency.
And of course, you can install a radiator in the case if you want to further improve your cooling system. The ROG Strix Helios has support for up to 420 mm radiators, which should be more than enough for any type of liquid cooling setup.
Related Video: ASUS ROG Strix Helios Review
Conclusion
Overall, the ASUS ROG Strix Helios is an excellent mid-tower PC case that packs a lot of features in a small package. The excellent design and robust build quality makes it perfect for those who need plenty of expansion slots and options. Plus, its unique RGB lighting accents make it quite eye-catching as well. With all these features combined, it surely won't disappoint gamers who are looking for a reliable gaming chassis!
With four 140mm fans included and more room for extra cooling, the ASUS ROG Strix Helios is an ideal choice for those who want plenty of airflow and great cooling performance. The smart cable management system also makes it easier to keep things neat and tidy, so you don't have to worry about messy cables taking up valuable space.
One thing you need to consider however is a price. The ASUS ROG Strix Helios is a bit more expensive than most other gaming cases, but it's worth the extra cost.
In short, the ASUS ROG Strix Helios is a great mid-tower PC case that offers plenty of features while still remaining relatively affordable. It's perfect for gamers who are looking for a reliable and stylish gaming chassis with plenty of room for expansion and customization!
---
References:
https://www.amazon.com/GX601-Mid-Tower-Computer-Motherboards-Construction/dp/B07T28NZZ3?th=1
https://www.gamersnexus.net/hwreviews/3466-asus-rog-strix-helios-case-review-benchmarks
https://www.guru3d.com/articles-pages/asus-rog-strix-helios-pc-chassis-review,1.html
https://basic-tutorials.com/reviews/hardware-reviews/asus-rog-strix-helios-the-colossus-from-rog-in-review/
https://www.msi.com/blog/How-to-choose-gaming-pc-cases-guide
https://techguided.com/how-to-choose-a-pc-case/