---
Lepow Computer Display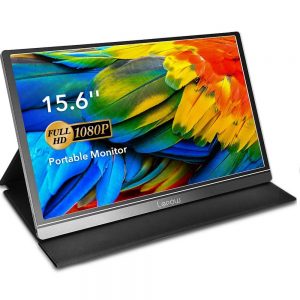 15.6 Inch
Mini HDMI and Type-C Port
Dual Speakers
ASUS ZenScreen MB16AC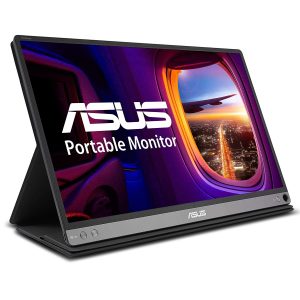 15.6 Inch
Wide viewing angles
Hybrid-signal solution
GAEMS VANGUARD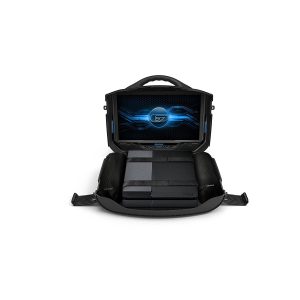 19 Inch
Display colors (8 bit)
Interior case LED lighting
AZMIOR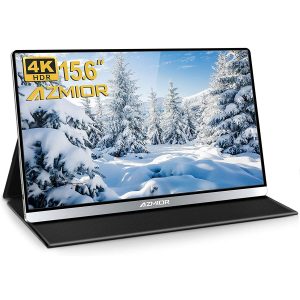 15.6 Inch
Built-in Dual 2W Speaker
Eye-care Blue Light Filter
GAEMS Sentinel Pro Xp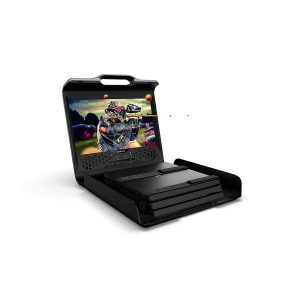 17.3 Inch
Anti-glare
Viewing Angle: 170 Degree/170 Degree
---
Choose the Best Portable Gaming Monitor
Customer's Choice: the Best Rated Portable Gaming Monitors
10 users answered this survey. Please help us improve this review!

50% of users selected Lepow Computer Display, 0% selected ASUS ZenScreen MB16AC, 20% selected GAEMS VANGUARD, 30% selected AZMIOR and 0% selected GAEMS Sentinel Pro Xp. Every month we analyze your answers and change our rating.
---
Best Portable Gaming Monitors – Buyer's Guide
Even a compact ultrabook, or even a smartphone (if it's a flagship with video output), can be turned into a full-fledged workstation with a portable monitor. Two screens are better than one, making it much more convenient to work or play games. Portable monitors have been designed to accompany our laptop wherever we go. However, there are plenty of important differences between them that can influence our choice. The purpose of this guide is to help you find the portable monitor that can best meet your needs.
Fortunately, there are many small, USB-connected, and compatible with portable electronics displays available on the market. But not all of them are the same; there are several nuances. It's not just a matter of size and price, but also the technology used to transmit the image. So choosing a portable USB monitor can be tricky. When you study this modern device in detail, it turns out that not all of the presented accessories will be suitable for you.
The variety of portable monitors nowadays is as wide as for traditional displays, but it has clearly gained prominence over the last few years if you look at the major brands that have decided to enter it. Currently, companies such as Acer, ASUS, HP, Lenovo, or AOC, among others, have very attractive solutions that can fit like a glove in day-to-day conduct.
The undisputed star of a monitor is the screen, and it is the screen that makes the difference in terms of its use. A general-purpose monitor can indeed be sufficient for productivity, especially if you are on a tight budget.
Sticking exclusively to its use for work – the approach changes if you also want it for gaming – parameters such as response time or refresh rate are secondary, so we will essentially look at them.
How to choose?
Make a list of requirements
It would be best if you started choosing a portable screen with a USB with a list of requirements. Decide what you need the device for, what you will connect it to, how much you are willing to pay, which games it is suitable for, and how often you will travel long distances with it.
In fact, looking at any type of screen, including your cell phone, e-reader, television, and computer, is bad for you. But with a good portable monitor, you will forget about these problems. It is not a whim. It is a necessity for everyone. What's more, staring at a portable monitor of high quality all day long will contribute to eye strain or tired eyes.
Pay attention to the monitor's weight and thickness
The main two differences while choosing a portable monitor are portability and power supply. Before paying attention to the type of panel built into these monitors and specifications, such as their brightness delivery capability, typical contrast ratio, or response time, we recommend that you look at their weight and thickness. These two parameters strongly influence their portability, and above all, a portable monitor should not be too much of a burden. Otherwise, you are likely to end up leaving it at home. Although the screen's characteristics are essential, taking into account its size, it is worth looking for attractive models with designs with the thinnest possible edges to optimize space. And in this section, it is essential to look for those that offer as many adjustments as possible so that we can tilt it, turn it, swivel it, etc., to leave it to our liking. And while we're on the subject of design, it might be of interest to us if they are compatible with the VESA mount so that we can anchor them to the wall.
Most models' weight tends to be about 35.27 oz, but some models weigh slightly more than this, and some models weigh just over 17.67 oz. Lighter monitors tend to be significantly more expensive, but in any case, we suggest you are trying to get one that does not exceed 35.27 oz so that its weight, together with that of your laptop, wouldn't be a heavy burden.
Power supply system
The other distinguishing feature of portable monitors is their power supply system. As is logical, all of them have total independence from wall sockets, so the power they need to operate can be obtained in two different ways: through one of the USB-C ports on our laptop or using a battery integrated into the monitor itself. In terms of connectivity, we are going to find ports such as DVI, VGA, HDMI, USB-C, and DisplayPort – the latter are the ones that allow us to carry the highest resolutions and refresh rates – we will have to ensure whether it is compatible with the connection ports for the video output of our equipment, especially if we have limited models in terms of port supply, such as ultrabooks like the MacBook (so that we avoid an additional adapter). If you have a relatively recent laptop with USB-C connectivity, it will probably meet both of these requirements. Otherwise, we will have to look for a portable monitor that incorporates a micro-HDMI input. These are the features we recommend you pay special attention to.
Beyond portability, there are other specifications of portable monitors that we should also take into account. These characteristics can seriously condition our experience and productivity and indicate whether our laptop is ready to co-exist with one of such monitors.
Panel type
IPS LCD panels offer much better colorimetry than TN panels, and they also have wider viewing angles, so their overall image quality is significantly better. We suggest you opt for a monitor with one of these panels unless you have a very modest budget (monitors with TN panels tend to be cheaper) or you want to use it for gaming and need to have the minimum response time possible. The TFT LCD panel technologies that we are going to find in the market are IPS, VA, and TN, with their respective variants. It is not that one is better than the other, but that each one has certain advantages and disadvantages that we will support better (or worse) depending on the task to be performed.
This table summarises their main pros and cons:
IPS
VA
TN
Advantages

High image quality
Very accurate color reproduction
Wide viewing angles -no color degradation

Native contrast ratio is usually the highest, with deep blacks
Generally, high brightness delivery capability
Superior color rendering capability than TN panels, but lower than IPS panels
Less light leakage than IPS, even in corners

Provide lower response time (typically 1 ms from grey to grey)
Enable higher refresh rates, exceeding 144 Hz
Are often the most competitively priced

Disadvantages

Higher response time than TN panels (typically 4 ms from grey to grey)
Some panels suffer from light leakage, especially in corners
Lower native contrast ratio than VA panels

Higher response time than TN panels
Lower viewing angles than IPS panels
Relatively uncommon in monitors

Overall image quality inferior to that of IPS and VA panels
Less accurate color reproduction than IPS and VA
Limited viewing angles both vertically and horizontally
Panel size and resolution
Having clarified each type of panel's pros and cons, it is worth noting that image processing in the monitor can mitigate its shortcomings and enhance its strengths, similar to image processing in televisions.
Panel size and resolution play an important role in productivity, especially when working with small, monotonous characters, such as in spreadsheets, databases, or programming.
When applied to productivity, resolution sets the limit on the amount of information we can access without using scrollbars, which is very important for some jobs.
But why have we included them together if they are two such different characteristics? Because when choosing a monitor, both should be considered together. For example, as we explained in our guide to buying gaming laptops, opting for 15″ or 17″ models – we are talking about laptops – with 4K resolution is not worth it, as these diagonals do not allow us to take advantage of the benefits that this resolution delivers.
If we don't want to invest too much, a 24″ monitor with Full HD resolution (1920 x 1080 dots) is a good option, and they are also available in the ultra-wide format.
However, the economic leap to 27-inch monitors is slight, so it is a good investment if we are going to use it for work. And if the diagonal grows, it is also worth keeping an eye on QHD (2560 x 1440 dots) or higher resolutions.
From 32″ upwards, opting for 4K monitors is a welcome alternative, especially if we consider models at moderately low prices.
Additional feature
Most, but not all, laptop monitors use a stand that allows you to position the monitor in either portrait or landscape position. This feature is very interesting, and it really matters if you are going to use it for spreadsheet work, photo processing, or content creation, so we suggest you keep an eye on this feature. Portable touchscreen monitors are not plentiful, but they do exist, and they are a great fit for some usage scenarios. If you think this feature can positively impact your productivity, don't hesitate to go for one. Below, in the section where we suggest the models we have selected, you will find a portable monitor perfectly suitable for you. Of course, this feature usually has a significant impact on the price.
Filters
Some portable monitors manufacturers introduce filters in their offerings designed to reduce the amount of blue light they emit into our eyes. There is currently no absolute consensus on whether or not this light has a harmful impact on the health of our eyes, but some studies, such as the one carried out by a group of researchers at Ohio University (United States), establish a link between prolonged exposure to the blue light emitted by the screens of devices and macular degeneration. For this reason, filters that reduce the energy of light with a wavelength between 400 and 495 nm are welcome.
Aspect ratio
Although screen size and resolution are key to productivity, we are likely multitasking. And for multitasking, the aspect ratio comes into play.
Although widescreen monitors are still the most common models, ultra-widescreen monitors will allow us to work more comfortably with multiple windows open.
In this sense, this type of monitor usually integrates a split mode that divides the screen into several different spaces in which to perform different tasks. Thus, thanks to ultrawide monitors, it will be possible to do the work we would do on two monitors – or even three – on a single peripheral.
Other features
It is something of less importance, but it will be interesting if our monitor has speakers or a built-in camera so that we can use it for audio playback or video calls.
Video Tutorial: Lepow 15.6 Inch IPS HDR USB-C Portable Monitor
---