---
AOC CQ32G1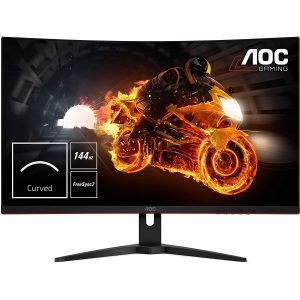 31.5″
2560×1440
Hardware Interface: VGA, DisplayPort, HDMI
Acer Nitro VG271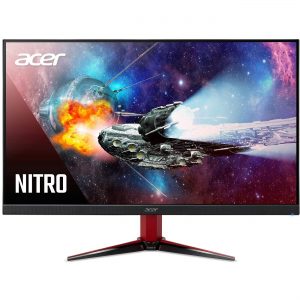 27″
1920 x 1080
Hardware Interface: HDMI
Asus VP28UQG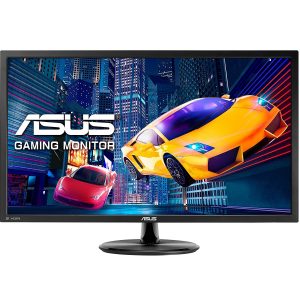 28″
3840×2160
Hardware Interface: HDMI
Sceptre C275B-144R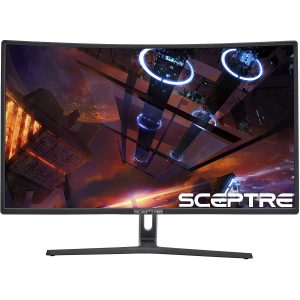 27″
1920×1080
Hardware Interface: DisplayPort, HDMI
ViewSonic XG2530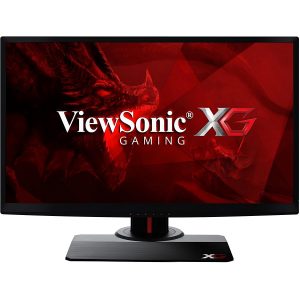 25 "
FHD 1080p
Hardware Interface: USB, DisplayPort, HDMI, USB 3.0
---
Choose the Best Gaming Monitor Under $400
Customer's Choice: the Best Rated Gaming Monitors Under $400
7 users answered this survey. Please help us improve this review!

85.71% of users selected AOC CQ32G1, 14.29% selected Acer Nitro VG271, 0% selected Asus VP28UQG, 0% selected Sceptre C275B-144R and 0% selected ViewSonic XG2530. Every month we analyze your answers and change our rating.
---
When you play games very often it is important to get a decent monitor. However, when you get serious about gaming you would like to get a high quality display. Among different parts of a full set PC, display is the one that can decrease the stress on your eyes.
Quite often gaming monitors are better than others in features like resolution, fps, color accuracy, and connectivity. In addition, graphics cards and processors of gaming computers can produce fps that match high values of monitor refresh rate.
Here you can find reviews of the best gaming displays with information on important monitor points to make the right choice.
AOC CQ32G1 – Best Frameless Monitor
AOC's CQ32G1 gaming monitor delivers a stylish design and excellent quality. Stylish and elegant at the same time, it impresses with its timeless black design. The screen diagonal of 31.4 inches is particularly practical. The comfortable size enables an optimal display of websites and can be set up in many places.
The extremely short response time of 4ms allows you to receive smooth and sharp images. You will not want to be without this function, especially when playing. Low energy consumption, high contrasts, and uniform lighting are ensured by the device's LED backlight. A white point is shown by a factor of 3000:1 brighter than a black point (contrast ratio). The connections of the gaming monitor include 1 DisplayPort and 1 HDMI.
Resolution
With an aspect ratio of 16: 9, the typical video formats can be displayed without any problems. The device has a screen resolution of 2560 x 1440 pixels. Thanks to QHD technology, pin-sharp images, and bright colors are guaranteed across the full width of the screen.
---
Acer Nitro VG271 – Best for response Time
It offers users 16.7 million colors., which you receive with the small response time of 1ms. It ensures a smooth, sharp image when you play various games. The monitor's connections include 1 audio in/out, 1 VGA, and 2 HDMI. As it has an inbuilt speaker, you do not need to connect speakers. You can enjoy music, videos, games and other activities without headphones.
Resolution
Resolution is also important. This display delivers HD quality with the 16: 9 aspect ratio. A screen resolution of 1920×1080 pixels can be set on this monitor. Thanks to the device's FullHD resolution, customers can run any office application with good image quality. The monitor ensures great image quality from different perspectives with horizontal and vertical viewing angles of 178 each.
---
Asus VP28UQG – Best for Ultra HD quality & Resolution
Thanks to an extremely short response time of 1ms, you can look forward to a smooth and sharp gaming experience. The contrast ratio of 1000:1 supports a pleasant reading flow through sharper contours. Various connections, including 1 DisplayPort 1.2 and 2 HDMI 2.0, ensure that the device works correctly.
Resolution
The 16: 9 aspect ratio allows you to enjoy films and pictures in the usual format. A screen resolution of 3840×2160 pixels can be set on the monitor. Incomparable sharpness, bright colors, and always clearly displayed images are made possible by the UHD 4K screen quality. The horizontal and vertical viewing angles of 170 and 160 ensure great image quality from different perspectives.
The height of the device can be easily adjusted and adapted to your personal needs. The VP28UQGL monitor from ASUS – the right decision when it comes to excellent quality and tasteful design.
---
Sceptre C275B-144R – Best for Long Playing Sessions
Using Scepter C275B-144R is a great pleasure to your eyes. Quite often, blue light fatigue eyes during long gaming sessions. With the blue light shift, eyes will not get tired so fast and you receive better comfort while working with texts and documents.
Resolution
Sceptre offers a standard full HD resolution of 1920×1080 pixels, however, the more important fact is 144Hz. It allows you to run games with a high frame rate, which results in a smooth animation of the picture. Speaking about Connectivity, it has DisplayPort, HDMI, and DVI. Such variety improves compatibility with various computers.
---
ViewSonic XG2530 – Best for Refresh Rate
This ViewSonic monitor has been designed for gamers. In addition to its robust appearance with good finishes, the most striking thing is its gaming aesthetic. As usual, is dominated by the black color, always sprinkled with some red details. As for the frames, they have a standard size, with the lower bezel being somewhat wider.
The ViewSonic XG2530 comes with a fully adjustable stand, which gives users the ability to adjust it in height up to 120 millimeters. Gamers can also rotate the screen on both sides, as well as place it in a horizontal or vertical position. With these features, there will be no problem for you to adopt the most optimal angle to enjoy long gaming sessions.
Resolution
The standard resolution of 1920×1080 pixels delivers ultimate pleasure not only while playing games but also delivers excellent quality movies and videos. This model is undoubtedly the perfect monitor for professional gamers who want to get the most out of their experience during competitions. Moreover, it is that this TN panel offers a series of outstanding features. It has a refresh rate of 240Hz with a response time of only 1ms. That is very important in online multiplayer games.
We have compared gaming monitors under $400 and selected the most exciting offers. Choose the most suitable gaming monitor under $400 and play games comfortably!
---
The Buyer's Guide
If you take a look at office monitors, size and resolution are the most important factors. Those who spend a lot of time during the day sitting in front of a display, it takes up space, much like on a desk. Besides, the image should look crisp, because it is easier on the eyes. After all, employees often spend a lot of hours on their computers. The frame rate or hertz number is also one of the most important specs about the display. Is it 60 fps or 144, you will not feel the difference while dealing with documents and other office kind of work.
Speaking about monitors for gaming, the situation is different. In video games, the fps/hertz are very important. They indicate the response time of a monitor, which is very noticeable during gaming sessions. The Size and resolution also improve the gaming experience.
Response time & input lag
Besides high fps, there is also response time and input lag. While reviewing models for gaming, you can notice labels of them having fast response. When you play for fun and just to relax you will not pay much attention to this. However, professional games think in a different way. This is the time you receive a fresh picture from the computer. If your device has a response time of 3ms, actions you make during games are late for this time.
Therefore, with a fast response, you do not have a large input lag, which makes the playing session more enjoyable and satisfactory. This is very important when you compete in online games or esports.
FPS vs. Hertz: what is the difference?
While buying monitors you can find both these specs in descriptions. They are quite similar but still different. While checking the herz you the number you understand better about the number of frames monitors are able to show to users. Even with a lot of hertz, you can still get low fps. It depends on the performance of the GPU and CPU of your computer.
Those video games that do not have high requirements in processors can easily generate high fps and you will receive them on the display. When your device is not powerful enough, you will not receive enough fps.
Therefore, the hertz number is about the monitor. It is the maximum refresh rate you can receive with a specific model. Then, your computer has to output enough number of frames to enjoy the game in full. If hardware gives 150fps you will be able to get all 144hz on the monitor. In case the computer produces just 60 fps, the monitor will be able to show just 60hz.
In gaming monitors, it is very crucial to have high and stable fps with hertz. Speaking about aesthetics you will not find much difference in 120 and 144 refresh rates. The last one can be smoother in specific moments of gameplay but very little. However, when it comes to 60 and 30 it is a great difference. The first amount is enough to enjoy games. While the last one will tear the image, frames will not be smooth and you will easily notice that with moving objects and animations.
That is why you should aim for monitors with more than 60hz if you have a powerful enough computer. The most common choices of customers are 120 and 144. It allows them to enjoy video games where reaction plays a very important role.
Resolution
Another point is the resolution. When it is large you do not have large pixels on wide monitors. Moreover, each detail in the game will look better. Those displays with 4K can display video games in 4K quality or lower. However, monitors with just a full HD resolution or 1920 to 1080 cannot show images at 4K. However, the resolution always influences the driver.
Nevertheless, the resolution does not have an influence on the gameplay, you should consider a display with a lower resolution and frequency with response time. Therefore, you can save real money. Still, there are plenty of affordable monitors that are often full HD, which is enough for most gamers.
It is not that easy to know, which resolution meets your needs. At the beginning you need to consider the performance of your PC. If you plan to get another monitor, your computer actually needs to perform very well to reach high fps. With larger resolutions you can enjoy image not just in Full HD but also in WQHD. The last one has twice as many pixels.
It is one of the reasons why 4K monitors are not often found on the market. They require an enormous amount of computing power to display this smoothly. With little tricks like scaling, weaker computers can also display higher resolutions. If you think of having image upscaled, it will only get blurry.
Connections
The possibilities for connections to the displays are large and various. To be satisfied with a monitor it should have one or several HDMI or a display port. VGA connection does not provide more than 30fps even when you have an HDMI to VGA cable.
What is the Best Gaming Monitor Under $400?
It depends on what you are looking for. In our guide, you can read about the best gaming monitors under $400 in different categories. We list cheap gaming screens with 144h Hz but also screens with higher refresh rates. We hope that with our help at GamingProfy, you will find the best gaming monitor for your needs!
A good gaming screen is likely to stay with you longer than the computer that controls it. For this reason, you must understand the meaning of the various terms when you buy a gaming screen. In this guide, we will go through these terms and explain what is important and what you should think about when you buy a gaming screen.
Update Frequency
This is the most important feature for you who are interested in a new gaming monitor. A standard PC monitor usually has a refresh rate of 60 Hz, while gaming screens usually start at 144 Hz and go up to 300 Hz.
Response Time
The response time indicates how long it takes for the screen to change a single pixel from black to white. It usually varies between 1 and 5 milliseconds. A higher response time can cause the screen to become blurred when playing games or watching movies. This concept, which is known as motion blur, is most noticeable in fast movements. When playing games, the screen should have a reaction time of fewer than 2 milliseconds to minimize this.
Display Technologies – TN vs. IPS vs. VA
Three main display technologies are used in today's monitors. TN (Twisted Nematic), VA (Vertical Alignment) and IPS (In-Plane Switching). All of these have different advantages and disadvantages.
TN
Gaming screens with TN panels have poorer color reproduction than panels with IPS or VA technology. One can say that the colors are somewhat dull and less saturated. They also have worse viewing angles than the other technologies, which means you'll never find curved screens with a TN panel. Despite these shortcomings, TN is the technology most widely used for gaming screens. This is because TN screens are characterized by a high refresh rate and low response time. TN is also the technology that is easiest to manufacture, resulting in lower prices.
IPS
IPS monitors offer the absolute best color reproduction of these three technologies. It also has the best viewing angles, which makes it suitable for curved screens. Traditionally, no screens with IPS technology have been found with a refresh rate above 75 Hz and a response time of fewer than 4 milliseconds. In recent years, however, IPS screens for games have appeared with refresh rates above 200 Hz and response times of only 1 millisecond. IPS is most common in the premium segment for gaming screens. An IPS panel in a lower price range will probably have a relatively low refresh rate. This, in turn, makes this screen a poor choice for gaming and makes it more suitable for video and image editing, for example.
VA
VA is a display technology that can be seen as something between IPS and TN. They are suitable for both games and movies. The color reproduction is worse than an IPS screen but better than a TN screen. They can have a high refresh rate without the price sticking out what they would have done on an IPS screen. $VA panels can be seen as an affordable all-around choice for you who are looking for a gaming monitor under $400.
Resolution and Screen Size
The most common sizes of gaming screens with an aspect ratio of 16:9 are 24″ and 27″. The size to buy is mainly based on how deep your desk is and how far you sit from the screen. If you want to buy a 27-inch screen, you should sit at least 60 cm away from the screen. Otherwise, you will have difficulty keeping up with everything that happens.
A 24-inch screen works well with 1920 × 1080 resolution (Full HD) and also with 2560 × 1440 (QHD). A 27-inch screen, on the other hand, should have a QHD resolution or higher to ensure good picture quality. A higher resolution requires better hardware, and the most important component is the graphics card. If you are currently experiencing low frame rate problems during gaming, you should not get a gaming monitor with a higher resolution than the one you now have. In this case, you should also update your graphics card.
Both screen sizes are also available in 4k resolution (3840 × 2160). The two biggest problems are that you need a very powerful computer to run a 4k monitor without losing frame rate. The second problem is that the difference in perceived image quality between a 4k screen and a QHD screen is minimal and barely noticeable on a screen smaller than 40 inches. To make the difference clear, the screen should be larger than conventional gaming screens. Another problem is that there are currently very few games that support 4k resolution.
PPI
Pixels per inch, PPI is an important concept that is not talked about much, and we absolutely believe that you should consider this when buying a gaming monitor. It's simply a matter of how closely packed the pixels are. A 24-inch Full HD (1920 × 1080) resolution screen has a PPI of 92 that you don't want to go below. A 27-inch screen with the same resolution has a PPI of only 81, which gives an image that is quite grainy compared to a 24-inch screen with the same resolution. The exception to this rule is if you are sitting very far away from the screen. A 55 inch TV that plays a Full HD movie will have a PPI of only 40, which is acceptable because you are usually sitting relatively far away from a TV screen. A 27-inch screen with a QHD resolution (2560 × 1440) has a PPI of 108, so you can considerably increase the screen's content before you lose picture quality, at least when you compare it to a 92 PPI screen.
We want you to take away with you from this piece to check the pixel density carefully before you buy a computer monitor. This applies mainly to the purchase of larger screens in lower price ranges, as the greatest savings are usually made in image quality. Here you can calculate how high the PPI of different monitors is, based on screen size and resolution.
HDR
HDR, high dynamic range – is a technology that allows the screen to achieve a higher level of realism and depth. The bright areas become brighter, and the dark areas even darker. This, in turn, increases the contrast, and that is why? Games and videos become more realistic. The visual improvements that HDR offers are subjective – some can't imagine returning to SDR, while others can barely see the difference or don't care. A monitor with HDR is not much more expensive than a monitor with SDR. So if it is offered, you should definitely say yes.
HDR is compatible with all versions of DisplayPort and HDMI 2.0. You must also have a graphics card that supports HDR to use it. For consoles, all versions of Xbox One and Playstation 4 also support HDR.
FreeSync or G-Sync?
Nvidia and AMD have different solutions to solve the problem of screen tearing. Both use adaptive refresh rates, but which solution is really the best? The answer is that both work roughly the same. What you need to keep in mind is to match the right hardware with the right screen. Read more in our article where we discuss the difference between AMD's FreeSync and Nvidia's G-Sync.
What's Wrong with Curved Gaming Monitors?
At first glance, curved gaming screens can be seen as a gimmick, at least if you compare them to conventional flat screens. Despite the criticism that curved screens have received, they offer a number of different advantages. A screen that wraps around your field of vision means that you don't have to move your head as much to see the entire screen. Also, peripheral vision allows you to pick up things in the corner of the screen. You also create a more immersive experience. This may sound like sales talk, and to some extent, it is. These benefits are certainly noticeable when the screen is 27″ large, but it is very marginal. Curved screens are best suited for screens with a higher aspect ratio, so-called ultra-wide screens.
Ultra-wide screens must always be curved for them to work well because they are so wide that the distance to the screen's outermost parts would otherwise have been so much greater than the distance to the center of the screen. The fact that the screen is curved means that the two become almost identical. Buying an ultra-widescreen that is not curved is cheaper, but we strongly advise against it precisely because of this problem.
Gaming Monitor with Built-in Speakers
If you buy a monitor with built-in speakers, you should not expect a top sound. They are great for listening to the radio, playing browser games, or watching YouTube clips. On the other hand, if you want to use your screen to watch movies or play games with better empathy, you should invest in either good gaming headphones or a pair of external speakers. If you use the built-in speakers in your gaming monitor, you should be aware that only DisplayPort and HDMI can transmit audio.
Video Review: AOC CQ32G1 31.5″ QHD 144Hz Curved Gaming Monitor
To Sum Up
When you are playing to buy a gaming monitor you just should know personal needs and the above-mentioned specs. Among the most important points are the response time monitor has and the frequency or hertz that the monitor can produce. If you can compromise on a resolution, i.e. you do not need such 4K, there are plenty of wonderful gaming monitors that you can get without overpaying.
---