---
Acer R240HY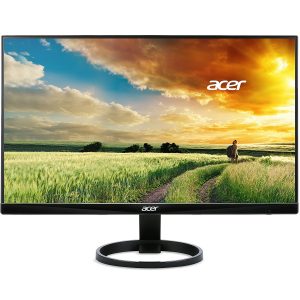 Screen Size: 23.8
1920×1080
Refresh Rate: 60 hertz
Acer XFA240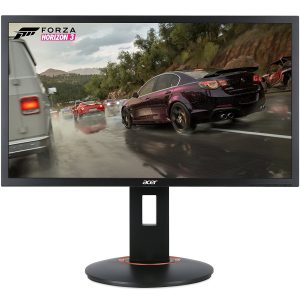 Screen Size: 24
1920×1080
Refresh Rate: 144hz
Asus VG245H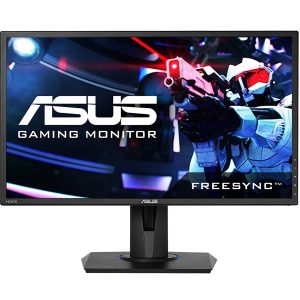 Screen Size: 24
1920×1080
Refresh Rate: 75 Hz
Dell P Series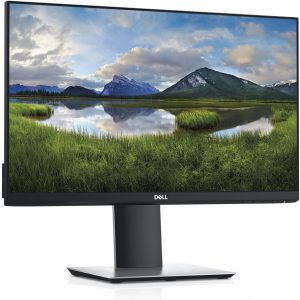 Screen Size: 21.5
1920×1080
Refresh Rate: 60 hertz
Pixio PXC243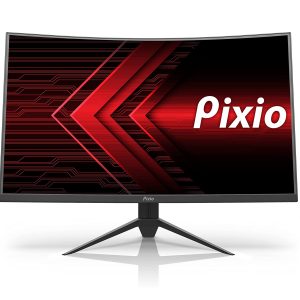 Screen Size: 24
1920×1080
Refresh Rate: 144Hz
---
Choose the Best Gaming Monitor Under $200
Customer's Choice: the Best Rated Gaming Monitors Under $200
14 users answered this survey. Please help us improve this review!

42.86% of users selected Acer R240HY, 21.43% selected Acer XFA240, 14.29% selected Asus VG245H, 14.29% selected Dell P Series and 7.14% selected Pixio PXC243. Every month we analyze your answers and change our rating.
---
A good gaming monitor can have a significant impact on your gaming experience. The essential capabilities of a gaming monitor can be listed in five points:
Size: The size determines how much picture space is available to you. The distance between you and the monitor is important. Gaming monitors are at least 24 inches these days.

Format: In addition to the tried and tested 16: 9 format, the extremely wide 21: 9 picture has established itself. With this, you have an impressive all-around view, but that drives the price up.

Resolution: Full HD has long been standard, but 4K is now in the advance. However, your graphics card must also be prepared for this.

Frame rate: The higher the frame rate, the smoother and smoother the image appears. It should be at least 60Hz it gets much better with 100 or 120 Hz.

Response time: This should be as short as possible, as it defines the time between calculation (in the graphics card) and display. Good response times are close to 0ms.
Here you will find reviews of several nice gaming monitors that you should consider.
Acer R240HY
Acer is quite a popular brand on the market. For lively and clear images from every angle, the R240HY has 1920 x 1080 Full HD resolution and IPS technology. Besides, it offers numerous connection options (VGA, HDMI) for a wide variety of image sources. Monitor Acer R240HY not only has a narrow profile, but thanks to the "ZeroFrame" design also has an extremely thin frame. This gives your images more space to stand out while minimizing any external distractions.
Thanks to the elegant, T-shaped base, the slim monitor has a stable and secure stand. This model is not only visually pleasing to the eye, as it is also easy on the eyes: The Flicker-less technology, for example, reduces the load on the Eyes through screen flicker, while the ComfyView technology reduces annoying screen reflections. Thanks to Blue Light Filter technology, blue light, which is harmful to the eyes, is also filtered out so that longer working on the monitor is no longer a problem.
With EcoDisplay design, the monitor is specially designed to protect the environment. This is also proven by the Energy Star 7.02 certification, according to which the displays are particularly energy-efficient and contain no mercury. In addition, monitors and packaging are designed in such a way that they can be easily recycled.
---
Acer XFA240
Another option that is worth consideration is Acer XFA240. At first glance, it presents itself in a rather sober design, compared to the often-martial appearance of some other displays that can be found in the gaming market. That the 24-inch screen is aimed at the gaming market can only be seen from a narrow red application around the stable base.
The inner values of the Acer XF240H are quite impressive. The gaming screen supports AMD's Freesync technology and creates a maximum refresh rate of 144 Hertz. It has a great variety of connectivity options. With a display port, you achieve the highest refresh rate while with HDMI you can connect various devices. In case you have some older gadgets, there is a DVI port.
The Acer XF240H is a good gaming monitor. There is nothing wrong with the gaming performance itself. The model also plays demanding and fast games smoothly and without errors. The limitations lie in the general image quality, which cannot quite keep up with the best competitors. Nevertheless, a look at the Acer XF240H is also worthwhile for serious gamers.
Users often enjoy this monitor due to the eye protection technology. This monitor is equipped with Acer Eyeprotect what reduces the amount of blue light you receive.

---
Asus VG245H
In case you like to play video games on several consoles and computers, you will be pleased to know that this model has 2 HDMI ports. With a nice design, you can connect all the cables without messing up your gaming area.
The Asus gaming model is based on a simple TN panel that guarantees very fast response times and low input lag. The slight color shift to reddish is not particularly noticeable when playing games. In contrast, brightness and contrast are on a good level. The Asus VG245H leaves a positive impression when gaming. Playback even with power-hungry games runs smoothly.
Long-playing sessions can be tiring for the eyes. That is why Asus cares about your health. Due to EyeCare, you receive less blue light, which may cause strains, eye damage, and headaches. Moreover, you can switch between different modes of content. It optimizes the image quality whether you watch movies or play video games.

---
Dell P2219H
Make this monitor your daily work tool. Efficient and powerful, this Dell screen offers you a very beautiful display in your missions thanks to an IPS panel, which guarantees very good color rendering; its 22-inch diagonal is perfectly suitable for use in professional settings. In addition, you enjoy a beautiful Full HD 1920×1080 pixels resolution.
Its elegant borderless design may please you especially if you work on dual screens; the borderless design is very pleasant for optimal efficiency.
Thanks to a thin profile and a monitor base that is around 22% smaller than its predecessor are you can free desk space. With the three-sided, ultra-thin bezel design, you can enjoy a clear view of your content on multiple monitors. Moreover, with two monitors you can increase your productivity by up to 18%.
With its integrated USB-C port, this Dell monitor can plug into any laptop. Meet all your video, data, and power needs, while reducing cable clutter. Besides, you have at your disposal an HDMI 1.4 port, 2 DisplayPort 1.2 connectors (input and output) as well as a USB hub consisting of two USB 3.0 ports and two USB 2.0 ports.

---
Pixio PXC243
Pixio has introduced a gaming monitor that offers a 24.-inch IPS panel with a refresh rate of up to 144 Hz. PXC243 is a gaming monitor with a fast display. According to the manufacturer, the screen, which has a full HD resolution, offers a high refresh rate via DisplayPort 1.2, a response time (gray-to-gray) of three milliseconds. The manufacturer specifies the contrast ratio of 1000: 1.
This monitor is designed to meet the needs of gamers. It even has a curved design to help you better assess the overall situation on the pitch when you are in the middle of a tense game. Viewing angles extend up to 178 degrees, and there is even an anti-reflective coating to reduce the risk of distraction. Moreover, health is also taken into consideration here. This monitor actively reduces flicker and uses blue light technology to reduce eyestrain. It also supports adaptive sync technology from AMD and NVIDIA.

---
Buyer's Guide
We take a closer look at the best gaming monitors under $200 in sizes from 21.5 to 24 inches that offer high refresh rates. This compilation of gaming screens focuses on models with 1080p and 1440p resolution, which are the most popular models for computer games today.
A good game screen should work well for fast games where the image moves fast, which requires a high refresh rate. The models then differ in how well they reproduce colors, their resolution, and technologies like Nvidia G-Sync and AMD Freesync for adaptive synchronization.
The monitors' benefits are clearly highlighted to make it easier for you to find the best gaming monitor to suit your needs. Further down the page, you'll learn how to argue when choosing a gaming monitor, so you're not dissatisfied with your purchase.
How to choose a good gaming monitor
A good game monitor is important for you who play many computer games and invest in a good screen for a better experience.
A handful of features are very important when choosing a monitor that should be customized for computer games. Below we will go through this and what you should think about.
LCD Panel Types
Almost all monitors for computers are of the LCD type and today use LED as a backlight. However, the technology on which the panel itself is based differs slightly. The most common alternatives are IPS, VA and TN.
IPS – Better color reproduction
On the best gaming screens, IPS panels are almost always used, as they usually offer very good color reproduction and good viewing angles. IPS is always used in screens intended for image editing, where all colors must be clearly visible. Those that sit on game screens are optimized to be fast but still have excellent color rendering.
For most people, these screens are the best and allow you to edit images without the colors being too wrong in production.
VA – Mellanting
VA panels are available on some screens and can be translated into an all-round screen. They are not as common in gaming screens as the more elaborate models with IPS panels, while the cheaper models are equipped with TN.
TN – Fastest Panels
TN has always been known for its speed. When LCD came on the market before the old CRT monitors, TN, for the first time, gave a response time equal to the classic alternatives.
TN has evolved, and it was also the first panels to come out at 144 Hz and later also at 240 Hz. It is simply easier to make a TN panel fast because the technology is well suited for it.
If you play high-level games like Counter-Strike, Quake or other action games, you probably want a panel that is as fast as possible. TN panels are also cheaper, which means that TN is the cheapest if you want a fast gaming screen with at least 120 Hz.
A disadvantage of TN is the color reproduction, although the more elaborate panels are much better than the absolutely cheapest you can buy. The viewing angles are also poor, which means that you often lose color and brightness if you look a bit crooked from the side or from above.
For these reasons, screens with TN panels up to 24 inches are usually a perfectly acceptable alternative. However, on larger screens, the viewing angle to the corners is not perfect, even if you sit straight in front, which can lead to nuanced differences.
But cheap gaming screens up to 24 inches are often dominated by TN panels, and it can clearly be a good choice. Especially when speed is the most important thing you're looking for.
Update frequency
The refresh rate for monitors is usually 60 Hz, which means that they are updated 60 times per second. But in computer games, and then mainly in FPS (First Person Shooter), the experience with a faster refresh rate is better.
Monitors with at least 120 Hz are recommended for the best gaming experience. Since so many offer 144 Hz nowadays, this is a good goal.
Screen size
The optimal screen size for games depends a bit on what you are looking for and how close you are sitting. Many e-sports professionals sit between 22 and 24 inches because they want to sit and see the entire screen at all times.
We believe that a good starting point is to invest in 24 inches if you have a limited budget because it is cheaper to buy such a screen, and they usually have a resolution of 1080p, which makes fewer demands on the graphics card.
However, the best gaming screens sold often have a resolution of 27 inches or more. They also have a slightly higher resolution, which places higher demands on the graphics card.
Resolution
Today's most common resolution is 1920 × 1080 pixels or Full HD, as it is also called. It's a relatively simple solution for driving around in modern games and lets you get by with a slightly cheaper graphics card. Screens up to 24 inches in size usually have this resolution.
A WQHD resolution of 2560 × 1440 pixels is a good choice for those who want a slightly better resolution. Many of the best gaming screens from 27 inches upwards use this resolution. It is also a good compromise against 4K, which often requires the absolute best graphics cards to drive games around.
There are also Ultra Wide screens with a resolution of 3440 × 1440 pixels and a ratio of 21:9 instead of 16:9. It is a format adapted for movies or the cinema format but has become popular because it offers a wide and comprehensive experience in the games that support it.
Adaptive Synchronization
A new technology that has taken the step into the market is the possibility of adaptive synchronization. There are two different technologies for this today: Nvidia's G-Sync and AMD Freesync.
There are no displays that support both technologies, and you need a graphics card from the same manufacturer to use the feature. Many people think that this is a way to lock in, and of course, we agree. If you have bought a good graphics card from Nvidia and want to use the technology, you need to choose a screen with G-Sync. Otherwise, the function cannot be activated, and it's as if you had bought a screen without support.
Nvidia charges additional fees for G-Sync, so screens with support usually cost a cent more than those running AMD Freesync, as this is an open standard that screen manufacturers can implement themselves.
However, in the past, G-Sync has worked better, which is equivalent to AMD. On the other hand, they have worked to increase the requirements for screen manufacturers so that the differences can become blurred over time.
What is G-Sync & Freesync?
Normally the monitor retrieves the image from the graphics card and displays it on the screen. If you have 60 Hz, this happens 60 times per second. When the graphics card has drawn the next picture, the available information is replaced. This can mean that the monitor draws half of the image from one image and the other half from the image after. This usually results in an artifact in the image with a line in the middle. This is called tearing.
To solve the tearing before, you can activate Vsync, which locks the fps in the game to the same value as the Hz of the screen. If you have 60 Hertz, your fps in the game will be locked to 60 fps. In many game titles, this works fine. If the graphics card always draws at least 60 frames per second, everything is peaceful and joyful.
In new and heavy game titles, where you may want to access the graphics settings to get about 60 fps, this sometimes means that the graphics card can only handle 55 fps. This is still fast enough to make the game feel flexible in its movements, but the Vsync technology doesn't manage this instead of having it from 60 fps to 30 fps. So every hertz of the screen draws every frame twice from the graphics card. This means that the game can jump between 30 fps and 60 fps, and it is not a great experience.
Instead, the adaptive synchronization works as if the graphics card has clearly drawn a new frame and displays it on the screen. The screen can then download the latest frames, regardless of how many fps the graphics card can draw at that moment.
It can be said that adaptive synchronization like G-Sync & Freesync combines the best of both worlds.
Video Review: Acer R240HY bidx 23.8 Inch Monitor
---