---
Are you looking to build the ultimate gaming PC? If so, you need to check out the ASUS ROG Rampage VI Extreme motherboard. This is one of the most powerful motherboards on the market, and it offers a wealth of features that will appeal to gamers and power users. In this article, we will take a close look at the ASUS ROG Rampage VI Extreme motherboard and answer some common questions about it. We will also provide product reviews and useful tips to help you decide if this is the right motherboard for you.
With great VRM, superior cooling capabilities and an awesome design, ASUS ROG Rampage VI Extreme is the perfect companion for your gaming setup. You can harness its maximum potential with the latest Intel processors, ensuring solid performance all-around.
The Rampage VI offers premium power delivery and effective cooling to ensure that you always have enough processing power on tap to do what you need to do. Additionally, it is designed with great attention to detail – special elements guarantee that you never have to worry about overclocking or pinpointing a problem. The stylish aesthetic also complements any setup, making your machine stand out while providing top of the line performance.
---
Manual for ASUS ROG Rampage VI Extreme
Having trouble? Download instructions for ASUS ROG Rampage VI Extreme.
---
Pros and Cons of ASUS ROG Rampage VI Extreme
Unfortunately, this board performs subpar on Ubuntu platforms due to certain compatibility problems which can make using the product frustratingly disappointing considering its hefty price tag. For those not willing to put in the extra work to make sure their operating system is compatible with this gaming motherboard, we recommend looking into more affordable options that will provide better performance even for users running Ubuntu systems.
---
ASUS ROG Rampage VI Extreme Specifications
The ASUS ROG Rampage VI Extreme is a high-end Intel X299 chipset-based motherboard designed to support the latest generation of Intel Core X-series processors. It features an impressive specs:
Socket: Intel LGA 2066
Chipset: Intel X299
Form Factor: E-ATX form factor
Memory Support: 8x DIMM slots with support for up to 128GB of DDR4 4226MHz+ memory
Expansion Slots: 3x PCIe 3.0 x16 slots  (x16, x16/x16, x16/x8/x8), 3x PCIe 3.0 x16 slots x16, x16/x8, x8/x8/x8), 4x M.2 sockets and U.2 support
Audio Resolution:  SupremeFX S1220 and ESS® SABRE9018Q2C digital audio processor and exclusive ASUS features including Sonic Studio III and Sonic Radar III
Storage: 10x SATA 6Gbps ports and 1x U.2 port
I/O Ports: 2 x USB 3.1 Gen 2 Type-A + USB Type-C, 10 x USB 3.1 Gen 1 (blue),1 x Optical S/PDIF out,1 x Clear CMOS button(s),1 x USB BIOS Flashback Button(s), 1 x ASUS Wi-Fi Module, 5 x LED-illuminated audio jacks, 1 x Aquantia AQC-107 10G LAN port and Anti-surge LAN (RJ45) port
Networking: Intel I219V Gigabit Ethernet controller
Connectivity: Built-in 802.11ac Wi-Fi with MU-MIMO support and Bluetooth 5.0 support
The ASUS ROG Rampage VI Extreme is designed to provide an enthusiast-grade gaming experience for gamers who want the absolute best performance possible out of their system. The powerful specs make it well suited for a high-end gaming system or workstation that needs massive compute power. [1],[2],[3],[4]
ASUS ROG Rampage VI Extreme Software
The ASUS ROG Rampage VI Extreme comes with a number of useful software features that are designed to enhance your gaming experience. The AI Suite 3 dashboard provides an intuitive interface that allows you to monitor and control system performance, as well as tweak overclocking settings in real-time. It also has the AI Charger utility which can help you optimize the charging process of your smartphone or tablet.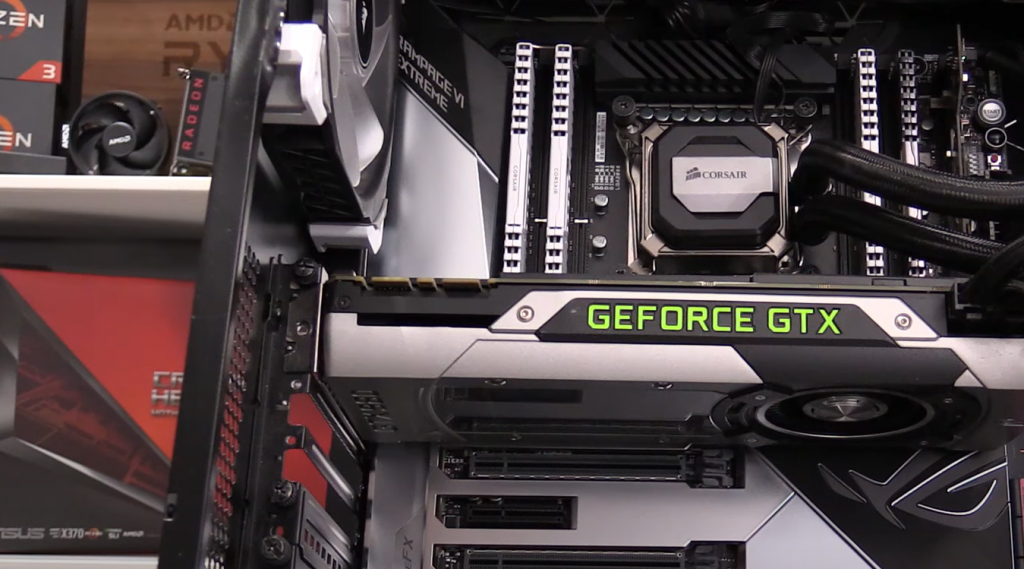 In addition, the motherboard is bundled with the AI Overclocking feature, allowing you to overclock your processor automatically without needing any manual tweaking or adjustments. Other neat features include RAMCache III for improved memory performance and SupremeFX audio technology for enhanced sound quality when listening to music or playing games.
The ROG GameFirst V network optimization utility helps reduce lag during online gaming sessions, while the ASUS GPU Tweak allows you to tweak and optimize your graphics card settings.
As for the firmware, this motherboard comes with the latest UEFI BIOS, which has been updated to the latest version and is compatible with the most current Intel CPUs. Lastly, there are a number of fan control options available so you can keep your system cool even when running at full speed.
Overall, ASUS has packed plenty of useful features into their ROG Rampage VI Extreme motherboard that are designed to improve performance and make gaming more enjoyable. With this board, gamers can enjoy an immersive experience with powerful specs and intelligent software tools for maximum control over their hardware.
What we noticed however, is that this board doesn't perform perfectly on Ubuntu or other Linux distributions, so if you are looking to set up a Linux gaming system, it's worth doing some research before buying this board. Nonetheless, Windows users should have no problems running this motherboard.
We do suggest you be careful when installing extra utility software as it may conflict with the native software already installed in the system. It is best to be selective about which third-party software you choose and do research on them beforehand. [1],[2],[3],[4]
ASUS ROG Rampage VI Extreme Audio
Audio capabilities of a motherboard are an important consideration if you want to listen to music or watch movies on your computer. It can also be important for gaming, as some sound cards offer advanced features such as surround sound and audio processing that can enhance your gaming experience.
The ASUS ROG Rampage VI Extreme Motherboard is a high-end model that offers great audio capabilities. The board has 5 x LED-illuminated audio jacks located on the back panel. These jacks are compatible with both HD audio and S/PDIF connectors, allowing you to easily connect your speakers or headphones.
The board's Extreme OMEGA Audio engine is designed to provide superior sound quality and a more immersive gaming experience. It's based on the SupremeFX 8-Channel High Definition Audio CODEC S1220A, which includes a 120dB SNR stereo playback output and 113dB SNR recording input.
The Nichicon caps provide for a warm, natural sound and a low-noise output. The audio software suite consists of the ROG Audio Studio, Sonic Radar Pro, and Sonic Studio Pro. These tools provide users with a range of options for customizing their sound experience, from gaming profiles to sound effects. [1],[2],[3],[4]
ASUS ROG Rampage VI Extreme: Cooling
When it comes to gaming or high-performance computing, cooling is an essential factor in ensuring that your hardware runs efficiently and at peak performance. This can often be the difference between success and failure when trying to reach those higher frame rates or benchmarks.
The ASUS team understands this importance of cooling and offers a number of features designed to keep temperatures down and ensure optimal performance.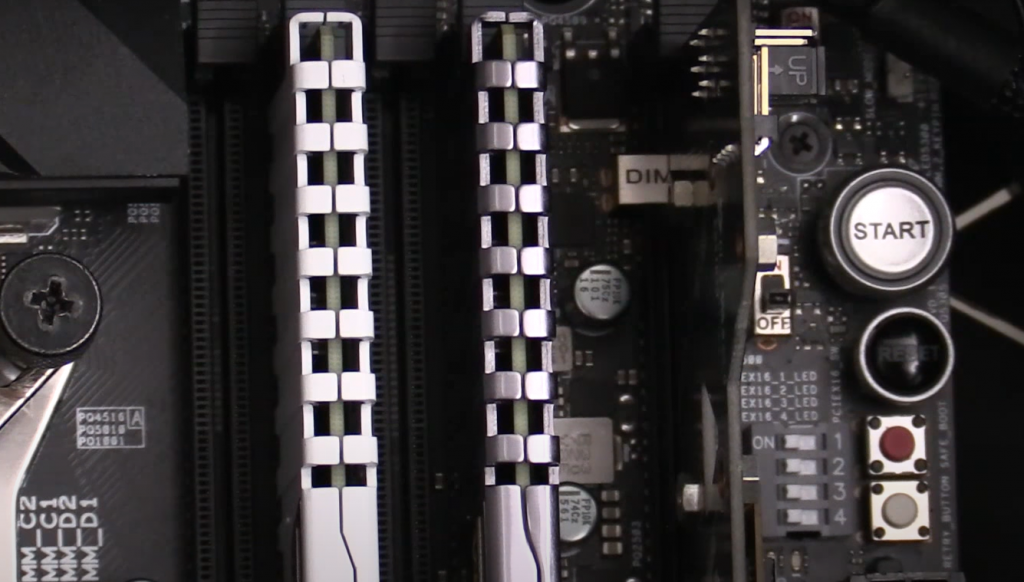 First of all, the motherboard features an active heatsink with a dual-fan design that helps to dissipate heat and keep temperatures low. Additionally, it comes with 12 independent fan headers so you can hook up multiple fans or water pumps for even greater cooling power.
The ASUS ROG Rampage VI Extreme also features an M.2 heatsink which helps to keep your SSDs running cool and fast, as well as an onboard heatsink designed specifically to protect your graphics card from overheating while gaming.
Finally, the ASUS ROG Rampage VI Extreme utilizes its exclusive Fan Xpert 4 auto-tuning system which intelligently adjusts fan speeds based on component temperatures, ensuring adequate cooling while keeping noise levels down. [1],[2],[3],[4]
ASUS ROG Rampage VI Extreme Overclocking
The ASUS ROG Rampage VI Extreme is one of the best motherboards for overclocking on the marketFirstly, its 5-Way Optimization feature allows users to automatically detect their system configuration and set optimal parameters for CPU core frequency and voltage levels based on those settings. This means that no matter what CPU you have, you can get the best performance possible.
In addition to its 5-Way Optimization feature, as we already mentioned the ASUS ROG Rampage VI Extreme also features a high quality heat sink which helps to keep your CPU cool while overclocking. This is especially beneficial if you are running a very powerful CPU such as an Intel Core i7 processor. The large size of the heatsink and its efficient design allow it to dissipate heat more quickly so that your CPU can remain at peak performance levels during overclocking sessions.[1],[2],[3],[4]
ASUS ROG Rampage VI Extreme Price
The ASUS ROG Rampage VI Extreme Motherboard is a high-end model that comes with an impressive list of features. With such great specs and advanced software tools, you'd expect the price of this motherboard to be quite high. And indeed, it is. The ROG Rampage VI Extreme Motherboard can be purchased for around $969, depending on the seller and where you live.
This may seem like a lot of money, but when you consider the quality of components used in this board and all the features that are included, it's actually quite reasonable.
How to Choose a Motherboard
The first thing you decide on when building a PC is the motherboard. And with so many options available today, choosing a motherboard can seem like a daunting task. This guide aims to help you find the perfect motherboard for your needs by providing an overview of the different types of motherboards and their features.
Form factor
The form factor of a motherboard not only affects the size and shape of a system, but also has an impact on other components like CPU, RAM, and GPUs available for use.
It also determines how much space is required to fit all these parts together.
For example, motherboards come in various sizes ranging from mini-ITX to extended ATX and each has advantages and disadvantages associated with it. Mini-ITX motherboards are usually small enough to fit into small builds while extended ATX boards are designed for larger cases that can accommodate additional hardware such as multiple graphics cards or additional storage drives.
Socket
The socket in the motherboard is a critical component for any computer system. It serves as a physical location for the processor and provides connectivity to other components of the system. By providing this connection, it allows the processor to communicate with RAM, storage, and other peripherals. Without a properly fitted socket, the computer will not be able to use its CPU or memory effectively.
One of the primary benefits of having the right socket in your motherboard is compatibility. Different processors require different types of sockets in order to fit correctly and function optimally. Without the right socket, you may find that certain components are unable to work together or that performance is hindered due to incompatibility issues.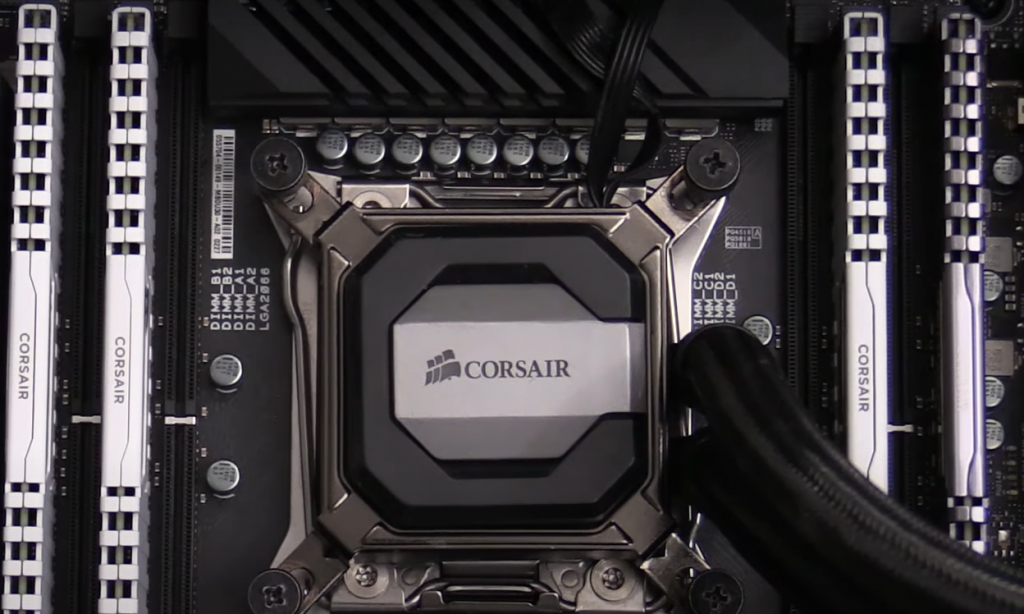 Another important benefit of having a good socket in the motherboard is its ability to provide power to the processor. The motherboard will contain a number of capacitors which can store energy and provide it to the CPU when needed. This ensures that the processor has enough power to carry out tasks efficiently, preventing system crashes from occurring due to an insufficient power supply.
PCI slots
PCI slots are crucial components of a modern motherboard. These slots allow users to add cards such as sound cards, network cards, and video cards that can improve the performance and capabilities of their computer systems. Without PCI slots, these desirable upgrades would not be possible.
The primary benefit of PCI slots is the ability to expand your system's capabilities with various additional components. By adding different types of expansion cards, you can increase the speed or capabilities of certain parts of your system such as memory, graphics processing power, or audio playback quality.
For example, if you want to upgrade your video card for more powerful gaming performance then you need to use a PCI slot in order to do so. Similarly, if you want to add a wireless network card you need to use a PCI slot. Each type of expansion card requires its own particular type of PCI slot, so it is important to understand which slots are compatible with the cards you wish to install.
RAM slots
RAM slots are essential for maintaining the smooth functionality of a computer. This is because RAM plays an important role in supporting the overall performance of a computer.
As its name suggests, Random Access Memory (RAM) is used to store data that computers need to access quickly in order to function optimally. It is considered as a type of short-term memory for the system and holds information such as configuration settings, currently running programs, and other necessary components like drivers and libraries that enable hardware components to run smoothly. The more RAM a person has on their machine, the quicker it will be able to retrieve this information which would otherwise take longer if there was less RAM available.
Extra features
Modern motherboards come with a variety of extra features that can help enhance system performance.
One such feature is overclocking, which allows for increasing the clock speed of certain components beyond their specified levels. This provides an immediate boost in performance and can result in faster loading speeds or higher frame rates when playing games. However, it comes with risks such as hardware instability or shorter component lifespans if not done correctly. For this reason, it should only be attempted by experienced users who understand the potential dangers involved.
Other features include on-board sound cards and Ethernet ports which are useful for connecting to external devices without having to install any additional expansion cards. Some motherboards also have multiple USB ports or FireWire connectors which can be used to expand the number of devices that can be connected.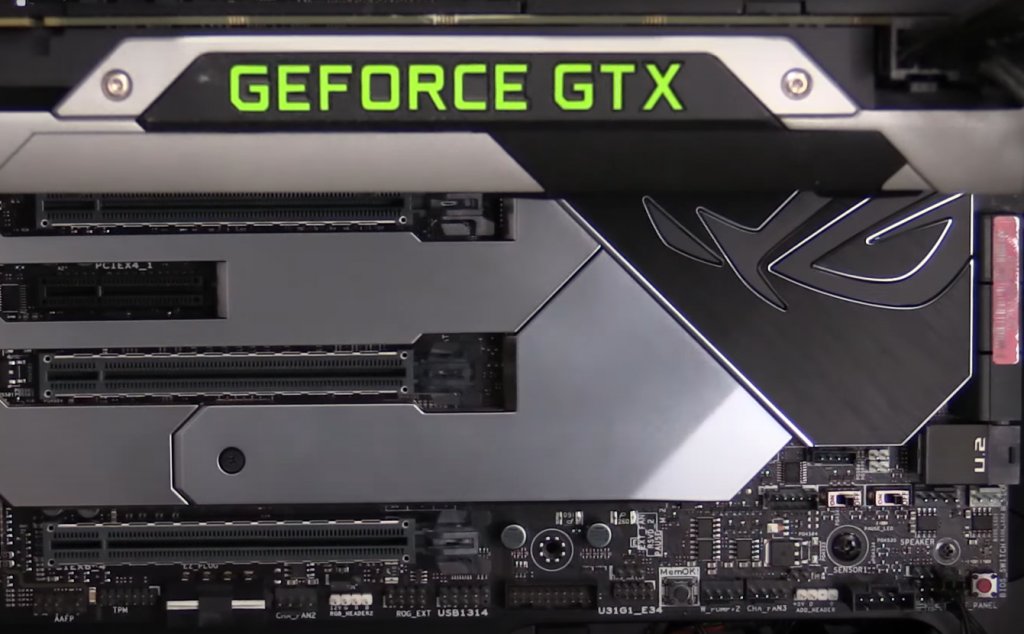 Finally, motherboards may come with built-in power management features that allow users to customize settings such as fan speed or CPU voltage. These features help reduce power consumption and can improve system stability by preventing components from overheating or running at unnecessarily high speeds. [5]
---
FAQ
Is the ASUS ROG Rampage VI Extreme good for gaming?
The ASUS ROG Rampage VI Extreme is an excellent choice for gaming. It features an Intel X299 chipset, which provides plenty of power and flexibility to accommodate a variety of different configurations and gaming needs. The board also supports up to 128GB of DDR4 RAM at a speed of 4133MHz, giving gamers plenty of headroom for intense graphics and performance-oriented tasks. Furthermore, it comes with three M.2 slots for NVMe SSDs that can provide lightning fast storage speeds for loading games faster than ever before. Overall, the ASUS ROG Rampage VI Extreme is one of the best motherboards on the market for gaming enthusiasts looking to build a high-end rig capable of delivering superior performance and reliability.
Is the ASUS ROG Rampage VI Extreme a good motherboard?
The ASUS ROG Rampage VI Extreme is a great motherboard for enthusiasts who want the best performance. It has an extensive range of features and supports the latest Intel processors, making it ideal for those seeking top-tier gaming performance.
The board includes four DDR4 DIMM slots that support up to 128GB of memory, allowing you to create powerful builds with the capability to handle extreme workloads. Additionally, it provides three PCIe 3.0 x16 slots that can be run in either x8/x8/x4 or x16/x0/x0 configurations, enabling you to easily upgrade your graphics card and use multiple GPUs at once.
What is ASUS ROG Rampage VI Extreme?
ASUS ROG Rampage VI Extreme is a high-end motherboard designed specifically for gaming enthusiasts and professionals. It features the latest Intel X299 chipset, which supports up to 18 cores, 36 threads, and up to 4-way SLI/CrossFireX multi-GPU configurations. The board also boasts an integrated M.2 slot for speedy storage, USB 3.1 ports for ultrafast data transfers, ASUS Aura Sync RGB lighting for customizing your system's look, plus five additional fan headers to keep things cool under pressure. With support for both Intel Core X-series processors and Xeon W CPUs, the Rampage VI Extreme offers incredible performance potential no matter what you throw at it.
Do they still make ASUS ROG Rampage VI Extreme?
Yes, the ASUS ROG Rampage VI Extreme is still available. It's one of the highest-end gaming motherboards ever released by ASUS and remains popular among enthusiasts and gamers.
It features an Intel X299 chipset, 10+2 power phases, overclocking support for 8th Gen Core and Xeon CPUs, Quad-GPU SLI/CrossFireX support with NVIDIA 2-way SLI HB Bridge included in the box, as well as Aura Sync RGB lighting. There are seven PCI express slots for maximum expandability, two M.2 sockets to double up on NVMe SSD storage speed and four DDR4 memory slots that support up to 128GB of RAM.
Related Video: Asus Rampage VI Extreme Motherboard Review
Conclusion
Choosing a motherboard is a daunting task for many and the ASUS ROG RAmpage VI Extreme is a great option for those looking to build an extreme gaming system. It has all the features and specifications you need, plus plenty of customizability to make it your own.
ASUS ROG Rampage VI Extreme Review motherboard is a great option for serious gamers and professionals. It offers top-of-the-line features, such as an enhanced power delivery system and robust cooling options, giving users the performance they need to push the envelope in gaming or heavy workloads.
The board's unique design also adds some extra flair to any gaming setup. With its solid build quality and reliable components, it is sure to become a centerpiece of your PC build. Whether you're looking for a high-end gaming motherboard or just something that can take on whatever tasks you throw at it, the ASUS ROG Rampage VI Extreme Review is definitely worth considering.
---
References:
https://www.amazon.com/ROG-Rampage-VI-Motherboard-802-11AD/dp/B074JCV2QL/ref=cm_cr_arp_d_product_top?ie=UTF8
https://rog.asus.com/motherboards/rog-rampage/rog-rampage-vi-extreme-omega-model/
https://www.pctekreviews.com/Reviews/ASUS_ROG_RAMPAGE_VI_EOMEGA.aspx
https://www.tweaktown.com/reviews/8368/asus-rog-rampage-vi-extreme-motherboard-review/index.html
https://shop.bt.com/guides/buying-guides/what-to-consider-when-buying-a-motherboard