---
RESPAWN Gaming Chair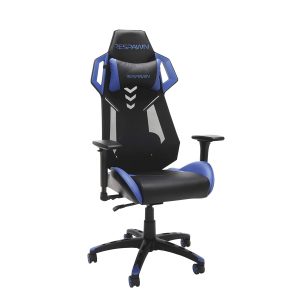 130 Degree Recline
2D Armrests (height and depth)
Breatheable Mesh Back
Hbada Gaming Chair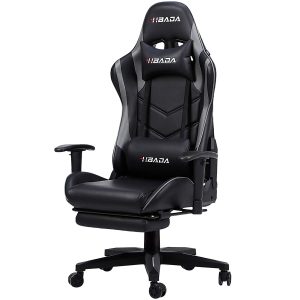 Ergonomic
Faux Leather
Frame Material: Alloy Steel
OFM ESS Gaming Chair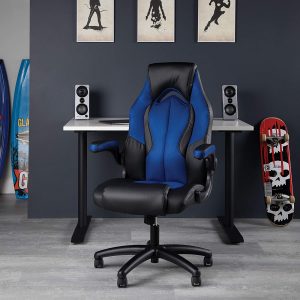 Material: Leather
High Back Swivel Chair
Recline Function
OFM Essentials Collection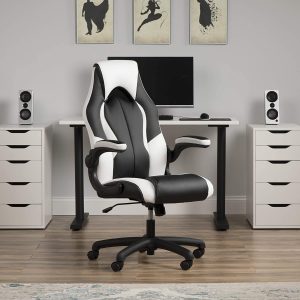 Material: Leather
High Back Swivel Chair
Flip Up Arms
Blue Whale Gaming Chair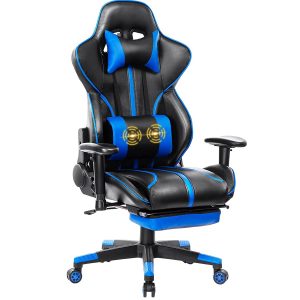 Premium scratchproof PU leather
Wide and thick seat cushion
High-density sponge
---
Choose the Best Gaming Chair Under $200
Customer's Choice: the Best Rated Gaming Chairs Under $200
11 users answered this survey. Please help us improve this review!

72.73% of users selected RESPAWN Gaming Chair, 9.09% selected Hbada Gaming Chair, 18.18% selected OFM ESS Gaming Chair, 0% selected OFM Essentials Collection and 0% selected Blue Whale Gaming Chair. Every month we analyze your answers and change our rating.
---
With a good gaming chair, you can improve your posture during long gaming sessions in front of the computer. Gaming seats are usually similar to those of race cars, which is not so strange when the first manufacturer of gaming seats first started with seats for race cars. But then who saw that there was another market that needed ergonomic shell-shaped chairs.
Today there is a wide range of different gaming chairs, and not only DXRacer manufactures competent gaming chairs. Brands like AKRacing, OFM, Respawn with several manufacturers also have several very good gaming chairs under $200.
In our gaming chairs review, you will find everything from slightly finer to cheaper models, which have been well proven in independent tests. Our best reviews are based on independent test sources, product reviews, customer reviews, functions and features.
Buyer's Guide – How to Choose the Best Gaming Chair Under $200
In our guide to the best gaming chair, we'll quickly explain which features and functions you should consider most carefully. By taking a little more control over what you should look for when choosing a gaming chair, you minimize the risk of a bad buy. Usually, we can test the chairs directly in the store, but unfortunately, not many of these models are in our next store. If you have the opportunity to test the gaming chair in your local store, this is still the best option.
There are very many who are looking at their first gaming chair or are planning to buy a computer chair for their children. Therefore, it is especially important to know the features and functions that determine whether it is a good model or not. Gaming chairs can also be very individual, meaning that a chair may be suitable for someone but not at all for you and your own sitting position.
In our review of gaming chairs, we have several different models, and although we believe that a chair is the best among the test winners, it is not quite a hundred that this particular gaming chair is the best choice for you. It can be anything from a chair in a harder direction to a much too large chair.
Type of Seating Position
It can sometimes be a little difficult to find a gaming chair that suits you individually, and something that is often overlooked is how your own sitting position usually looks. Think about what your sitting position normally looks like with your current chair. If you are sitting straight up with straight legs, you can skip this part because your sitting position does not affect how the chair's seat cushion looks.
However, some players believe that the best sitting position is either sitting on one leg above the seat cushion itself or sitting with your legs crossed, i.e., tailoring position. This is usually where the problem occurs, as many gaming chairs have raised edges on both sides. Basically, all gaming chairs have a slight elevation on the seat cushion sides, but not all of them are hard.
In the tailoring position, you have to find a gaming chair with the lowest possible / softest possible side edges. Otherwise, it will quickly become annoying. It can also hurt.
You should really avoid hard materials if you want to sit in a position where you are sitting on a crossed leg or prefer a tailoring position.
Unfortunately, this is a relatively common problem that many people discover when they bring their play chair home. So be especially careful before you buy the chair.
Height and Weight
Many people make a common mistake because they order a gaming chair without looking closely at the dimensions and recommendations on the chair. Either the gaming chair becomes too small or too large. Although we at GamingProfy have chosen a test winner in our gaming chair test, it is not 100% certain that the chair will fit you.
Another thing that also influences the choice of the best gaming chair is the body shape. If you are a little further away, a larger gaming chair usually works better, and you should not choose models for slightly smaller players.
Of course, your body weight should not exceed the chair's maximum capacity, and there should also be a certain amount of leeway. If you are close to the limit, we recommend that you choose a gaming chair that can carry a little more weight instead. Otherwise, there is a risk that you will wear out the chair much faster than intended.
If you use the rocking function and want to fold the backrest properly for watching movies, there may also be a weight limit that is slightly less than the maximum weight of the model. It is not uncommon for manufacturers to print that the chair can support 150 kg but still have a lower weight limit to prevent the gaming chair from tipping over when you fold the backrest to the lowest setting.
Different Materials – Artificial Leather, Fabric or Real Leather?
Most gaming chairs use fake leather, and some models use different fabrics. But there are also more luxurious chairs. Of course, real leather gives both a more exclusive feel and appearance, but then the price is also higher and requires a little care.
The majority of the gaming chairs that we have in our best test use leatherette, and it is actually the material that holds up best despite a lot of use. The only disadvantage between real leather and artificial leather is that the material does not breathe like fabric. If it is really hot summer days, the material can feel a bit sticky.
Fabric gaming chairs are relatively rare. The material for chairs with fabric varies from brand to brand. The best advantage of fabric is that it actually breathes when it gets hot, and on hot summer days, these gaming chairs feel a little colder than imitation leather.
Armrests – The Difference Between 3D and 4D Armrests
A good armrest should be able to effectively relieve the elbows without hurting them, despite long sessions before the game. How soft the armrests are perceived varies from brand to brand but does not differ significantly. In any case, too often, there is nothing to complain about.
However, the adjustment options differ considerably if we look at cheap and slightly more expensive gaming chairs. The cheapest gaming chairs sometimes only support height-adjustable armrests. Of course, this can be a small problem since everyone has a different height and sitting position.
If we go into price ranges above $200, we find good gaming chairs with armrests that can be adjusted both forwards and backward. But also turn/screw, and these are usually called 3D armrests. Some slightly more luxurious gaming chairs also support lateral movement, which means that you can move the armrest outwards or inwards towards or away from your body, which is usually referred to as 4D armrests.
The best thing about armrests with multiple settings is that it is easier to adapt to your posture, but also to the turntable/computer table you are using. Sometimes it can be nice to be able to slide down the armrests to use the computer table as a relief for your arms while playing.
Backrest Tilt and Swing Function
Are you a person who loves to fold the seat back and watch some movies in front of the computer? Or are you the person who loves to sit and swing in front of the computer? Then you should definitely read this paragraph.
All gaming chairs in our test have the possibility to fold/adjust the backrest by a certain amount. On the other hand, it is anything but usual to be able to fold the backrest horizontally all the way down. In general, however, most backrests can fold up quite a lot, and many of the gaming chairs we have in our test have a limit of about 135°. In combination with the rocking function, the tilt of the backrest brings the tilt closer to 145° or more.
The tilt function is another function that is not available on all models, i.e., where both the seat and the backrest can be rocked at the same time. If this is an important function for you, you should check this carefully before buying the gaming chair.
How many degrees you can turn varies from model to model, but is usually 10-15°. Another important feature of a good swing is its resistance. Usually, you will find this slider on the bottom of the chair, which can be adjusted so that the resistance corresponds to your body weight.
Frequently Asked Questions About Gaming Chairs
Office Chair or Gaming Chair?
Gaming chairs are primarily aimed at those who practice gaming/e-sports, but many people also use them as office chairs. But does the office chair have better ergonomics? Maybe. If you spend 8 to 12 hours a day sitting in an office, we would have an office chair, which is built for longer sessions. But it is also a completely different price we are talking about.
The gaming chair was developed at a time when many e-sports enthusiasts sat on ordinary chairs under LAN and the like. What was needed was a gaming chair that supports the lower and upper back for a better posture, which most gaming chairs today offer.
But can a gaming chair be at least as good as an office chair? Yes, definitely, but if you increase the price above $200-300, there are fantastic office chairs. On the other hand, deck chairs are good at keeping your back straight during long sessions, which takes the strain off your back.
Which Gaming Chair Fits?
It is challenging to decide which gaming chair suits you best. However, we recommend that you read our shopping guide, which covers some classic pitfalls. The best thing you can do is to read the different brands and models on the market and see what suits you best. They also differ in size. So be sure to check the recommended body length and weight for the model you are interested in.
Which Gaming Chair is the Best?
There really isn't just one gaming chair that is best for all users. When choosing a gaming chair, it is very individual, such as size, requirements for features, materials, etc. The best gaming chair is the one that fits your body shape and length. Then, of course, other features distinguish a brand from a brand.
Are Gaming Chairs Good?
Some are generally skeptical about gaming chairs and claim that every other office chair is better. Can office chairs be the better choice? Definitely. But good office chairs also cost a lot of money, but a pretty cheap alternative is always IKEA.
The problem with many cheaper office chairs is that there is often a lack of adjustment possibilities, everything from lumbar support to more. Even cheaper gaming chairs usually have some kind of lumbar support and the like in the form of a cushion. Is it perfect? Maybe not, but it still provides support for the back. Gaming chairs, on the other hand, are suitable for supporting the body and keeping the back straight when the user is actively playing in front of the computer, even during long sessions.
Are There Any Gaming Chairs for Children?
Of course, there are gaming chairs for younger children. This particular chair is recommended for people between 55 and 70 inches, but other models are also available. If they are even younger children, the range is not so great, and we, unfortunately, did not look at them more closely in our gaming chair review.
Are Gaming Chairs Often Sold as Part of Promotions?
If you are looking for a specific gaming chair, it may be worth waiting for a campaign or sale. It is by no means unusual for models to be reduced by $100 when, for example, Black Friday occurs or when lunchtime sales begin. Even occasional sales of certain models usually take place from time to time throughout the year, but it is, of course, difficult to determine the time. But otherwise, it is especially Black Friday and lunchtime sales that you should be aware of.
Conclusion
To find the best gaming chairs under $200 on the market, we took a closer look at product reviews and regular customer reviews. In addition to reviews from customer reviews and product reviews, we have also selected models with features that are suitable for different people. After all, we have very different sitting positions when we sit in front of the computer, but we are also individual body length and body weight.
Was the price a decisive factor? The price was not quite decisive for our review in the test, but it did have a certain influence on the test's ranking, for example. That's why we didn't lift more expensive models that use real leather instead of fake leather because most people don't care about it at all.
Video Review: Breathable Respawn-200 Racing Style Gaming Chair
---